Photo Flash: First Look at Canyon Crest Academy's AVENUE Q - SCHOOL EDITION
Award-winning Canyon Crest Academy's Envision Theatre presents Avenue Q - School Edition, Guest Directed by Dana Carr, with Musical Direction by Stephanie Sabin, from March 21- March 30, 2013 at the Proscenium Theatre. BroadwayWorld has a first look below.
Winner of the Tony "Triple Crown" for Best Musical, Best Score and Best Book, AVENUE Q is part flesh, part felt and packed with heart. AVENUE Q SCHOOL EDITION is a laugh-out-loud musical that tells the timeless story of a recent college grad named Princeton who moves into a shabby New York apartment all the way out on Avenue Q. He soon discovers that although the residents seem nice, it's clear that this is not your ordinary neighborhood. Together, Princeton and his new-found friends struggle to find jobs, dates, and their ever-elusive purpose in life.
Because the original AVENUE Q has some content elements that have previously made it a difficult choice for some high school productions, MTI has worked with the AVENUE Q authors to create an adaptation that maintains the dramatic intention and integrity of the piece, while editing it to make it more appropriate for high school audiences and performers. Suggested for mature audiences.
CCA Envision Theatre is supported by the Canyon Crest Academy Foundation, a parent-led 501(c)(3) organization providing fantastic opportunities across academics, athletics, and the arts, and creating an environment where students can thrive. Your tax-deductible donation to the CCA Foundation is vitally needed to continue our support of these programs. You can donate online at www.canyoncrestfoundation.org. For more information, visit: http://www.cca-envision.org/events.html.
Guest Director Dana Carr is a thirty-six year theater veteran in the North County community having done everything from performing to stage management to directing. She has directed/choreographed several productions for Mission Hills High School and recently directed/choreographed "You're a Good Man, Charlie Brown" for Oceanside Theater Company.
THE CAST:
PRINCETON - Hunter Schwarz
KATE MONSTER - Alison Norwood
NICKY (vocal) - Julian Coker
NICKY - Emmy Farese
ROD - Elliot Rappaport
BRIAN - Alex Waxler
CHRISTMAS EVE - Jerrin Padre
GARY COLEMAN - Brooke Patterson
LUCY - Grace Condon
TREKKIE MONSTER (vocal) - Ben Sutton
TREKKIE MONSTER - Talia Goodman
MRS. BUTZ/LUCY U/S - Julia Vanderwiel
NEWCOMER/FANTASY ROD/ROD U/S - Steve Macario
RICKY (vocal)/FANTASY NICKY (vocal) - Kion Heidari
RICKY 2/FANTASY NICKY - Nicole Belinsky
BAD IDEA BEAR 1 - Jess Tierney
BAD IDEA BEAR 2 - Josh Guichert
KATE U/S - Halle Hoffman
CHRISTMAS EVE U/S - Mandy Wirt
ENSEMBLE: Nicole Belinsky, Ammagrace Chang, Marin Ross Eyjolfsdottir,Talia Goodman, Kion Heidari, Halle Hoffman, Kristin Knox, Steve Macario, Katherine Michel, Alexi Stein, Jacob Surovsky, Jess Tierney, Julia Vanderwiel, and Mandy Wirt
Stage Manager: Patrick McClanahan; Assistant Stage Manager: Beatriz Pereira
Avenue Q: School Edition, with Music and Lyrics by Robert Lopez and Jeff Marx; Book by Jeff Whitty; Based on an Original Concept by Robert Lopez and Jeff Marx. Originally Produced on Broadway by Kevin McCollum, Robyn Goodman, Jeffery Seller, Vineyard Theatre and The New Group.
"Avenue Q" is presented through special arrangements with Musical Theatre International (MTI). All authorized performance materials are also provided by MTI, 421 West 54th Street, New York, NY 10019. Phone 212-541-4684 Fax: 212-397-4684 www.MTIshows.com.
Photo Credit: Susan Farese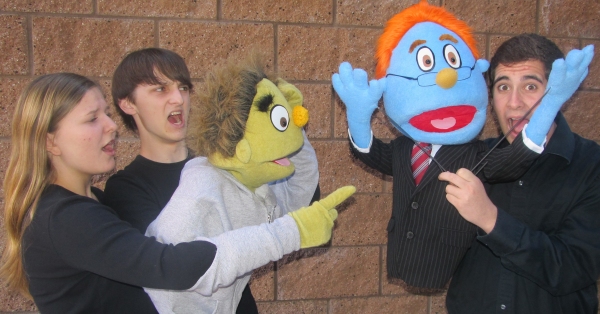 Emmy Farese, Julian Coker, Elliot Rappaport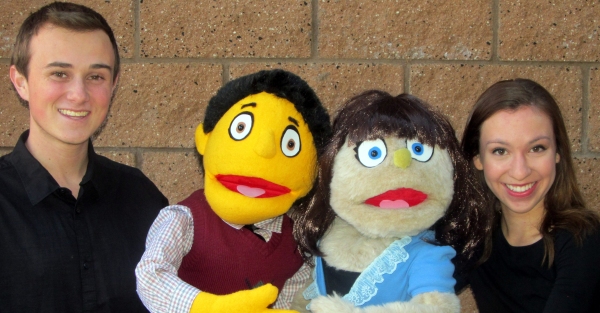 Hunter Schwarz and Alison Norwood

Hunter Schwarz and Alison Norwood

More Hot Stories For You