BWW Review: RAFAEL PAYARE CONDUCTS THE SAN DIEGO SYMPHONY ORCHESTRA at the Jacobs Music Center
Rafael Payare's initial concert as Music Director Designate of the San Diego Symphony Orchestra featured four familiar and easily appreciated pieces, including Mozart's Overture to Don Giovanni and the topically related Don Juan by Richard Strauss. In a different program two nights later Payare repeated only Strauss's tone poem. Its optimism recalled the mood of the earlier concert while its darkness signaled the predominant mood of the revised program. San Diego's new conductor-to-be managed to excite sellout audiences both nights.
Strauss, himself a horn player, after the premiere of Don Juan by a less than first-rate provincial German orchestra said, "I was really sorry for the wretched horns and trumpets. They were quite blue in the face." San Diego's brass players, a hardier crew, nailed it without changing facial color. Entries, articulation, expressiveness, dynamic control and tone were flawless in the stirring heroic calls of the opening and throughout the entire work.
I'm sure the brass welcomed the moderately less demanding succeeding work in the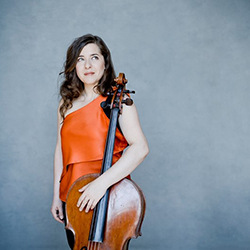 revised program. It was Benjamin Britten's Symphony for Cello and Orchestra. Unlike Don Juan, it's not easy to warm to on first hearing, nor on the second for many. The piece was written as a show case for Britten's friend, virtuoso Mstislav Rostoprovich. It demonstrated soloist Alisa Weilerstein's ample interpretative and technical skills, as it had those of Rostropovich, one of last century's greatest cellists. The conductor and Weilerstein are man and wife. Possible accusations of nepotism notwithstanding, I hope to see her return to San Diego with her husband as conductor for some of the major cello concertos .
The first two works showed some of Payare's impressive versatility. His Strauss had bravado and warmth, his Britten a careful attention to detail and the ability to make a case for a thorny more modern sounding score. That score calls for an equal partnership between cello and orchestra and is filled with brief phrases and pointillistic-like notes by individual orchestra sections and soloists that demand precise timing and dynamics. Payare's often acrobatic conducting with coat tails flying elicited both.
The concluding piece, Shostakovich's tenth symphony, an even darker work than Britten's, was given an equally impressive performance. The brass was at times again faced with the possibility of turning blue, but the woodwinds were even more under the gun, nor, at the excitingly quick tempos Payare called for, were the strings and percussion excluded from needing intense concentration. Every section responded with crisp execution. Payare pointed to the woodwinds first when it came to bows, and they stood, which a stirred and elated audience had already done as part of an immediate spontaneous reaction that never abated in volume until the conductor left the stage after multiple curtain calls.
It's too soon to call Rafael Payare's reign as the San Diego Symphony's music director and conductor a success, but it's hard to imagine a better beginning. Anticipation has been built to a high level for his return next season, this time as the Symphony's official music director.
Photos courtesy San Diego Symphony. Visit the Symphony website for schedule and ticket information.