Photos: First Look at Westchester Broadway Theatre's TIM AND SCROOGE
One of the most celebrated holiday stories ever told continues. In this musical sequel to Charles Dickens' famed "A Christmas Carol," it's been twelve years since Ebenezer Scrooge experienced his wonderful transformation from cold miser to loving benefactor of Tiny Tim and the Cratchit family.
In that time, Scrooge has died a changed man and lovingly bequeathed the Scrooge & Marley Counting house to Tim Cratchit. Tim, while away at university, has fallen in love with a beautiful orphan girl named Allison. As Tim approaches his 21st birthday, He discovers he will soon assume management of the Scrooge and Marley Counting House. He, however, is more interested in being a teacher than a money manager, and signs away control of the business to two unscrupulous speculators, beginning a series of events that threatens to tear him away from his family and Allison, unless the spirit of Ebenezer Scrooge can help Tim set things right again.
With a lighthearted, traditional, Broadway score Tim and Scrooge, while set in the Dickensian Era, ultimately, is a universal story about modern ideals and family relationships
Tim and Scrooge, Composed by Neil Berg with book and lyrics by Nick Meglin (former editor of Mad Magazine), was voted "one of the best musicals" of the inaugural NYMF festival in NYC, and garnered a glowing review in the NY Times after it opened at The Queens Theater in the Park, starring TONY nominee Bobby Steggert. It was also presented as a special reading at the Criterion Theater in the London's West End. It has been performed regionally across the USA for the past five years.
Our production stars George Lee Andrews as Mr. Scrooge and Justin Scott Brown as Tim. Featured in the cast are Rita Harvey as Martha Cratchit, John Hillner as Bob Cratchit, Daniel Marcus as Henry Hastings, Kevin Ligon as Jacob Marley, Marissa McGowan as Allison,Anna McNeeley as Ann Crachitt, Spencer Plachy as Peter Crachit, Fred Inkley, Max Korn, Chandler Reeves, Jed Resnick, Jonathan Stahl and Chloe Tiso..
Directed by Nick Corley, Musical Director is Patrick Hoagland, Musical Supervisor is Eugene Gwozdz, Set design by Steve Loftus,Lighting by Andrew Gmoser, Sound Design by John Hatton and Mark Zuckerman, Costume design by Martha Bromelmeier, Wigs byGerard Kelly, Victor Lukas is The Production Stage Manager, Jonathan Stahl is the Assistant Stage Manager, and Properties are byGrumpy's Props.
Photos by John Vecchiolla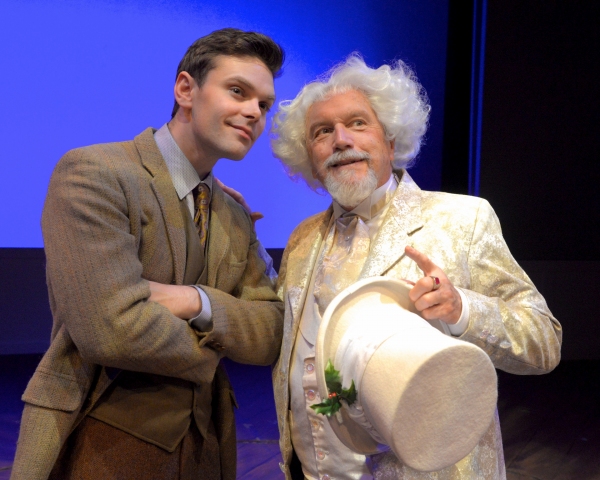 Justin Scott Brown (as Tim) George Lee Andrews (as Scrooge)

Front: Marissa McGowan (as Allison) & Justin Scott Brown (as Tim). Back: L to r: George Lee Andrews (as Scrooge) Kevin Ligon (as Marley)

Cast