BWW Review: Trinity Rep's World Premiere INTO THE BREECHES is an Absolute Delight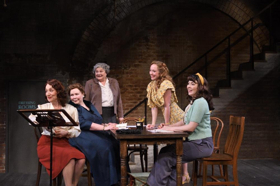 Playwright George Brant seems to have a strange hold on the state of Rhode Island. INTO THE BREECHES is the third play of his to be produced locally in four years, and this one was commissioned by Trinity Rep, and takes place in Providence. While it's always fun to hear places you know like Woonsocket and Federal Hill name checked, this play is also so lovingly and obviously written for Trinity's company of actors, that it almost feels familiar. The play itself is thought-provoking and heartwarming, and would likely be good on any stage, but these performances click so perfectly that the whole experience is like a breath of fresh air that will leave one smiling like a dope at the end.
Set in Providence in 1942, INTO THE BREECHES tells the story of the women of the fictional Oberon playhouse, who are determined to mount their production of Henry IV and Henry V, despite the fact that all their male actors are fighting overseas. Naturally, their remaining company doesn't have quite enough women to fill all the roles, so new recruits are brought in, which makes for some hilariously stilted performances, and unorthodox choices. The costumes, by Olivera Gajic, place us perfectly in that time period.
While there are two male actors in this production--Stephen Berenson and Timothy Crowe, the strength of this play resides with Trinity resident actors Anne Scurria, Phyllis Kay, Janice Duclos and Rachael Warren along with Lynette Freeman and Meghan Leathers. The comradery among these women is just a joy to behold, but each brings something unique and lovely to her performance that feels so charming and real, whether it be goofy or heartbreaking. Playwright Brant has done an exceptional job creating female characters who feel authentic, and female relationships that develop organically despite each of the women coming from very different experiences and points of view.
Phyllis Kay (Celeste) and Anne Scurria (Maggie) have been working at the Oberon for years. Maggie's husband Andrew was the director of most productions, and Maggie his right hand. Celeste is their leading lady who is having a hard time transitioning from ingenue to matron. Phyllis Kay is simply hilarious as the smug starlet who refuses to stop playing Juliet even after it's pointed out that in her most recent turn in that role, she was older than the nurse. Kay manages to be both insufferably smug, but also elicit empathy as she finally comes to terms with the season she is now (and has been for a while) in.
Maggie is a more subtle role, and at first Anne Scurria feels a bit underutilized, but as her confidence grows, Scurria becomes every inch the leader who you want to root for. Rachael Warren is fantastic as Grace, the type A soldier's wife who finds a way to channel her worry and frustration at her husband's absence into a commanding performance as Henry. Those familiar with The Henriad will no doubt appreciate the slightly different interpretation a woman brings to pivotal scenes, and the overarching theme of bringing together disparate individuals to fight for a common cause; but those who are completely unfamiliar won't be lost or disappointed in the slightest, which is another of the joys of this play. It's layered and smart, but can still be taken 100% at face value and thoroughly enjoyed.
Meghan Leathers is a delightful ray of youthful exuberance as June, who is constantly knitting for the war effort and who barrels into the theatre on a bicycle. Lynette Freeman's Ida is a steady, calming influence who has some perfectly timed reactions and facial expressions throughout. Janice Duclos' Winifred at first seems to be just a dippy society wife, but then reveals a tremendous amount of compassion, and manages to get some of the biggest laughs of the night. There is a lovely undercurrent of empathy in the whole production, but not in a way that feels didactic. Rather, characters rethink their misconceptions as they get to know people who are different from them. That subtle theme makes everything feel hopeful and as if even if the play-within-a-play is a total flop, these women have still won.
Trinity always manages to make the month of February more tolerable via a new and hilarious play, and INTO THE BREECHES is just what one needs to shake off the winter blues for a while. There are so many hilarious moments, and the performances are outstanding across the board. This is a worthy addition to an already exceptional season.
Trinity Repertory Company presents Into the Breeches! directed by Tyler Dobrowsky. Performances run January 25 - February 25, 2018. Tickets are on sale by phone at (401) 351-4242, online at www.TrinityRep.com, or in person at the
theater's box office at 201 Washington Street, Providence.
Photo: Left to right: Phyllis Kay as Celeste, Janice Duclos as Winifred, Anne Scurria as Maggie, Meghan Leathers as June and Rachael Warren as Grace. Photo Mark Turek.