BWW Review: QYRQ QYZ at FirstWorks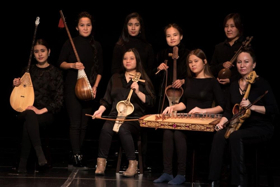 If you've had enough of New England's lingering winter this year, check out the Frontier Series from FirstWorks - a trio of intriguing performances each so unique and transportive, you are sure to completely forget about whatever weird thing the weather is doing outside. This year, the series features stories of women's strength and resilience.

The series opened Wednesday night with the sounds of traditional Central Asian instruments filling Rhode Island School of Design's Auditorium in Providence. At times enchantingly exotic, the music was at other times surprisingly familiar - particularly that of the zhetigen, a type of zither, which would sound completely at home at any of this weekend's St. Patrick's Day celebrations.

The performance featured an octet of highly accomplished female musicians lead by Raushan Orazbaeva and including Gumshagul Bekturganova, Gumisay Berdikhanova, Aziza Davronova, Tokzhan Karatai, Makhabat Kobogonova, Arailym Omirbekova, and Saltanat Yersultan - all of whom hail from the Central Asian nations of Uzbekistan, Kazakhstan, and Kyrgistan. They were accompanied by a male percussionist who performed in shadow, Alibek Kabdurakhmanov.
The music was just part of a very modern way to tell a well-loved ancient tale from the Karakalpak region of Uzbekistan. Combined with spoken word and film, Qyrq Qyz (Forty Girls) relates the epic of a 16-year-old princess, Gulayim, who forms an army of 40 girls. The girls train together, becoming warriors who drive invaders from their homeland.
The film often contrasted panoramic images of the breathtaking, but stark beauty of the steppe's vast landscapes and the eerie ruins of the fortress with closeups of Aysanem Yusupova, the actress portraying Gulayim and the rich, detailed artistry of Uzbek textiles and jewelry. It is the work of acclaimed filmmaker Saodat Ismailova who collaborated with composer Dmitri Yanov-Yanovsky to create Qyrq Qyz.
And while you may have missed the opportunity to be temporarily transported to the remote steppes of Central Asia by the music and imagery of Qyrq Qyz, the Frontier series continues Sunday, March 18 at 7:00 p.m. with a concert and dance party and "The Voice of Venezuela."
Betsayda Machado brings her band of musicians and dancers, La Parranda El Clavo, to the RISD Auditorium - just one stop on their crowdfunded world tour. This multigenerational band is journeying away from their tiny village on the Venezuelan coast, where they have played the town square for more than 30 years to bring the party as well as their Afro-Soul music, known as tambor, to Providence.
The series concludes with Lula Del Ray from the globally acclaimed performance collective Manual Cinema. This multimedia performance will take place Saturday, April 7 at 8:00 p.m. at the Moses Brown School Woodman Center, Providence. Manual Cinema weaves together shadow puppetry, theatre, cinematic techniques, multi-channel sound design and live music to create haunting, immersive stories.
Fore more information, visit first- works.org.