BWW Review: MACBETH at Trinity Rep
Sure it's dark, tragic and disturbing, but can Macbeth be fun? Packed with plenty of inventive surprises and visual effects-none of which will be revealed here-Trinity Rep's current production of "the Scottish Play" makes for an engaging, enjoyable evening of theater - despite all the gore and bloodshed.
Directed by Trinity's artistic director, Curt Columbus, this production of William Shakespeare's 17th century tragedy is athletic and dynamic -with action taking place all over the mutli-level set designed by Michael McGarty. Featuring ladders, catwalks and a net, the set's structure calls to mind an obstacle course out of the television show, American Ninja Warrior. And this makes for an apt setting for the marathon, high-energy performance given by Mauro Hantman as Macbeth, the 11th-century power-mad general. Hantman takes the stage running-literally-and gives an intense performance even after the point at which Macduff finally dispatches him.
Stephen Thorne's depiction of Banquo, Macbeth's betrayed friend, was one of this show's highlights. Thorne has a gift for handling Shakespearian language and his poignant portrayal of Banquo shined because of it.
The flip side of this heartache is the comic relief delivered by the three witches. These characters are perennial favorites and the trio in this production was deliciously evil, particularly Stephen Berenson who was absolutely hysterical. He was joined in incantations around the caldron by Janice Duclos and Jeanine Kane. Like most of the cast, they played multiple roles.
Costume designer Andrew Jean has us first meet Lady Macbeth, Julia Atwood, in yoga pants and athletic gear-creating a very relevant, "Mean Girl" vision of the conniving wannabe Queen. Later, as the Macbeths ascend in status, Jean has her in a striking blood-red evening gown and Macbeth in a white suit.
Alexander Platt portrayed the grief-stricken and enraged Macduff with the raw emotion that made the final fight scene all the more dramatic. That fight, between Macduff and Macbeth, was choreographed by Zdenko Martin and his inventive use of scenery gave it a realistic edge.
Timothy Crowe, Viraj Gandhi, Noah Saltzman, Aman Soni, Fred Sullivan, Jr. and Rachel Warren complete the fine cast of this production which thrills until the very last scream.
Macbeth runs until March 3 in the Elizabeth and Malcolm Chase Theater. For more information, trinityrep.com.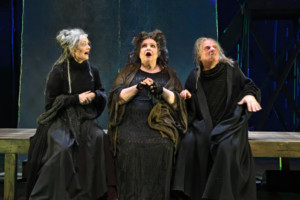 Related Articles View More Rhode Island

Stories

Shows
Barb Burke, a writer and a life-long New Englander, loves the arts in all its forms. She also volunteers at living history events.