Review: WAITRESS National Tour at Durham Performing Arts Center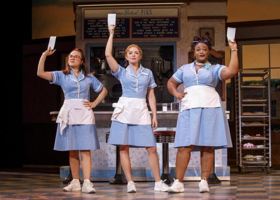 Based on Adrienne Shelly's 2007 independent film of the same name, Waitress tells the story of Jenna Hunterson, a Waitress at a small town diner who is trapped in an abusive marriage to her husband Earl. When Jenna unexpectedly becomes pregnant, she begins an affair with her gynecologist, Dr. Jim Pomatter. Looking for ways out, she sees a pie contest and its grand prize as her chance.
After having its world premiere at The American Repertory Theatre in Cambridge, Massachusetts on August 19th, 2015, Waitress came to Broadway on April 24th, 2016, where it received 4 Tony Award nominations (including Best Musical). It is also notable for being the very first Broadway musical done by an all-female creative team. Directed by Diane Paulus, choreographed by Lorin Latarro, with a book by veteran screenwriter Jessie Nelson, and a score by pop star Sara Bareilles.
The musical itself is a pretty mixed bag to me. Maybe it has something to do with me not being in the demographic for this kind of show, but I really do think it's pretty flawed. Jessie Nelson's script feels a little longer than it needs to be. Sara Bareilles' score is nice, but it doesn't feel complete. Like there are moments in the show where Jenna fantasizes pies she creates in her mind, but they feel like missed opportunities for full-fledged musical numbers. That's why characters sing in musicals, to express inner thoughts and emotions that would never be done justice through spoken dialogue. That's not to say that Waitress doesn't have its moments, because it actually does. I especially feel that the show does get better in the second act where it has more moments of heart. Though I definitely felt that the onstage chorus during Jenna's solo numbers felt overused as well as the onstage band. I at least didn't mind the solo guitarist onstage for the number, 'A Soft Place to Land'.
The cast also does a solid job with their roles. Desi Oakley gives a strong performance in the leading role of Jenna Hunterson. Charity Angél Dawson and Lenne Klingaman both have their moments as Jenna's respective friends, Becky and Dawn. Nick Bailey does a terrific job as Jenna's abusive husband, Earl Hunterson, though I wish there was a little more background on why and how she ended up with him. Donterrio Johnson (who went on for Bill Nolte the night I went) gives a sincere performance as the diner owner, Joe. Jeremy Morse does a fine job as Ogie Anhorn, but I personally found his character to be creepy, weird, and such an oddball, that I just had a hard time finding him likable.
So despite some of the issues feeling simplistic and a scene not feeling dramatic enough to end the first act, I'd say there's enough stuff worth recommending to the female demographic. It's also probably relevant right now thanks to the #MeToo movement. For guys like me, I wouldn't say skip it, I just wouldn't call it a must-see either. This national touring production is currently playing at the Durham Performing Arts Center through May 6th.
For more information regarding the tour, please visit:
https://www.dpacnc.com/events/detail/waitress-the-musical
https://waitressthemusical.com/tour