BWW Review: FIDDLER ON THE ROOF National Tour at Durham Performing Arts Center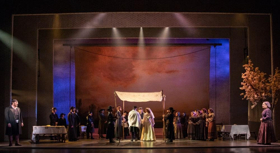 Based on Sholem Aleichem's series of short stories about Tevye the Dairyman, Fiddler on the Roof centers on Tevye, a poor milkman who lives in pre-revolutionary Russia with his wife and five daughters. Among the traditions in their Little Village of Anatevka, the matchmaker arranges a match between a boy and a girl, and the father must approve the arranged marriage. However, Tevye must cope with both the strong-willed actions of his three eldest daughters who wish to marry for love and outside influences of the Tsar who intrude upon his village.
After two out-of-town tryouts in Detroit, Michigan and Washington, D.C., the original Broadway production directed & choreographed by Jerome Robbins with Zero Mostel in the starring role opened on September 22nd, 1964, where it ran for 3,242 performances after closing on July 2nd, 1972. It not only went on to win 9 Tony Awards (including Best Musical), but also held the record as the longest-running Broadway show for almost 10 years before Grease surpassed it. Since then, Fiddler on the Roof has spawned a 1971 Academy Award-winning film adaptation, and five Broadway revivals (the most recent of which from 2015 serves as the basis for this touring production).
In fact, if you're familiar with how Fiddler on the Roof usually begins, this production, which is currently playing at the Durham Performing Arts Center through January 13th, begins a little differently. First, we the audience hear the sounds of a train arriving at a station. Second, a blackout happens. Third, the lights come up on a man reading from a book. Turns out that man is tracing back to the days of when his ancestors lived in the now departed village of Anatevka. It is that opening sequence which sets the stage for a memory play approach to this timeless classic as the villagers quickly appear with Tevye narrating about their 'traditions'.
Under the bold direction of Bartlett Sher, he brings so much attention to detail that can be seen throughout the staging. From the inventive set designed by Michael Yeargan (with some modifications made for the tour by Mikiko Suzuki MacAdams) to the beautiful lighting designed by Donald Holder to the authentic costumes designed by Catherine Zuber. Hofesh Shechter's choreography (which was recreated for this tour by Christopher Evans) is amazing. It is mostly brand new while still paying homage to Jerome Robbins' work on the original production (especially in the iconic bottle dance near the end of Act I). The new orchestrations by Ted Sperling are also able to breathe such fresh, new life into the beloved score by Jerry Bock & Sheldon Harnick.
As for the cast, everyone gives such superb performances. Israeli actor Yehezkel Lazarov does incredible work in the starring role of Tevye, the poor milkman who is also a firm supporter of the traditions of his faith. He is well-matched by Maite Uzal, who's terrific as his sharp-tongued wife, Golde. Their three daughters in this production all share great chemistry with one another (as well their suitors). Mel Weyn is very good as the eldest, Tzeitel, who wishes to marry for love to her childhood friend, Motel Kamzoil, instead of wealth. Jesse Weil as the poor tailor, Motel, perfectly nails his character arc as he goes from shy to a more confident gentleman in asking Tevye for Tzeitel's hand in marriage. Ruthy Froch as the second oldest, Hodel, perfectly captures that character's spirit and intelligence. In Act I, she shares some growing chemistry with Pechik (Ryne Nardecchia), a young scholar and revolutionary who comes to Anatevka from Kiev. She also shares such a heartfelt moment with Tevye in Act II, especially with her rendition of 'Far From the Home I Love'. Natalie Powers gives a strong performance as the middle daughter, Chava, a shy bookworm who ends up falling in love in Fyedka (Joshua Logan Alexander) despite him not being a Jew. This dilemma leads to a very heartbreaking moment in Act II. Though Carol Beaugard proves to be quite a comedic highlight as the local matchmaker, Yente.
Overall, this musical has aged very well. Joseph Stein's book successfully goes from a joyful first act to a more moving second act. It feels very relevant to what is going on in the world right now and is indeed the perfect reminder of all the joy we need in this crazy world we're living in. No matter where you come from, you should be able to identify and relate to any of the themes represented in Fiddler on the Roof. Life, love, happiness, and more.

For more information regarding the tour, please visit:
https://www.dpacnc.com/events/detail/fiddler-on-the-roof
http://fiddlermusical.com/