Photo Flash: Portland Center Stage's A CHRISTMAS CAROL
Clocking in at 90 minutes with no intermission and featuring Portland Center Stage favorite Ebbe Roe Smith as Ebenezer Scrooge, this year's Rose Riordan directed production of A Christmas Carol promises more spooky and sparkly bits per second than ever before... plus a plethora of pre-show treats and activities to make it a festive night out for the whole family. A Christmas Carol previews on Tuesday, November 24th, takes Thanksgiving Day (Thursday November 26th) off, and opens on Friday, November 27th, running through December 27th, 2009.
The first two weeks of (through December 7th) are "Family Weeks" with special family pricing of $30 for adults and $15 for students and under 30. Remaining performances of A Christmas Carol start at $39, with student and under 30 discounts available. Show times are 7:30 pm Tuesday through Saturday, with a 2:00 pm Sunday matinee and alternating Saturday 2:00 pm and Sunday 7:30 pm performances. See the show calendar http://tickets.pcs.org/buytickets/calendar.asp for the complete performance schedule.
New! TREATS for Young and Old. Our young patrons can download and return a Carol Colouring Activity from http://www.pcs.org/colouring and turn it in at the performance for a complimentary cup of holiday hot chocolate from the Armory café. For their legal age friends and family, we offer a Christmas Present at the bar: a Baileys rocks with a drizzle of Godiva chocolate and caramel liqueur.
New! Victorian Family Photo Booth. On the Mezzanine before each show families can snap a family photo in front of a gorgeous Victorian holiday backdrop at our Victorian Family Photo Booth (top hats and stocking caps optional).
New! Ways to Save on the Show (while sharing holiday stories and helping those less fortunate). Email an awkward holiday photo from your own family's past (along with the story behind The catastrophe) to trisham@pcs.org and we'll send you the secret code to save $10 off your Carol ticket. We'll post our favorite pics and stories to our blog at http://www.pcs.org/blog.
Or bring in three canned food items to contribute to our holiday hunger drive and earn a complimentary ticket to the performance (limit one per household).
A Christmas Carol was adapted by Mead Hunter from the novella by Charles Dickens. This year's updated cast of A Christmas Carol will be directed by Associate Artistic Director Rose Riordan and will include an adorable new Tiny Tim (Henry Martin), and How to Disappear... alum (and Falling Down screenwriter) Ebbe Roe Smith as Ebenezer Scrooge. Portland Center Stage's own Education Director, Kelsey Tyler, will play Scrooge's gentle-hearted nephew Fred.
Other local recent alums of PCS productions to appear in this year's Carol include How to Disappear... and The Receptionist alums Laura Faye Smith (Belle/Mrs. Belle's Daughter/Party Guest #1/Street Person) and Sharonlee McLean (Mrs. Cratchit/Mrs. Belle/Mrs. Fezziwig/Charwoman); How to Disappear... and Frost/Nixon alum Darius Pierce (Gentleman #1/Old Fezziwig/Topper/Undertaker Man/Parent); Frost/Nixon alum Michael Fisher-Welsh (Bob Cratchit/Suitor #2/Mrs. Belle's Husband/Thug), and West Side Story, Cabaret, Guys and Dolls and Ragtime alum Kent Zimmerman (Laborer/Young Jacob Marley/Party Guest #2/Ali Baba/Dance Captain).
Returning to the cast this season are Julianna Jaffe (Ghost of Christmas Present/Shop Keeper/Suitor #1), Ted Roisum (Jacob Marley/Old Joe), Debbie Hunter (Dora/Miss Fezziwig #1/Laundress/Parent), James Langston Drake (Peter Cratchit/Middle Ebenezer/Ghost of Christmas Past 2) and Christine Calfas (Dora's Sister/Miss Fezziwig #2/Gentlewoman).
A fresh crop of youngsters will round out the Cratchit family, including Kallan Dana (Martha Cratchit/Child), Hallie Jean Frost (Fan/Girl/Want & Ignorance/Miss Fezziwig #3) and Henry Martin's real-life sister Aimee Martin (Mary Cratchit/Schoolhouse Belle/Want & Ignorance/Turkey Boy).
The music of A Christmas Carol was composed by Rick Lewis. Music direction, piano and MIDI synthesizer are provided by Reece Marshburn. Choreographer Kent Zimmerman will help our Cratchits and Fezziwigs to make merry in traditional Victorian style.
Scenic design is by Dex Edwards, costume design by Jeff Cone, sound design by Casi Pacilio and lighting design by Daniel Ordower.
Additional support for this production has been provided by US Bank and the National Endowment for the Arts/American Recovery and Reinvestment Act. Media support has been provided by Kink.fm.
Portland Center Stage's 2009/10 season is funded in part by the Regional Arts & Culture Council and Work for Art; the Oregon Arts Commission; the National Endowment for the Arts; the Paul G.Allen Family Foundation; Joanne Lilley; Helen & Jerry Stern and Tim & Mary Boyle.
Portland Center Stage inspires our community by bringing stories to life in unexpected ways. Established in 1988 as an off shoot of the Oregon Shakespeare Festival, PCS became an independent theater in 1994 and has been under the leadership of Artistic Director Chris Coleman since May 2000. The company presents a blend of classic, contemporary and original productions in a conscious effort to appeal to the eclectic palate of theatergoers in Portland. PCS also offers a variety of education and outreach programs for curious minds from six to 106, including discussions, classes, workshops and partnerships with organizations throughout the Portland metro area.
THE GERDING THEATER AT THE ARMORY houses a 599-seat Main Stage and the 200-seat black box Ellyn Bye Studio. It was the first building on the National Register of Historic Places, and the first performing arts venue, to achieve a LEED (Leadership in Energy and Environmental Design) Platinum certification. The Gerding Theater at the Armory opened to the public on Oct. 1, 2006. The capital campaign to fund the renovation of this hub for community artistic activity continues.

Henry Martin

Ebbe Roe Smith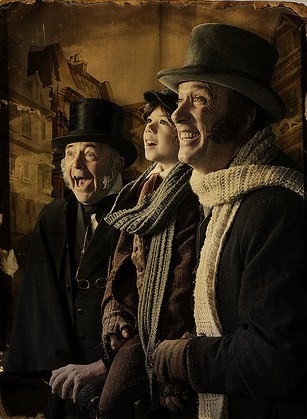 Michael Fisher-Welsh, Henry Martin, and Ebbe Roe Smith
More Hot Stories For You