Photos: First Look at JEWTOPIA at triangle productions
triangle productions! is pleased to announce the Oregon Premiere of JEWTOPIA by Bryan Fogel & Sam Wolfson, featuring Alex Fox as Chris O'Connell and James Sharinghousen as Adam Lipschitz. Scroll down for a first look at the cast onstage!
Jewtopia tells the story of two 30 year old single men, Chris O'Connell and Adam Lipschitz. Chris, a gentile, wants to marry a Jewish girl so he'll never have to make another decision. Adam Lipschitz, a Jew, wants to marry a Jewish girl to please his family, but can't get a date to save his life. After meeting at a Jewish singles mixer, Adam and Chris form a secret pact. Chris promises that he will help Adam find the Jewish girl of his dreams and show him "Jewtopia", but only if Adam will help Chris shed his gentile-ness and bring him undercover into the Jewish world. Stereotypes collide, cultures clash and chaos ensues!
Jewtopia plays at The Sanctuary @ Sandy Plaza, 1785 NE Sandy Blvd., Portland, OR 97232, running Thurs, Fri, Sat March 12th,13th, 14th, 19th, 20th, 21st, 26th, 27th, 28th & April 2nd, 3rd, 4th @ 7:30 pm 2015 and Sundays March 22nd & 29th @ 2 pm. For tickets/information, call 503-239-5919 or visit www.trianglepro.org.

The cast of triangle productions'' JEWTOPIA

The cast of triangle productions'' JEWTOPIA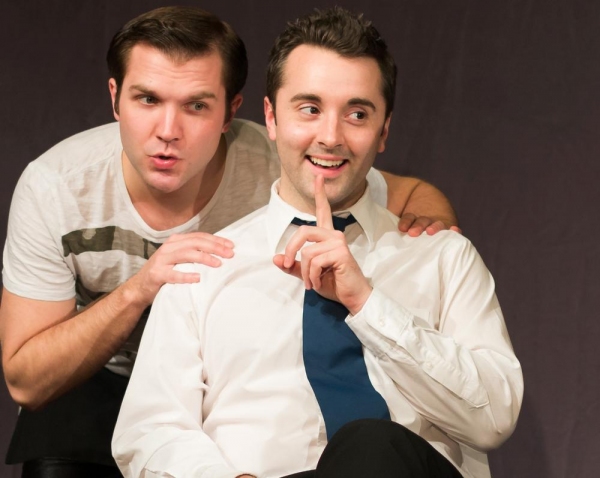 The cast of triangle productions'' JEWTOPIA

The cast of triangle productions'' JEWTOPIA