Oregon Shakespeare Festival's 2019 Season Opens March 8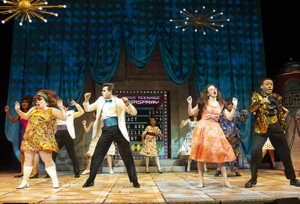 The Tony Award winning Oregon Shakespeare Festival (OSF) will launch its 84th year and Bill Rauch's final season as artistic director with preview performances beginning on March 1. The 2019 season officially kicks off Friday night, March 8, in the Angus Bowmer Theatre with Shakespeare's As You Like It (director, Rosa Joshi). On Saturday afternoon, Cambodian Rock Band (director, Chay Yew) opens in the Thomas Theatre, and Hairspray The Broadway Musical (director, Christopher Liam Moore) opens that evening in the Angus Bowmer Theatre. On Sunday afternoon, the drama by Southern Oregon based playwright Octavio Solis, Mother Road (director, Bill Rauch), will see its world premiere in the Angus Bowmer Theatre.
The 2019 season is dedicated to the memory of Paul Allen, and all those who have chosen to make a difference in the world through their generosity. When Paul and his sister Jody Allen were young, each year their parents would pack them up and make the road trip from Seattle to Ashland to watch Shakespeare classics performed in front of a rapt audience. In the intervening years, the Paul G. Allen Family Foundation has supported multiple OSF programs and helped construct both the Thomas Theatre and the current iteration of OSF's flagship Allen Elizabethan Theatre.
Generations of theatre-goers have been delighted by the magic on OSF stages and much of that magic has been made possible by Paul Allen, said OSF Artistic Director Bill Rauch. This season's playbill embodies the remarkable power of rotating repertory that makes the Oregon Shakespeare Festival such a thrilling place to experience live theatre. The excellence of artistry lives in every project and in our commitment to innovative classics as well as new works that often become the classics of tomorrow.
Once again U.S. Bank will sponsor the season. We are very proud to partner with the Oregon Shakespeare Festival with 2019 being the 40th anniversary of our partnership, said Chris DuBose, U.S. Bank market president for southern Oregon and northern California. We are very excited about the phenomenal lineup of classic and new plays OSF will be performing in the 2019 season.
The full 2019 playbill includes:
Ask You Like It, Mother Road, Hairspray The Broadway Musical and Indecent in the Angus Bowmer Theatre; Cambodian Rock Band, Between Two Knees and How to Catch Creation in the intimate Thomas Theatre; and Macbeth, Alice in Wonderland and All's Well That Ends Well in the outdoor Allen Elizabethan Theatre. La Comedia of Errors, a bilingual (Spanish and English) adaptation of one of Shakespeare's zaniest comedies, will be performed at a variety of show times an in a variety of spaces, including OSF's Thomas Theatre and Hay-Patton Rehearsal Center, and in local communities.
The 2019 Green Show season will run Wednesday to Saturday evenings at 6:45pm from June 7 to September 28. Updates of the exciting engagements and innovations planned for this unique performance experience will be announced throughout the season.
Opening in March:
Mother Road (March 3 October 26, opens March 10) by Octavio Solis; World Premiere
Lead Sponsors: Helen and Peter Bing; Bertie Bialek Elliott, Buffett Fund of the Community Foundation for Monterey County; Louise L. Gund. Producing Sponsors: Yogen and Peggy Dalal, The Robert and Star Pepper Foundation. Sponsors: Edgerton Foundation New Play Award, National Endowment for the Arts. Partners: The Birrell Family, Lynn Booth and Kent Kresa, Nancy and Donald de Brier, Henderson-Sonna Family, Carole Howard, Kevin and Suzanne Kahn, Kathleen Quinn and Michael McClain, Steyer/Taylor Family, Wally and Sheila Weisman, Jim and Kate Wolf-Pizor, Oregon Cultural Trust.
One of the most prominent Latino playwrights in America, Octavio Solis, commissioned by the Steinbeck National Center, journeyed along the original path the Joads traveled in The Grapes of Wrath, from Sallisaw, Oklahoma, to migrant farmworker camps in California. He opened his ears, eyes and heart to how things have and haven't changed in the 80 years since John Steinbeck captured our nation's class-rooted divisions in his celebrated novel. Then, Solis wrote a remarkable play that Bill Rauch is directing for its world premiere this season at OSF.
Mother Road is rooted in the same moral outrage over economic injustice as The Grapes of Wrath, but it is very much a play of the present. Solis creates the promise of a diverse new American family, drawing parallels between who we once were and who we are becoming as a nation.
The cast features: Jeffrey King as Roger/William's Father/State Trooper/Ranch Hand, Mark Murphey as William Joad, Tony Sancho as Mart n Jodes, Caro Zeller as Amelia/Chorus Leader, Amy Lizardo as Mo, Catherine Castellanos as Ivy/William's Mother/Police Officer, Cedric Lamar as Cook/James, Armando Dura n as Abelardo/Ranch Hand and Fidel Gomez as Abelardo's Father/Curtis.
Scenic design by Christopher Acebo; costume design by Carolyn Mazuca; lighting design by Pablo Santiago; projection design by Kaitlyn Pietras. Composer & sound designer is Paul James Prendergast; wig design is by Cherelle D. Guyton; movement director is Ty Defoe; production dramaturg is Tiffany Ana L pez; voice & text director is Micha Espinosa; Kareem Fahmy is the Phil Killian Directing Fellow; fight director is U. Jonathan Toppo and production stage manager is Karl Alphonso.
Cambodian Rock Band (March 6 October 27) by Lauren Yee, featuring songs by Dengue Fever
Partners: Brad and Louise Edgerton, Sandy Farewell, The Goatie Foundation, Henderson-Sonna Family, Michael and Lori Milken Family Foundation.
In Cambodian Rock Band, playwright Lauren Yee, director Chay Yew (Hannah and the Dread Gazebo) and a rock-star cast of performers weave a complex and riveting story that carries the intimate dynamics between family and friends, while exploring the brutality and genocide of millions of people in 1970s Cambodia and the aftermath that still reverberates. The play thrusts us into the life of a young woman trying to piece together her family history 30 years after her father fled Cambodia.
A musical journey that unfolds over three decades, this epic musical play features actor/musicians who perform a mix of contemporary Dengue Fever hits and classic Cambodian oldies, bringing to vivid life the Cambodian rock scene of the '60s and '70s, a movement cut short by the Khmer Rouge's brutal attempt to erase Cambodian cultural life, knowledge and creativity once and for all. It is a story filled with laughter and tears that celebrates the legacy of survivors, extraordinary bonds of family, resiliency of friendship, and the enduring power of music and art.
The cast features Joe Ngo as Chum, Moses Villarama as Ted/Leng, Daisuke Tsuji and James Ryen (selected performances) as Duch, Brooke Ishibashi as Neary/Sothea, Abraham Kim as Rom and Jane Lui as Pou.
Music direction by Matt MacNelly; scenic design by Takeshi Kata; costume design by Sara Ryung Clement; lighting design by David Weiner; sound design by Mikhail Fiksel; production dramaturg is Amrita Ramanan. Arrangers are Jane Lui and Matt MacNelly; voice & text director is Rebecca Clark Carey; Fight Director is U. Jonathan Toppo and production stage manager is Gwen Turos.
As You Like It (March 1 October 26) by William Shakespeare
Lead Sponsors: Don Kania and Renee DuBois, U.S. Bank. Producing Sponsors: Louise L. Gund, Charlotte Lin and Robert P. Porter. Partners: Julie Strasser Dixon and Rocky Dixon, The Estate of Francis V. Mushial.
Exiled from the controlling confines of the court, Duke Senior and her daughter Rosalind seek refuge and find much more in the unconstrained Forest of Arden. Also fleeing danger at home, Orlando encounters a young man named Ganymede and seeks help in love unaware that Ganymede is actually his heart's desire, Rosalind, in disguise. All the world's a stage and all society's rules of conformity are off in this exuberant theatrical journey into one of Shakespeare's most beloved comedies.
Last season, OSF audiences were introduced to visionary director Rosa Joshi with her astounding production of Henry V. Those who saw that unforgettable show will be delighted that Joshi is back to direct Shakespeare's complex comedy As You Like It. Like last year, Joshi is bringing her consummate skill and passion to bear in awakening Shakespeare's words and characters in unexpected ways. Her innovative direction will evoke new discoveries, even for those who know this play well.
For some, like Rosalind, Love is merely a madness, or so she thinks as she's banished from the court and flung into a journey in search of her true self. As You Like It reminds us that love can imbalance us in deliciously delightful and unexpected ways, and that it can be difficult or frightening and throw us off-kilter. And sometimes, in finding our feet again, we discover an authentic strength and the mettle to face a tyrannical world and speak truth to power from a heart that has found the joy of love.
The cast features Jessica Ko as Rosalind, Kate Hurster and Nancy Rodriguez (selected performances) as Celia, Rachel Crowl as Duke Senior, Kevin Kenerly as Duke Frederick, Rex Young as Touchstone, Rom n Zaragoza as Orlando de Boys, Shaun Taylor-Corbett as Oliver de Boys, Hannah Fawcett as Lady to Rosalind/Follower, Tyrone Wilson as Adam, James Ryen and Derek Kolluri (selected performances) as Charles/Sir Oliver Martext/Follower, Erica Sullivan as Jaques/Court Lady, Michele Mais as Amiens, Sheila Tousey and Caroline Shaffer (selected performances) as Corin/Court Lady, MacGregor Arney as Silvius/Court Lord/Follower, WIll Wilhelm as Aubrey/Le Beau/Follower, Lilia Houshmand as Phoebe/Court Lady/Follower and Grant Luecke as William/Court Lord/Wrestling Attendant/Follower.
Scenic designer is Sara Ryung Clement; costume designer is Christine Tschirgi; lighting designer is Christina Watanabe; composer is Palmer Hefferan; sound designer is Pornchanok (Nok) Kanchanabanca. Associate director of movement is Alice Gosti; production dramaturgs are Alan Armstrong and Amrita Ramanan; voice & text director is Rebecca Clark Carey; fight director is U. Jonathan Toppo and production stage manager is Jeremy Eisen.
Hairspray The Broadway Musical (March 2 October 27) Book by Marc O'Donnell and Thomas Meehan, music by March Shaiman, lyrics by Scott Wittman and Marc Shaiman, based on the New Line Cinema film written and directed by John Waters.
Lead Sponsor: McMurtry Family Foundation. Sponsor: Betty and Jack Schafer. Partners: Jerome L. and Thao N. Dodson; Katie Farewell; Irvine & Roberts Vineyards; The Dirk and Charlene Kabcenell Foundation; Cynthia Muss Lawrence; Jerry and Jeanne Taylor Family Foundation; Diane C. Yu and Estate of Michael J. Delaney.
It's 1962, and Baltimore teenager Tracy Turnblad lives in a world that tells her plus-sized gals shouldn't be dancing on television and that racial segregation is here to stay. When she wins a spot on The Corny Collins Show, Tracy becomes a star and teams up with her friends Penny, Seaweed, Motormouth Maybelle and hunky Link Larkin to use her newfound fame to challenge the status quo.
This wildly joyful production is based on the 1988 John Waters cult-classic film Hairspray, which presented viewers with a lens on a very special time and place during the American civil rights and counter-culture movement of the '60s a microcosm of the absolute best and worst of what was happening in our nation. Baltimore, a city with its many diverse communities, became an important focal point for struggles with systemic injustices including school segregation, institutionalized racism and white-flight. Against this charged backdrop, Waters created a narrative applauding the outsider, not bound by traditional ways or beliefs, and in exultation of everybody deserving a place.
Director Christopher Liam Moore (The Book of Will, Shakespeare in Love) honors John Waters's original subversive vision that celebrates radical inclusion at its heart. As a central part of the OSF 2019 Festival experience, Hairspray The Broadway Musical aims to widen that lens even further. With bold storytelling pushing us to contemplate how our country still struggles, this is a show that acknowledges and celebrates difference and inclusion in real ways. It insists we overcome challenges to acceptance and equality, and it shares with audiences a euphoria as unassuming and delicious as the air we breathe, reminding us that everyone deserves a space to sing and dance.
The cast of features Katy Geraghty as Tracy Turnblad, Eddie Lopez as Corny Collins, Jenna Bainbridge as Penny Pingleton, K.T. Vogt as Prudy Pingleton/Gym Teacher/Prison Matron, Daniel T. Parker as Edna Turnblad, Leanne A. Smith as Amber Von Tussle, Jonathan Luke Stevens as Link Larkin, Kate Mulligan as Velma Von Tussle, Brent Hinkley as Harriman F. Spritzer/High School Principal/Mr. Pinky/Cop/Prison Guard, David Kelly as Wilbur Turnblad, Tatem Beach as Little Inez, Christian Bufford as Seaweed J. Stubbs, Greta Oglesby as Motormouth Maybelle, Safiya Fredericks as Estelle/ Dynamite, Johnique Mitchell as Cindy Watkins/ Dynamite, Kimberly Monks as Lorraine/Dynamite, Taylor Fagins as Duane, Royer Bockus as Brenda/Lou Ann, Audrey Cirzan as Shelly, Madeline Day as Tammy, Evan Heintz as Brad, Preston Mead as Sketch, Matthew Ranaudo as Fender, Zahra Detweiler as Robyn, Walker Hill as Paul, Luke Hogan Laurenson as Spike, Oriana Rochlen as Carol, Keyonna Knight and Cassandra Lopez as Swings.
Music director is Gregg Coffin, choreography by Jaclyn Miller, scenic design by Nina Ball, costume design by Susan Tsu, lighting design by Jason Lynch, sound design by Ray Nardelli, production dramaturg is Martine Kei Green-Rogers, re-orchestrated by Amy Wooley, Micha Espinosa is voice & text director, associate music director is Matt Goodrich, fight director is U. Jonathan Toppo and Mandy Younger is production stage manager.
Biographies of directors, designers and actors for the 2019 season can all be found at www.osfashland.org/.
Tickets remain available to most previews and opening performances. Please check ticket availability at www.osfashland.org or call the Box Office at 800-219-8161.