Fertile Ground Reviews: MATTER IS MOTHER, SEX WE CAN! AN EROTIC UPRISING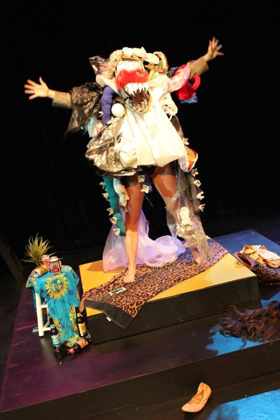 Fertile Ground 2018 has wrapped up, and I don't know about you, but almost everything I saw was super.
Matter is Mother [Workshop]
MATTER IS MOTHER, a one-woman show written, directed, and performed by the multi-talented Julia Bray, wins my award for most creative show at the festival. It was also the one that surprised me the most, because I had no idea what to expect from a play about a sea monster who eats garbage. But Bray has constructed a show that is at once an entertaining comedy and a thoughtful meditation on our relationship with the environment and with stuff.
The play takes place at a tropical resort, where a sea monster named Sona has been eating the guests. Through a series of monologues, song, dance, poetry, and digital projections, we meet the usual suspects you'd expect to encounter at such a resort - including a man who just wants to sit on the beach drinking beer, a teenage girl who works at the pool, and of course the timeshare salesperson.
As the story unfolds, we learn that Sona isn't a monster in the demon sense, but rather an incarnation of Mother Earth, who eats the world's garbage, both physical and psychological, as a way of cleansing her children, meaning us. Sona becomes a catalyst to explore our throw-away society, driven by the consumption of disposable items, and the harm that we're doing to ourselves and to the environment. It's heavy stuff, but also funny and, ultimately, hopeful.
MATTER IS MOTHER was developed in the CoHo Lab, and Bray hopes to mount a full production, including costumes and set pieces made from real garbage from the ocean. I hope she succeeds. The show takes an intelligent and creative look at a global problem that becomes more pressing every day - and it points us toward a solution. It needs to be seen.
Sex We Can! An Erotic Uprising [World Premiere]
I'm a firm believer in the power of theatre to change the world. It helps us understand ourselves, connect with others, and build empathy. And, if Eleanor O'Brien has anything to do with it, it will help us all have better sex by building a culture of consent, improving our communication, and learning to ask for what want.
That's the idea behind O'Brien's newest show, SEX WE CAN! AN EROTIC UPRISING, an evening of songs and stories written and performed by people across the gender spectrum and representing a range of sexual orientations and preferences. The show explores sex and sexuality in a way that's entertaining, empowering, and, in case you're wondering, very sexy. On-site cuddling is also available.
I've always found this type of storytelling to be particularly powerful, because it's just normal people speaking their truth. Here, that truth is about the things that are often the hardest to talk about - like what we do and don't want in the bedroom and how we talk about it. Needless to say, this conversation is especially critical right now.
SEX WE CAN! runs through February 14 at the Clinton Street Theatre. This Thursday (2/1), the show will be followed by a "speed meeting" event open to humans of all sexual orientations. More details and tickets here.