Review: Eleanor O'Brien Honors the Goddess in HOW TO REALLY...REALLY? REALLY! LOVE A WOMAN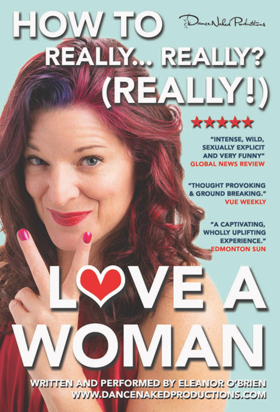 It's 2029 and as a society we've made great progress toward equality - in the workforce, politics, the judicial system, and, most importantly for this show, the bedroom. In her new solo show, HOW TO REALLY...REALLY? REALLY! LOVE A WOMAN, Eleanor O'Brien, the pioneer of sex-positive theatre in Portland, looks at how, as we move toward the future, we can all benefit from bringing back the ancient practice of honoring the Goddess (hint: that's a euphemism).
HTRRRLAW is billed as "part vagina monologue," "part TED talk," "part stand-up," "part true confession," "part revival," "part truth or dare." I'd add "part therapy session" and "part how-to."
In it, O'Brien tells a personal story of sexual awakening, complete with all of the awkwardness, shame, and other complications our society puts around sex. Her goal is to demystify sex by starting honest, open conversations about things that most people are scared to talk about. She succeeds thanks to her unique combination of humor, vulnerability, and insight that will have you alternating between laughing, crying, and wondering how a stranger could know your deepest fears so well. (For the linguistically minded, there are also so many great puns!) It's funny, empowering, and just slightly terrifying all at once.
I highly recommend HTRRRLAW. Whether you identify as a woman or as someone who loves a woman, you'll leave the theatre with plenty to think and talk about (and perhaps a few things to try).
HOW TO REALLY...REALLY? REALLY! LOVE A WOMAN runs Fridays and Saturdays through March 23, before O'Brien takes it on the road. More details and tickets here.
Note: This show is sexually explicit, so choose your theatre-going companion(s) wisely.