Review: A Community Copes with Trauma in World Premiere of NO CANDY, at Portland Playhouse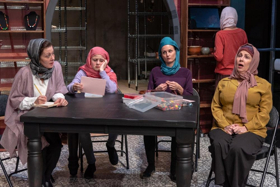 Everyone deals with trauma in different ways -- some people throw themselves into their work, some create art, some sing karaoke. In Emma Stanton's NO CANDY, now having its world premiere at Portland Playhouse, a multi-generational group of Bosnian Muslim women who survived the Srebrenica genocide do all of these things. Directed by Tea Alagic, who is Croatian and was born in Bosnia and Herzegovina, NO CANDY reveals the power and fortitude of the human spirit. At times, it gave me chills. At times, it's also quite funny.
NO CANDY centers on the lives of four women -- Zlata (Mia Zara), Uma (Sharonlee McLean), Olena (Nikki Weaver), and Fazila (Val Landrum) -- who run a gift shop near the Srebrenica memorial. The women all lost much (husbands, children, homes...) in the war. Meanwhile, Fazila's daughter, Asja (Agatha Olson), and her friend Maja (Jessica Hillenbrand), who were just children at the time, don't understand exactly what happened or why their lives changes so drastically. It's about holding on, letting go, and supporting one another.
The cast is superb. Val Landrum is excellent as Fazila, the owner of the store who's struggling to relate to her daughter and has recently started having visions of her dead husband (Ben Newman). She gets the big dramatic moment of the show, a monologue that she delivers exquisitely. Sharonlee McLean is also perfectly cast as Uma, the oldest member of the group and the one who provides both perspective and humor. And those chills I mentioned? All thanks to Croatian-born actress Mia Zara. Zlata is the group's karaoke singer, and Zara's magnificent and haunting rendition of a certain 90s grunge song had the whole audience holding their breath.
In addition to Zara's singing, the most impressive aspect of the production is the set. Peter Ksander uses every corner of the space, including what's usually the corridor, to create a set with six distinct areas, with a projection on one wall for those who might not be able to see them all clearly. It's a nice touch, though I was happy to be sitting near the center, where I could see at least most of the action unfold live.
Overall, I recommend NO CANDY very highly. It deals with difficult subject matter and isn't always easy to watch. But it's eloquently written, beautifully acted, and an important reminder of the horrors of war and the importance of community.
NO CANDY runs through February 10. More details and tickets here.
Photo credit: Brud Giles