BWW Review: IT'S TIME FOR ME at Teatr Polski
What can be done with 10 actors, 2 pianos and 3 musicians? It turns out that beautiful moments that will make you melt.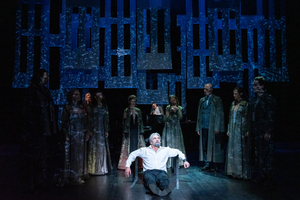 What can be done with 10 actors, 2 pianos and 3 musicians? It turns out that beautiful moments that will make you melt.
This show was a tribute to a great author, poet, playwright, T. Rozewicz, who used to live in our town. He was born 100 years ago, died in 2014 in Wroclaw and left a large amount of work. With this show we ended the celebration of a year contributed to him. It was a cherry on the pie.
I have to be honest - poetry and I are not best buddies but what Jan Szurmiej, the director, did totally spoke to me. If the main purpose of poetry is to move and touch, the job has been excellently done. A series of songs (musical arrangements by: Marcin Partyka, Wolfram Spyra, Kuba Stankiewicz, Roksana Vikaluk) takes us through life, until the End, when Time comes. This is the story of a man, of us.
The music was thrilling, each song was different so the dynamic of the show was undeniable. Besides music, the scenography (by Marta Hubka) made each piece unique, the moving elements (ladders? windows?) and the lights added a charm and a dust of magic.
The heart of the action, the actors... well, that is a really good cast because every part of that puzzle matched. The astonishing Roksana Vikaluk with her angelic voice will make you shiver, the deep tones of Dariusz Bereski are like a portion of dark chocolate that melts in your mouth. The energy of Monika Bolly, the vulnerability out of this world of Bartosz Bulawa, the charm of Aleksandra Chapko, the lyrical moments of Jakub Giel, the relentlessness of Anna Haba, the femininity of Katarzyna Janekowicz combine to make a beautiful picture and sound. Last but not least, the biggest surprise of the show, Krzysztof Brzazgon. His rendition of From Mouth to Mouth is just insanely good, a big WOW. Hats off, ladies and gentlemen, this is the best of the best.
Energy and contribution of the ensemble as a team, not of a group of individuals is rare these days in the theater. Here they seem to be harmonized but independent at the same time.
The only thing that was missing in my opinion is something that brings it all together, a kind of core and bond all songs because Mother rolling up red wool is not enough.
To summarize: the spectacle is like a long, atmospheric, a bit esoteric bubble bath, as the dense foam slowly and passionately caresses the senses. Time is void even when it's the Time.
Photo: Jarek Kusmierski