Review: I SEE NOTHING at Teatr Wspolczesny Wroclaw
Have you ever thought about what it is like to be a blind woman and how many challenges are on her way in everyday life?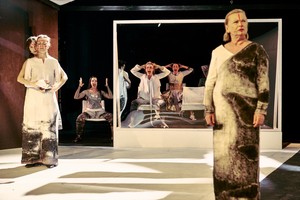 The theater, in particular contemporary should not only show a vision of precise story but ask some questions about reality we live in, make us think. This is exactly what happens on stage. Have you ever thought about what it is like to be a blind woman and how many challenges are on her way in everyday life?
Aneta, a woman in her thirties commits suicide and her life passes in front of her eyes. We dot really know if this really happens in the case of blind people, and these are only the first doubts and the beginning of a series of questions that you have never thought of. There is no better way to think about it that on the theater stage. This is the space to go beyond borders and our comfort zone.
Aneta is played by 8 different women and that's brilliant because we all have in ourselves different characters, correct? The dialogs, sometimes fights between them are so true and relevant. Her dilemmas, commenting on one turning point in different ways, her quarrels with interiority lead to dynamics and draw us in by referring to different experiences and actions.
The scenography (Magdalena Mucha) is simple but very accurate and matches the story. Broken perspective, cages, glass, isolation; all is in there and reflects on what is happening on the stage and between Anetas. We are in herself with all these different characters. As a cheery on the pie we have a great music moments (by Lukasz Wojcik-Zawierucha). With its symbolic character and great thought-provoking sentences, this performance resembles a long, surprising poem.
The show is based on the Filip Zawada's book and it's a monodrama transformed to extended internal dialogue. The director, Pawel Palcat, made it dynamic story of emotional contradictions about Aneta's identity as a woman, blind person, daughter (of a deaf remarkable mother), lover, girlfriend. My favorite thing about he show is that it's an eye-opener (sic!) on challenges existing in the world of darkness. What is it like to party, dance, go out with someone? How to explore the world without seeing it? How you can experience ugliness, the death of your loved ones. Does a mirror make sense? The things you see on stage have meaning, bring us closer, as an audience, to the experience of not seeing, but at the same time, there's not a touch of pity in it. It is a wise and balanced story. It's decent and sharp. The story is told with ease, fluid and easy. Can you identify with the main character and compare their reactions and struggles to yours? Come on, open your mind and give it a try.
Photo: K Budrewicz