BWW Review: A SANDWICH WITH A MAN at Teatr Nowy In Poznan, New edition of old(?).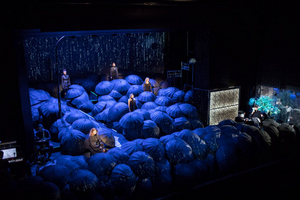 Jacek Kaczmarski - this name is known as a symbol of protest. Great Polish songwriter and performer from 1977 till basically his death in 2004 was a figure of resistance through his words and music: Mury (Walls) based on L'Estaca by Lluis Llach was an anthem of freedom (despite the fact that it was deeply misunderstood: last verse says that a system will actually defeat the people) and was on lips of Solidarity's workers during upheaval in the 80s. A political icon has been undusted reviling his greatest pieces into life with new interpretation.
Young generation, let's say 35 minus doesn't remember political circumstances that were a source of those songs and this is it's beauty. Singers put a new perception of those lyrics and made us realize that they are up to date. Realizations are far from original - they are not improvised but actors with meticulous accuracy spit out words like arrows from a bow. They are in tone, perfection, precision, 5 women: Pamela Adamik, Bozena Borowska-Kropielnicka, Karolina Glab, Oliwia Nazimek, Agnieszka Rozanska and 1 man: Marcin Januszkiewicz - they know what they are doing, and they are doing it prodigiously! I think even if they sang a manual for a dishwasher it would be worth to see but powerful meaning of those texts and amazing musical arrangement made it even better. Jerzy Satanowski - director and a person responsible for this effect did a wonderful job. Atmosphere was dark and gloomy, scenografy referred to Black Umbrellas Movement which also at the time (2018) was a symbol of fight with a system.
What is the most beautiful in this project (besides voices) is the fact of university of art, lyrics written 40 years ago are still powerful and understandable nowadays. The only plea I have is that sometimes a content was too unpretentious. Picture was too clear and I was missing the space for interpretation. It was seen in scenography of some songs (Scream for example) and the only male character was supposed to be an author himself - why if he didn't sound like him?
It is a beautiful, universal, timeless story about not politics in the foreground but above all about rebel, friendship, power, defiance, a human itself and society. I hadn't a chance to see Jacek Kaczmarski live and I really think that Teatr Nowy paid him a greatest possible tribute - bringing on stage a production that will introduce him to people like me.
This show was available online on Friday, 27th March. During coronavirus epidemic threat every week Teatr Nowy will post new video from its archive. Don't miss it! https://www.facebook.com/teatrnowypoznan
You also can (and should) support this institution on :
https://polakpotrafi.pl/projekt/teatr-nowy-w-kwarantannie?fbclid=IwAR3sQIXGHQCStDM_KPYSBHx1AAk877PkcRKodYR_x1P2uxccYV0t7u2DHH4
Photo: Jakub Wittchen
| | | |
| --- | --- | --- |
| | Donations | Arts Orgs |
Related Articles View More Poland

Stories

Shows