Resonance Works Presents Aaron Copland's APPALACHIAN SPRING
To Breathe Free features the Pittsburgh professional premiere of Caroline Shaw's To the Hands for choir and strings.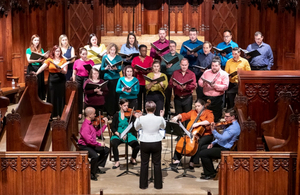 Resonance Works opens the second half of its tenth anniversary season with a program that highlights the organization's dynamic history and collaborations that will drive its future. In March, To Breathe Free embodies this sense of renewal with a reprise of Aaron Copland's beloved Appalachian Spring, Lyric for Strings by George Walker, a poignant new work by Caroline Shaw, and a commission by powerhouse composer Gilda Lyons.

"This concert is inspired by the twin themes of remembrance and possibility, incorporating familiar classics with contemporary works for our audiences to enjoy in an intimate setting," says Maria Sensi Sellner, Resonance Works' Artistic & General Director. "Over the last ten years, Resonance Works has developed a gifted, diverse community of artists. With this concert, we reflect on our growth in the last decade and celebrate the spirit of partnership that continues to drive us."

Through collaborations with internationally recognized contemporary artists, Resonance Works develops musical experiences that highlight artists' voices and bring important musical voices to the Pittsburgh community. With To Breathe Free, Resonance Works is proud to present their long-awaited performances of Pulitzer prize-winner Caroline Shaw's To the Hands (originally slated for 2020), and a newly commissioned work by Grammy-nominated composer Gilda Lyons, an alum of the University of Pittsburgh, to celebrate the organization's tenth anniversary.

"Landmarks in time and achievement intensify the human tendency to look forward and to reflect at the same time. As Resonance Works marks its 10th anniversary season, I turned to text that looks in both directions to celebrate the occasion, looking back into the public record and poetry of the past and forward through the eyes of children interviewed for the project who speak to memory, to the present moment, and to their tomorrows," says Gilda Lyons.
Lyons' new work, entitled Gaining the Ledge, was written for mezzo-soprano Timothi Williams, baritone Daniel Teadt, and the Resonance Chamber Orchestra. Williams, who was introduced to Resonance Works by Lyons, previously appeared in Resonance Works' digital "March of the Women" series in 2020, and most recently sang the role of Maddalena in the company's production of Rigoletto, earning praise from onStage Pittsburgh: "[it] made the listener wish that Verdi hadn't saved her vivid character for the last act."
Daniel Teadt first performed with Resonance Works during its inaugural season in 2014 and has been a mainstay almost every year since then: "As I look back over my ten year history with Resonance Works, every performance has been an inclusive and innovative collaborative experience. Whether it was the extraordinary programming, the high level of musicianship, or Maria Sensi Sellner's fearless leadership, I felt sure what I would be a part of would be outstanding, and I've never been disappointed. Resonance Works is a vital part of our performing arts community, and I'm thrilled to debut this new work celebrating this important milestone."
To Breathe Free is the third program in the dynamic 2022-23 season that features the depth and range of classical music performance, including two world premieres, orchestral favorites, and awe-inspiring masterworks.
To Breathe Free

Friday, March 3, 8:00 p.m.
First United Methodist Church, Bloomfield
Sunday, March 5, 3:00 p.m.
Andrew Carnegie Free Library and Music Hall, Carnegie

Run time: approximately 80 minutes including one intermission
Tickets: $12.50-$50.00

The Resonance Chamber Orchestra takes the spotlight, echoing its first season with a performance of Aaron Copland's Appalachian Spring Suite. This dynamic piece hums with the optimism and possibility of building a new life, but also the trepidation of facing an uncertain future. The original version for 13 instruments was written as a ballet for Pittsburgh-born dancer/choreographer Martha Graham, and heightens the parallel threads of American nostalgia and cultural dissent woven throughout Copland's music.

To Breathe Free features the Pittsburgh professional premiere of Caroline Shaw's To the Hands for choir and strings, inspired by 17th century Danish composer Dietrich Buxtehude's Membra Jesu nostri patientis sanctissima. To the Hands is a meditation on empathy, refuge, and communal responsibility through a diversity of texts, including a riff on Emma Lazarus's sonnet, The New Colossus, which is engraved on the Statue of Liberty.

The concert opens with the Lyric for Strings by revered American composer George Walker, who was the first African American to be awarded the Pulitzer Prize for music. Lyric, one of his most enduring works, is based on a piece he wrote for string quartet when he was 24 which he dedicated to the memory of his grandmother, who had been an enslaved person.

In celebration of its 10th anniversary, Resonance Works commissioned Grammy-nominated composer and genre-defying artist Gilda Lyons, a University of Pittsburgh alum, whose music has been described as "powerfully effective" and "masterly." Her clever and moving "Sourdough: Rise Up" was Resonance Works' contribution to the inaugural streaming production by the Decameron Opera Coalition, which won multiple awards and has since been inducted into the Library of Congress as a part of their Performing Arts Covid-19 Response Collection. This world premiere, featuring baritone Daniel Teadt, mezzo-soprano Timothi Williams, and the Resonance Chamber Orchestra, will look back and leap forward as we cross the threshold of this organizational milestone. All audience members must properly wear a mask at all times while in the venue. COVID-19 protocols may be updated as community transmission levels change.
Resonance Works is a Pittsburgh-based performing arts non-profit that empowers musicians and inspires audiences with intimate, genre-defying productions featuring everything from opera and musical theatre to orchestral, choral, and chamber music. Performed in the intimacy of small theatres, churches, art galleries, and even cemeteries, Resonance Work productions heighten the soul-stirring experience of live music by bringing audiences and artists into close proximity.
The company's work is shaped by collaborations with nationally and internationally recognized artists, whose creative vision and immense talents generate the foundation for each Resonance Works production. Through these dynamic partnerships, Resonance Works creates musical experiences that highlight the artists' voices and speak to urgent contemporary issues.
Resonance Works was founded in 2013 by Pittsburgh native Maria Sensi Sellner, a versatile and innovative classical conductor praised for bringing a "welcome infusion of sophistication and diversity" to Pittsburgh's cultural landscape. Resonance Works has produced beloved operas, rare and new concert works, and cross-genre performances, including 12 world premieres and dozens of regional premieres, living out its mission to bring inspiring musical experiences by globally renowned performers to Pittsburgh stages.
At Resonance Works, we are committed to providing an inclusive and welcoming environment. We will provide venue-specific accessibility details closer to each performance date. If you have questions or require specific accommodations, please contact Brennan Sellner at brennan@resworks.org or 412-501-3330, and we will make every effort to work with you.