Disney's NEWSIES, Starring Joey Barreiro and Daniel Quadrino, to Sell Papes at Pittsburgh CLO Soon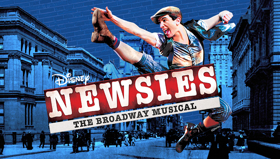 Pittsburgh CLO will produce Disney's NEWSIES for the first time, July 18-23 at the Benedum Center. Inspired by the Newsboy Strike of 1899 and based on the cult-hit Disney film, NEWSIES tells a tale of strife and triumph with Tony Award-winning music, daring choreography and a touch of New York City grit. Tickets are available online at pittsburghCLO.org, by calling 412-456-6666 or visiting the Theater Square Box Office.
In the role of reluctant rebel Jack Kelly is Joey Barreiro, who is reprising his role from the National Tour in his Pittsburgh CLO debut. Joining him is fellow NEWSIES alum Daniel Quadrino as his "tougher than he looks" buddy, Crutchie. The foe to their friendship, Joseph Pulitzer, will be played by Pittsburgh CLO and Broadway veteran Edward Watts. At the helm of this production as Director/Choreographer is Broadway's Richard J. Hinds, who is currently serving as Associate Choreographer in the smash-hit Come From Away.
"We are so fortunate to welcome a team of gifted performers and musicians, under the direction of Broadway's Richard J. Hinds, to mount this incredible production for the first time. I welcome audiences of all ages to delight in the heart-pounding music, electrifying dance and inspirational story of NEWSIES, " exclaimed Pittsburgh CLO Executive Producer, Van Kaplan.
The story of Disney's NEWSIES is inspired by the Newsboy Strike of 1899, during which newsboy Kid Blink led a two-week long strike against the newspaper giants of New York City. In 1992, Disney made a film of this classic plight of underdogs fighting for justice and eventually went on to bring the magic of Disney's NEWSIES to the stage.
After a four-week preview in 2011, the original musical production opened on Broadway in 2012 with music by Alan Menken, lyrics by Jack Feldman, choreography by Christopher Gattelli and book by Harvey Fierstein. The show ran for two years with a standout cast, including Jeremy Jordan, for a total of 1,005 performances. The show was nominated for countless awards, earning two Tony Awards in addition to two Grammy awards for the show's choreography and the music. Disney's NEWSIES continued to thrill audiences across the nation during the First National Tour.
Due to its overwhelming success, Disney released a movie version of the stage production in 2017. The movie was shown for three days in movie theaters and then was made available to the general public, allowing all to experience the spectacular choreography, music and story of the New York City newsboys.
Tickets are available online at pittsburghCLO.org, by calling 412-456-6666 or at the Box Office at Theater Square. Tickets start at $35. Groups of 10 or more enjoy exclusive discounts and specialty packages. Call our Group Sales Hotline at 412-325-1582 for more information. Visit pittsburghCLO.org for further information.
ABOUT THE ARTISTS:
Joey Barreiro (Jack Kelly) is back with Disney's Newsies after recently wrapping up the first National Tour. Regional credits include Witches of Eastwick (Ogunquit), Ragtime (Westchester Broadway), A Chorus Line (Connecticut Rep) and Into the Woods (Studio Tenn).
Beth Stafford Laird (Katherine Plumber) joins Pittsburgh CLO from the first National Tour of Newsies as the Female Swing, and filming Newsies Live! in the roles of "Nun" and "Bowery Beauty." She will be making her Pittsburgh CLO debut with the role of Katherine. Other National Tours include Beauty and the Beast (Internt'l) and Ghost (1st Nat'l). Additional Regional credits include Nikola Tesla Drops The Beat, The Little Mermaid, Sweeney Todd and A Christmas Carol.
Stephen Michael Langton (Davey) will be reprising the role of Davey after performing around the country with the first National Tour of Disney's Newsies. He is a proud Pace MT graduate.
Billy Mason (Seitz) was recently seen as Piragua Guy in Pittsburgh CLO's IN THE HEIGHTS, Black Dude in THE TOXIC AVENGER; and last summer in Aida and as Henri in South Pacific. Other favorite roles include Judas in JCS, Shrek in Shrek the Musical and Horton in Seussical.
Patricia Phillips (Nun/Medda Larkin) is a long-time Pittsburgh CLO alum and Carnegie Mellon graduate. She marks among her many accomplishments her debut as the first African-American woman to play the role of Carlotta in the The Phantom of the Opera on Broadway. Her recent Broadway credits include Kinky Boots, Live from Lincoln Center: Sweeney Todd, and she was a member of the original Broadway casts of La Boheme, The Secret Garden and The Sound of Music. Television credits include two Tony Award telecasts, The Sopranos and Everybody's Fine with Robert De Niro. Ms. Phillips has also been a featured soloist with The Pittsburgh Symphony, The Minnesota Orchestra, The Baltimore Symphony Orchestra, The Indianapolis Symphony and The River City Brass Band.
Daniel Quadrino (Crutchie) will be making his Pittsburgh CLO debut after understudying the role of Crutchie on Broadway. Some of his other Broadway credits include Wicked and the 2009 revival of Bye Bye Birdie. He has also appeared on television in Peter Pan Live! (Lost Boy).
William Sendera (Les) is a student at Pittsburgh CAPA in his third year of training at the Pittsburgh CLO Academy. He recently performed at Carnegie Mellon University (Ragtime), Kinetic Theater (3 Days...), Prime Stage (The Giver) and PICT (Oliver Twist). He has also performed in Austin, TX with ZACH Theatre (Tommy, Les Mis, Ragtime, Christmas Story), UT Austin (ZM) and St Edwards (Merrily We Roll Along).
Edward Watts (Joseph Pulitzer) has been seen on Broadway and in NYC in Scandalous (Robert/David), Finian's Rainbow (Woody stand-by), It's a Bird..Plane..It's Superman (Superman) at Encores!, The Fantasticks (El Gallo), The Most Happy Fella (Joe) at the NYC Opera, Show Boat (Steve) at Lincoln Center and Transport (Delamare) at The Irish Rep. His National Tour credits include: The Book of Mormon (Joseph Smith/Mission President), Disney's The Little Mermaid (King Triton), 7 Brides for 7 Brothers (Adam Pontipee) and Disney's Beauty and the Beast (Gaston).
Disney's NEWSIES is complete with a talented ensemble, including Sky Bennett, Matthew Boyd, Christopher Campbell, Alex Dorf, Grant Haralson, Cameron Anika Hill, Jeffrey Howell, Michael James, Carina-Kay Louchiey, Javier Manente, Connor McCanlus, J. Alex Noble, Gavan Pamer, Kevin Paul, Isaac Cole Powell, Vinnie Smith, Trent Soyster, Taylor Kellas Warren, James Allen Washington and Davis Wayne.
Pittsburgh CLO is proud to welcome CLO Academy students Benjamin Godley-Fisher and Noah Kies in their professional debuts as members of the NEWSIES cast! Benjamin is a student at Obama High School in his third year of training at the CLO Academy. Noah joined the Academy this year and is a student at Propel East.
Richard J. Hinds (Director/Choreographer) joins the Pittsburgh CLO team for the first time while also currently serving as Associate Choreographer for Come From Away on Broadway. Other Broadway credits include Jekyll & Hyde (Associate Dir./Chor.) and Il Divo: A Musical Affair (Assistant Dir.). Off Broadway credits of his include Here Lies Love (Associate Dir./Chor.) and Frankenstein (Assistant Dir.). National Tours: 9 to 5 (Associate Dir.) and Disney's High School Musical (Associate Chor.). Regional: La Jolla Playhouse, The Old Globe, Paper Mill Playhouse, Kansas City Repertory Theatre, Flat Rock Playhouse, Ogunquit Playhouse, Gateway Playhouse, Seattle Repertory Theatre and Seattle 5th Ave. Theatre. TV: Macy's Thanksgiving Day Parade, America's Got Talent, The Bethenny Show and Bring It.
James Cunningham (Music Director) recently made his Pittsburgh CLO debut as Music Director for IN THE HEIGHTS. Mr. Cunningham's New York credits include Avenue Q, music director for Bunnicula (TheaterworksUSA and original cast recording), Hot Mess In Manhattan (The Araca Project) and Happy Birthday (TACT) for which he also provided original music. His National Tour credits as pianist/conductor include Irving Berlin's White Christmas, Spamalot, Evita and Cats. For the past three seasons he has been a frequent music director for Casa Mañana where his credits include Million Dollar Quartet, Spamalot, Rent, Fiddler on the Roof, Les Misérables, Buddy...The Buddy Holly Story, Always...Patsy Cline and Cats. Regionally, he has also conducted productions for North Carolina Theatre, Sharon Playhouse, Shakespeare Theatre Company, The Engeman Theater, Paper Mill Playhouse, The MUNY and Cape Fear Regional Theatre. He holds degrees from Manhattan School of Music and New York University.
ABOUT THE ORIGINAL CREATIVE TEAM:
Alan Menken (Music) is the man behind the music of countless beloved films and shows, especially in the world of Disney. He has composed for Disney films such as Aladdin, Beauty and the Beast, Enchanted, Hercules, Home on the Range, The Hunchback of Notre Dame, The Little Mermaid, Pocahontas and Tangled. His work in film apart from Disney includes Leap of Faith and Little Shop of Horrors. On stage, he has composed the music for A Christmas Carol, Disney's Aladdin, King David, Little Shop of Horrors, Sister Act and Disney's Newsies. His work has garnered him countless prestigious awards, including a Drama Desk Award, a Tony Award, The Frederick Lowe Award and an Audience Choice Award for his work with Disney's Newsies.
Jack Feldman (Lyrics) has written for television, film and Broadway. He is best known for writing the lyrics for Barry Manilow's Grammy Award-winning song "Copacabana." His work in theater includes The Madwoman of Central Park West; written for multiple films, such as Oliver & Company, Thumbelina, Disney's Newsies, Home Alone 2: Lost in New York, A Goofy Movie, The Lion King II: Simba's Pride and 102 Dalmatians. His work with Alan Menken on Disney's Newsies garnered him the Tony Award for Best Original Score (Music and/or Lyrics) written for the Theatre.
Harvey Fierstein (Book) is a four-time Tony Award-winning writer and actor. He has written for a plethora of shows, including Kinky Boots, La Cage aux Folles, Torch Song Trilogy, Safe Sex, Legs Diamond and A Catered Affair. As an actor he has delivered unforgettable performances in Hairspray, Fiddler on the Roof, La Cage aux Folles and Torch Song Trilogy, as well as in the films Mrs. Doubtfire and Independence Day. Over the course of his successful career in both writing and acting, he has received and been nominated for numerous awards, including nominations for a Tony Award and an Outer Critics Circle Award for his contributions to Disney's Newsies.
Jeff Calhoun (Director) was the director of the original Broadway production and the First National Tour of Disney's Newsies. He has directed and choreographed multiple Broadway shows, including Tony Award-winning Big River, Jekyll & Hyde, Bonnie & Clyde, Brooklyn, Bells Are Ringing, Annie Get Your Gun, and Grease, to name a few. Among his Off-Broadway and Regional work are shows such as 9 to 5 the Musical, High School Musical and Strike Up the Band, among others. Along with his roles as director and choreographer, Mr. Calhoun also has performed in the Off-Broadway production of One More Song/One More Dance and the Broadway productions of My One and Only and Seven Brides for Seven Brothers. He has been nominated and awarded many honors, including two Tony Award nominations for his direction of Disney's Newsies.
Christopher Gattelli (Choreographer) has choreographed for prominent Broadway shows, including South Pacific, War Paint, Amazing Grace, The King and I, 13, the Musical, Sunday in the Park with George, The Ritz and High Fidelity, among others. Mr. Gattelli has choreographed and directed for multiple Off-Broadway and Regional productions as well, such as Altar Boyz, Bat Boy, How To Save The World... and Radio Girl. He was the resident choreographer for The Rosie O'Donnell Show for three seasons. As a performer, he appeared in How to Succeed...(Revival) and in the role of Pouncival in Cats. Mr. Gatelli's work with Disney's Newsies garnered him the Tony Award for Best Choreography in 2012.
Since 1946, Pittsburgh CLO has been the driving force behind live musical theater in Pittsburgh and the entire Southwestern Pennsylvania region. Under the direction of Van Kaplan since 1997, this not-for-profit arts organization appreciates the support of nearly 200,000 patrons yearly who attend its performances at three venues in the Cultural District: a seasonal subscription series at the Benedum Center, A Musical Christmas Carol at the Byham Theater and year-round shows at the CLO Cabaret. Its dedication to the musical theater art form includes educational programs such as the CLO Academy for Performance and Art, the CLO Mini Stars, the Gene Kelly Awards, the Richard Rodgers Award and The National High School Theatre Awards. As part of its new works development, the organization has been involved with 22 Broadway shows (29 Tony Awards), and in 2014 produced the world premiere of An American in Paris, on Broadway (4 Tony Awards) and in London's West End. For more information, visit pittsburghCLO.org.