Click Here for More Articles on Fun Home
BWW Review: FUN HOME at ASU Gammage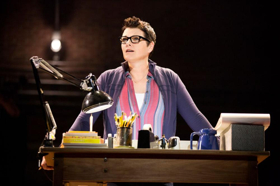 Fun Home is more than just about self-discovery and making a place for yourself in the world--it is about living with missing pieces of the puzzle, and the understanding and acceptance that we may never find them.
Fun Home relays the story of Alison Bechdel, a cartoonist who wrote a graphic memoir that serves as the basis for the musical. Fun Home explores Bechdel's life and her relationship with her father, a closeted gay man.
The musical explores three phases of Bechdel's life, as Small Alison, Medium Alison, and Alison. Alison narrates the show, offering wry and witty commentary on her innocence and developing relationship with her father as Small Alison, and her awkward young adult stage as Medium Alison.
The show begins with a sneak peek into all stages of Alison's life, various set pieces from each period--her living room couch from when she was a child, a door with a sign "Gay Union" from her college years, and a desk where she cartoons and works as an adult. The orchestra is in the back of the stage, and these various set pieces are swapped in and out throughout the show.
Alison is portrayed by Kate Shindle, a fantastic, honest actress who seamlessly ties the warped timeline together, and showcases Alison's conflicted and confused sentiments towards her father, Bruce. Bruce is played by Robert Petkoff, who wonderfully embodies the sometimes ambiguous complexities of Alison's father. Bruce's knowing wife, Helen, is portrayed by Susan Moniz, whose soaring soprano voice takes the audience to new emotional heights. Small Alison, played by Carly Gold is absolutely adorable and carries herself with childlike vulnerability, but matured confidence. Abby Corrigan as Medium Alison is a hilarious performer, perfectly showing Medium Alison's insecurities, as well as her pure naivete.
Fun Home is not your typical musical, foregoing intermission, and offering both comedic and dark undertones. It is a show that offers no answers--as Alison never receives any--and leaves you jarred, and confused. But it is a show that is beautifully human, and encompasses a wide array of relationships that are bound to resonate with any audience.
Fun Home the Musical runs at ASU Gammage through September 10. Tickets are available at the ASU Gammage Box Office 1200 S. Forest Ave., or by visiting ticketmaster.com, asugammage.com, or by calling 1-800-982-2787.
Photo credit: Joan Marcus
Related Articles
Erin Kong is an undergraduate music theatre student at Barrett, the Honors College at Arizona State University. She is currently studying voice under the tutelage (read more...)