BWW Interview: Acclaimed Film-Stage Director Kanakan-Balintagos Talks M. BUTTERFLY; Show Premieres 9/13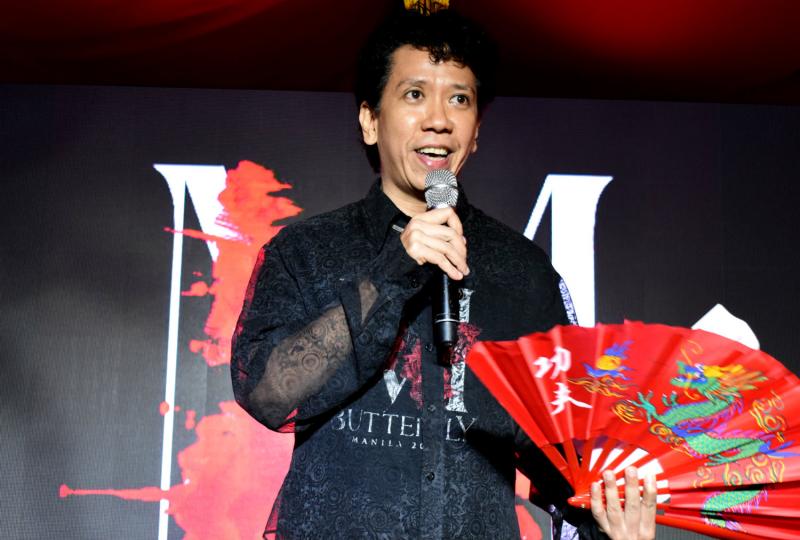 Manila, Philippines--A prolific dramatist, Tennessee Williams proved most succinct in declaring an ironic dictum: A play does not exist until it's on the stage.
We'll assume he didn't mean any run-of-the-mill production. He must have implied the ideal scenario, where the playwright's brainchild winds up in a first-rate triumph that executes his vision--down to its finest detail. It's an undertaking that requires a dynamic production team to achieve.
Ultimately, the onus is on the skilled director to render his magic and transport the proverbial page to the stage.
Some playwrights fancy themselves as directors and the only capable stewards of their work. But we'll save that discussion for another day.
The current reality is more pragmatic than ideal. Symbiotic perfection between playwright and director is elusive, chiefly because not all playwrights are accessible (oh what I'd give for a chance to pick Beckett's brain!). Nor does every director have the inclination to negotiate with those still living. And let's face it, they don't always meet eye to eye.
Indeed, the theater is a malleable domain where a director's appetite for innovation is a presumed warrant to stretch the boundaries of the written text. Some ideations will push serious buttons among theater purists. (Go ahead and make a case for "Romeo and Juliet" on the Mexican-American border, assuming you're "woke" enough to absorb a critical reckoning should plans go awry.)
Classics are up for grabs and trends come and go, but the buck stops with the director. The director's style is the singular feature that delivers or undermines a playwright's intent.
Manila Staging of 'M. Butterfly'
David
Henry Hwang
's masterpiece is part of a modern canon with an enduring shelf life. It's a powerful story based loosely on a mysterious, real-life romance between a French diplomat and a Chinese Opera singer--who is clever enough to convince the Frenchman that she's purposefully disguised as a man to secure political safety in Mao's China. "She" turns out, all along, to be a man whose masterful deception was designed to lure the diplomat into spying for the Chinese government.
Mr. Hwang reimagines the character as Song Liling, a traditional Chinese woman whose demure sensibility enables the perfect setup that ensnares Rene Gallimard, the lovelorn French diplomat-turned-agent of Communist espionage.
The play is an oppressive tale of political intrigue and sexual subterfuge. It has seen countless iterations since it first riveted audiences in 1988. It also ran a revised version in a recent Broadway revival that received mixed reviews.
Manila's upcoming production of Mr. Hwang's play--a shrewd and incisive critique of East/West stereotypes--suggests a lavish treatment from the partnership of Frontrow Entertainment and Jhett Tolentino Productions. It is sticking with the original script and deploying an international cast led by RS Francisco, who reprises the character of Song Liling (a daunting role he pulled off as an 18-year-old student actor 28 years ago). The director, Kanakan-Balintagos, wields a creative charge rooted in theatrical training and seasoned by his cinematic travails.
In a recent interview with the director, we observed a glimpse of his style, which reveals an openness to collaboration and an endearing, deferential approach to the script. Mr. Hwang, who lives in New York City, is expected to fly out to Manila to see the show. Though attempts to make an official connection with the playwright failed to materialize, Mr. Balintagos is eager for the chance to meet Mr. Hwang and to elicit his feedback.
Having spent the first week of rehearsals on text analysis, the cast is finally on its feet. Evidently, each rehearsal reveals a deeper discovery for the director of "how brilliant the play really is." We managed to get him to take a few moments to discuss his ideas and to share a bit of his life as a director of both stage and film.
Do you have any wisdom you can share about your rehearsal process with the actors? How much of your work is planned ahead, as opposed to an organic sort of democracy that evolves in rehearsal?
KB: As I tell my actors on the first day, I give them my fire and they have to give me back this creative fire; and I give it back, and this whole eternal process of giving till we reach a certain supernova. I get blocked when there's no giving energy in the staging process. So I pick my cast well, I pick those who fit and are givers, not takers (of energy).
You've done a lot of film directing since your last outing as a stage director. Does your cinematic mind enhance your vision for this play?
KB: Perhaps. I've seen that my art and style is actually accepted and well received in the world. That I have an actual unique style that is appreciated yet universal.
What's it like working with RS Francisco and Frontrow?
KB: I was surprised that RS was a big fan of my work since college days. So it's actually fulfilling that every rehearsal, he gets wowed with my new take on the play.
[Formerly known as Auraeus Solito, Mr. Balintagos' first feature film was the multi-awarded "Ang Pagdadalaga ni Maximo Oliveros"(The Blossoming of Maximo Oliveros).]
You're working with a Tony Award-winning producer in Jhett Tolentino. Describe the first time you met him.
KB: In 2014, he went to my house in Sampaloc with his team (for his documentary). My mom prepared Filipino food and he loved my first feature, "The Blossoming of Maximo Oliveros," which he saw in the US. We hit it off, and who would have thought that we would be working together a few years later?
"M. Butterfly" was a stunning revelation when it first came out. But Song Liling's "reveal" isn't as big of a deal today because the shock has worn off, so to speak, and we've somewhat evolved as a culture. Do you think the expectation of the surprise takes away from the intensity of the scene?
KB: That's a given. As the days pass and I get deeply into David Henry Hwang's work, I realize that early on he has given the clues to this "mystery." I haven't reached that scene in my blocking (only three weeks in rehearsals). But I trust the story, not my instincts. I'm retelling this story. That's simply what I'm doing now. We will never know how this generation takes this story till opening night. But I believe in this story; that's why it propels me to search for the truths and the untruths, in this case, with the characters. I'm at the moment still in this process, so it's difficult to assume a reaction. We never know--till opening night. And that is what is exciting about theater.
What would you consider to be your strengths as a director?
KB: I don't know. Perhaps I'm an actor's director. I create from my actor's creative fire. I'm also very visual, and music-based. When I hear great music, I see in my mind's eye a certain rhythm, movement, and visual space. I also love repetitive blocking that somehow evolves then deconstructs its own assumed meanings. It's all these creative aspects--very organic, at the same time purely creative but also technical. I don't know, I cannot explain it.
That's a pretty good explanation. So on that note, share a little bit about your career arc since your student-directing days. What are some of the most memorable highlights for you? And what are some of the letdowns that you can look upon as a learning experience?
KB: In theater: Directing my first play, "Ang Nazarena" by Chris Millado, which got critically acclaimed and started my career in directing where I staged Sisa with 25 foot-long hair. Then forming my theater Company "UP TROPA Experimental Company" where we staged translations of rare classics (like Sartre's "No Exit" into "Walang Kawala" with translation by Rogelio Sikat; the Sci-Fi play RUR by Karel Capek, also translated by the late great Rogelio Sikat; and original Filipino plays (like the musical MANHID and my Playwriting thesis production, "Ang Maikling Buhay ng Apoy"). Staging IBUN in '97 when we built the indigenous theatre structure called PANGGAO, the theatre of the sky with my relatives from South Palawan as I rediscovered my roots. And winning first prize in the Palanca for "Mga Buhay na Apoy" and its well-reviewed staging two years ago with Tanghalang Pilipino.
In film: My first short film "Ang Maikling Buhay ng Apoy" (The Brief Lifespan of Fire), "Act 2, Scene 2: Suring at ang Kuk-OK," an experimental animation based on a scene from my thesis play, which brought me to the world in 1995, and it'd still ironically being screened this year in international short film festivals. My one and only music video, "Ang Huling El Bimbo," which won an MTV Moonman award and is considered the Best Pinoy Music Video of all time by Spot.ph.
Of course, my first feature "The Blossoming of Maximo Oliveros," which won 15 international awards and went to about a hundred film festivals, and "Busong (Palawan Fate)" about the myths and stories of South Palawan, which was screened in my dream festival, the Cannes Directors' Fortnight.
Are there legendary theater or film artists who have influenced your thinking and approach to directing?
KB: I love Robert Wilson's visual style and Peter Brook's epic scope. Both were shown to us on VHS by the great Rolando Tinio who was my teacher. And of course, Rolando Tinio's direction, especially his last production where he transforms Shakespeare's "Twelfth Night" into a lament for his wife Ella Luansing's death. It was just a profound experience--undefinable yet breathtaking. I was lucky enough that I saw this in my youth.
In cinema, it's more the culturally strong Asian films: Akira Kurosawa of mainland Japan; Takamine Goh of Okinawa; Zhang Yimou of China, and the Philippines' Kidlat Tahimik.
What message would you impart to today's audience about M. Butterfly? (To which Mr. Kanakan-Balintagos replies by reminding me of his notes from a recent press conference.)
KB: In a time of "fake news" and [historical] revisionism...the short-term memory of the Filipino and the possibility of a transgender Miss Universe, it's not hard to believe the story of the Chinese Peking Opera star, Song Liling, who fools a French diplomat for 20 years of his/her gender. The play, based on a true story, is truer than ever, more relevant today than when it was written in 1988. Authenticity is my super intention, which is why I aimed for an all-Caucasian male cast, where the conflict and the biases between the West and the East, Male and Female--the Animus and the Anima--will be more visually apparent.
Since I began as a playwright, I always focus on motivations of the characters in a play and try to rediscover the subliminal intentions of the playwright. So please wish us luck with a heartful "Break a Leg" as we unveil the truth in the Great Wall of Illusion that envelops us all.
"M. Butterfly," produced by Jhett Tolentino and Frontrow Entertainment, plays at the Maybank Performing Arts Theater, BGC Arts Center (26th St. cor. 9th Ave., Bonifacio Global City) from September 13 through September 30, 2018.
Buy tickets (P1,000-P2,000) from TicketWorld.com.ph. All proceeds will go to various charities and advocacy groups.
Photos: Oliver Oliveros