WILLY WONKA, JR. Adds Performance at Upper Darby Summer Stage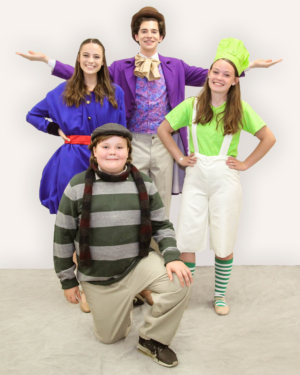 Upper Darby Summer Stage adds an additional show date to the 44th season finale, Roald Dahl's Willy Wonka, JR. on August 13 at 10:30 am. Audience members are encouraged to grab their golden tickets to the show that now runs for a total of five performances on August 13, 14, 15 and 16 at 10:30 am and on August 15 at 7:30 pm.

Tickets are $9 - $13 and can be purchased online at www.udpac.org or by calling the Box Office at 610.622.1189. Children are invited to arrive early for fun pre-show activities and stay after the show to meet cast members! The show is approximately one hour long and is ideal for ages four and up. Free babysitting is offered for those who are too young to enjoy the show quietly. The Upper Darby Performing Arts Center is located in Drexel Hill, at 601 N. Lansdowne Avenue, minutes from the Main Line and Center City. Parking is free.

Roald Dahl's Willy Wonka, JR. follows eccentric candy manufacturer Willy Wonka as he stages a contest by hiding golden tickets in five of his delectable candy bars. The finders of these lucky tickets win a free tour of the Wonka factory, as well as a lifetime supply of candy. Four of the five winning children are insufferable brats, but the fifth is a likeable young lad named Charlie Bucket, who takes the tour in the company of his equally amiable grandfather. The children must learn to follow Mr. Wonka's rules in the factory - or suffer the consequences. The show features songs from the classic movie such as "The Candy Man" and "Pure Imagination."

Roald Dahl's Willy Wonka, JR. features a cast of at least 60 young people from throughout the Philadelphia region including Havertown's Jack O'Leary of Havertown as Willy Wonka, Quinn McGahey of Drexel Hill as Charlie Bucket and Sarah McGrath of Drexel Hill as the precocious Violet Beauregard. Summer Stage alumnus Mimi Warnick of Ardmore directs the production. "This is a show the whole family can share together. We are emphasizing the quirkiness of Roald Dahl's imagination seen in the more recent film, but also really showcasing the original factory. While honoring the original story, we are also layering in never before seen technical and special effect moments!" The production is sponsored by Maureen Ingelsby of Keller Williams Real Estate.

The Upper Darby Performing Arts Center and Upper Darby Summer Stage are jointly sponsored by the Upper Darby Township Mayor and Council and the Upper Darby School District Board of School Directors through the Department of Recreation and Leisure Services.
Photo: Cast members of Upper Darby Summer Stage's season finale, Roald Dahl's Willy Wonka, Jr. Performances on August 13, 14, 15, 16. Clockwise from top: Jack O'Leary of Havertown (Willy Wonka), Quinn McGahey of Drexel Hill (Charlie Bucket), Eve Turner of Newtown Square (Oompa Loompa) and Sarah McGrath of Drexel Hill (Violet).
Related Articles View More Philadelphia

Stories

Shows
More Hot Stories For You