Review Roundup: SWEAT at Philadelphia Theatre Company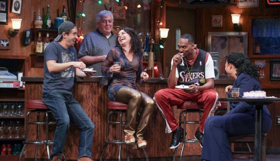 Philadelphia Theatre Company's Pennsylvania premiere of Lynn Nottage's Sweat is now on stage. This Pulitzer Prize for Drama winner explores Reading Pennsylvania's shrinking industrial economy and shares the fear, tragedy and hopefulness of a community being forced to accept inevitable change. The production will kick-off the first produced season under new Producing Artistic Director Paige Price. Justin Emeka directs a cast filled with local stars and Barrymore Award-winners who have earned extensive theatre, film and television credits. Sweat will run through November 4, 2018 at Philadelphia Theatre Company's stage at the Suzanne Roberts Theatre, 480 S. Broad Street. Subscriptions and single tickets for the 2018-2019 season are already on sale and are available in person at the box office, online at philatheatreco.org or by phone at 215-985-0420.
Based on Lynn Nottage's extensive research in Reading, Sweat is both a Pennsylvania story and a national story. In this play audiences witness a valley town that is home to fiercely proud families who have worked for generations in the plants and factories of a thriving county seat. Unions rule, well-paying jobs are coveted and politics are personal. As industries disappear, the men and women of Reading are rendered powerless as they watch their income, legacy and relationships follow suit.
Sweat won the 2017 Pulitzer Prize for Drama and was nominated for two 2017 Drama Desk Awards for Outstanding Play and Outstanding Fight Choreography. Sweat received three 2017 Tony Award nominations: Best Play and Best Performance by an Actress in a Featured Role in a Play for both Johanna Day and Michelle Wilson.
Single tickets for Sweat are on sale now $25-$69 with discounts available for groups, seniors, students, industry, and the military. Subscriptions for the 2018-2019 season are also currently on sale and packages are 50% off, starting at $38. In addition to Sweat, PTC's season will include the Philadelphia premiere of The Bridges of Madison County and the Rolling World Premiere of Christina Anderson's How To Catch Creation. For additional information, tickets or subscriptions, please visit philatheatreco.org or call 215-985-0420.
Philadelphia Theatre Company (PTC) is a leading regional theater company that produces, develops, and presents entertaining and imaginative contemporary theater focused on the American experience. PTC balances its Philadelphia roots with a national point of view that combines a taste for adventure with a dedication to new American plays and musicals.
Founded in 1974, PTC has presented 140 world and Philadelphia premieres. More than 50 percent of PTC's world premieres have moved on to New York and other major cities, helping to earn Philadelphia a national reputation as a hub for new play development. PTC has received more than 180 nominations and 53 awards from the Barrymore Awards for Excellence in Theatre. In 2007, PTC was instrumental in expanding Philadelphia's thriving cultural corridor by opening the Suzanne Roberts Theatre on the Avenue of the Arts.
Toby Zinman, The Inquierer: Nottage punctuates her script with political updates - presidential debate, school shooting, the Olympics - via the bar's TV. These need to be clearer and larger than they are in this sometimes sketchy production directed by Justin Emeka. The characters should evoke more sympathy, and the events should shock us more than they do, and Nottage's powerful, wise lines are sometimes lost in delivery. But what PTC's production does deliver is a sadly relevant portrait of a society in collapse.
David Fox, Philly Mag: Emeka's production has similar peaks and valleys. It's well staged and handsomely designed, produced with a level of scale and detail that recalls some of PTC's early strengths. But much of the time, we're aware we're watching a performance-skillfully delivered, to be sure, but a performance, rather than a slice of real life. All the actors have their moments (it's almost always the quiet scenes that pay off best), but Damien J. Wallace, J. Hernandez, and Walter DeShields most consistently feel like they're really living in the play.
More Hot Stories For You