Quintessence Theatre Group Presents JULIUS CAESAR & THE WILD DUCK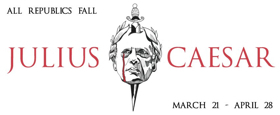 Quintessence Theatre Group continues its blockbuster Season VIII with The Power and Idealism Repertory: Shakespeare's JULIUS CAESAR presented in rotating repertory with Henrik Ibsen's THE WILD DUCK. Striving for gender parity, Quintessence welcomes an A-list eleven-actor ensemble composed of Quintessence favorites and Philadelphia's best to explore new adaptations of two timely classics. As America's democracy is being tested, and the #metoo movement is challenging us all to reconsider America's complex history with patriarchy and the assault of women, directors Alexander Burns and Rebecca Wright revive these harrowingly relevant dramatic masterpieces to join in the conversation.
All performances are at the Sedgwick Theater, 7137 Germantown Ave., Mt. Airy, Philadelphia, 19119. To purchase tickets, visit www.Quintessencetheatre.org or call 215.987.4450.
JULIUS CAESAR
March 21 - April 28, 2016. Opening Night: March 24, 2018
Julius Caesar is triumphant on the battlefield, but in the halls of government his consolidated power is feared. As Rome's people prepare to anoint an Emperor and surrender their democratic rights, a group of senatorial conspirators plot to assassinate Caesar in the name of liberty. Will this violence bring about a new age of Romance peace, or throw the republic back into civil war? Shakespeare's epic and thrilling tragedy explores the challenge of sustaining democracy, the timeless nature of propaganda, and the power of self-interest and betrayal to turn a government against its people
and politics into a brutal blood sport. In a new adaptation by director Alexander Burns, which incorporates text from John Masefield's The Tragedy of Pompey The Great, Joseph Addison's Cato and other 17th century dramatic writing on Julius Caesar, this promises to be a never before seen retelling of the timely political tragedy of Julius Caesar.
Acclaimed for presenting Shakespeare as "a dramatic thrill ride," director Alexander Burns is joined by Michael Brusasco, who last dazzled Quintessence audiences as Buckingham in The Three Musketeers, as Marcus Brutus, Paul Hebron, who earlier this season won accolades as the James Tyrone in Quintessence's Long Day's Journey into Night as Julius Caesar, and making their Quintessence debuts, two of Philadelphia's finest, Mary Tuomanen as Caius Cassius, Brett Ashley Robinson as Mark Antony. The creative team includes costume designer Jane Casanave, lighting designer Ellen Moore, sound designer Daniel Ison, and fight direction by Alex J. Cordaro.
THE WILD DUCK
April 4 - April 29, 2018. Opening Night: April 7, 2018
The idealistic son of a wealthy businessman seeks to destroy his philandering father's reputation by exposing an ancient extramarital affair. He also seeks, by means of this revelation, to free his childhood friend from the delusions and lies on which a happy marriage is based. Meanwhile, an ambitious young inventor spends so much of his time and energy trying to devise an invention which will make him rich that he is unaware of the true richness of his daily life. Does truth or money set us free, and should it be pursued whatever the cost? Or is it better to enjoy life's simple joys and to allow the past and its secrets to remain buried.
Following her celebrated productions of The Metamorphosis and Saint Joan, Applied Mechanics Artistic Director Rebecca Wright returns to direct her new adaptation of Ibsen's classic, written in collaboration with the ensemble.
Making their Quintessence debuts, David Pica leads the ensemble as Hialmar Ekdal, with Brett Ashley Robinson as his wife Gina, Deysha Nelson as their young daughter Hedvig. Tom Carman, known for his celebrated performance as Swiss Cheese in Quintessence's Mother Courage, returns as the idealist Gregers. The creative team includes costume designer Nikki Delhomme, lighting designer Maria Shaplin, sound designer Adriano Shaplin and settings and props by Emma Arrick.
The repertory ensemble also includes the return of Quintessence favorites Julia Frey, Michael Gamache and Anita Holland, and the Quintessence debut of Kimie Muroya.
QUINTESSENCE: A CLASSIC REPERTORY ENSEMBLE FOR PHILADELPHIA
Quintessence Theatre Group is a professional classic theater dedicated to the performance and adaptation of epic works of literature and drama for the Contemporary Stage. Its approach attracts both nationally-recognized and local actors who find challenge and inspiration in Quintessence's
thought-provoking, innovative productions. It is building an acting ensemble with a rotating repertory at the historic Sedgwick Theater in the Mt. Airy neighborhood. As Quintessence Theatre Group's home, the Sedgwick Theater, a 1928 art deco movie palace designed by William Lee, has regained its place as a jewel in Philadelphia's cultural landscape.
JULIUS CAESAR plays March 21 - April 28. A special PAY WHAT YOU CAN preview will be presented on Wednesday, March 21 at 7:30pm. Post-show talkbacks with the cast and director will take place on Sunday, April 8 and Thursday, April 12. THE WILD DUCK plays April 4 - April 29. A special PAY WHAT YOU CAN preview will be presented on Wednesday, April 4 at 7:30pm. Post-show talkbacks with the cast and director will take place on Sunday, April 15 and Thursday, April 19.
Tickets are $35 - $30 general admission, $15 for student and youth (21 and under). Group discounts and weekday student matinees are available. To purchase tickets or subscriptions, visit www.QuintessenceTheatre.org or call 1.215.987.4450. For ticket information please email BoxOffice@QuintessenceTheatre.org