Photo Flash: Walnut Theatre Gets Ready to Dance with SATURDAY NIGHT FEVER
Walnut Street Theatre concludes its landmark 208th season with an exciting musical inspired by the 1977 film that became a cultural phenomenon, SATURDAY NIGHT FEVER. Directed and choreographed by Richard Stafford, this high energy musical begins previews on May 16th, opens on May 24th and runs through July 16th on the WST Mainstage.
SATURDAY NIGHT FEVER is one of the most loved dance stories of all time. The year is 1977 and, in Brooklyn, New York, Tony Manero, a young man with a dead-end job and an extraordinary ability to dance, has only one ambition in life - to become the disco king. When he meets Stephanie, who also dreams of a world beyond Brooklyn, they decide to train together for a dance competition and their lives begin to change forever. The electrifying score is packed with legendary hits from The Bee Gees including the classics: "Stayin' Alive," "Night Fever," "Jive Talking," "You Should Be Dancing" and "How Deep is Your Love?"
SATURDAY NIGHT FEVER the musical had its world premiere in London, 1998. The show was nominated for three Olivier Awards, including Best New Musical. Its Broadway premiere came in 1999, where it played for 501 performances. SATURDAY NIGHT FEVER has toured internationally and is currently seeing its second national tour. The Walnut's production of SATURDAY NIGHT FEVER is produced in association with Riverside Theatre in Vero Beach, Florida.
Walnut's production is a new, fresh take on the disco classic with a recently updated script and additional songs added, including the popular "More Than a Woman." It's based on the smash-hit Paramount/RSO Film and the story by Nik Cohn, adapted for the stage by Robert Stigwood in collaboration with Bill Oaks, with the book by Sean Cercone and David Abbinanti.
Filled with the most popular anthems of the disco era, The Bee Gees' SATURDAY NIGHT FEVER soundtrack was recently honored at the 40th Grammy Awards. Many popular musicians performed their hit songs that impacted generations of artists. The album spent 24 weeks at the top of the Billboard charts in the late 1970s and won five Grammy Awards, including Album of the Year. In 2003 VH1 named it the "57th greatest album of all time," and in 2012 it was ranked number 132 of Rolling Stone Magazine's "500 best albums of all time." In 2013 the album was added to the National Recording Registry in the Library of Congress for long-term preservation. Over 15 million copies have been sold in the US alone.
Richard Stafford returns to the Walnut as director and choreographer. His previous Walnut credits include direction and choreography for Sister Act, Memphis, Curtains, Dirty Rotten Scoundrels, Beauty and the Beast and Cats, as well as choreography for The Goodbye Girl, La Vie En Bleu and Evita. On Broadway, Stafford was choreographer for In My Life, associate choreographer for Aspects of Love and dance supervisor for Cats. His work has been seen on the National Tours of Cats (director/choreographer), My Fair Lady (choreographer) and Joseph...Dreamcoat (choreographer), as well as numerous regional and international stages. Joining Stafford is Music and Vocal Director John Daniels, whose many Walnut credits include Sister Act and The Wizard of Oz.
The Walnut welcomes back Scenic Designer Peter Barbieri (Sister Act, Memphis) to lead the design team in transporting audiences to the dance studios and discotheques of 1970s Brooklyn. Joining Barbieri are Lighting Designer Jack Mehler, Sound Designer David Temby, Costume Designers Michael Bottari and Ronald Case and Costume Coordinator Gail Baldoni.
Jacob Tischler makes his Walnut debut as Tony Manero. Tischler played Jimmy on the National Tour of Flashdance, and has performed regionally with Westchester Broadway Theater, Northern Stage and New London Barn Playhouse. Love interest Stephanie Mangano will be played by Alexandra Matteo, also making her Walnut debut. Matteo has been seen on Broadway in Annie, and on the National Tours of Dirty Dancing, Anything Goes and The Addams Family. Ben Dibble (South Pacific, High Society) returns to the Walnut as Monty and Will Stephan Connell (High Society) as Bobby C. Making their Walnut debuts are Nicole Colón as Annette, Christopher Hlinka as Joey, Joe Moeller as Double J, Raynor Rubel as Gus and Crystal Joy as Candy.
Fran Prisco, who audiences will remember from The Wizard of Oz and Last of the Red Hot Lovers, will play Frank Manero, and Sabrina Profitt (Mickle Street) will play Flo Manero. Christopher deProphetis (Plaid Tidings) returns to the Walnut as Frank Jr. and Kathryn Miller (South Pacific) as Pauline. Lexi Gwynn, who Walnut audiences will remember as the little sister in High Society, returns as youngest member of the Manero family, Linda.
In the ensemble, the Walnut welcomes back Sarah Buscaino (Memphis), J?van Dansberry (Sister Act), Andrew Eckert (The Wizard of Oz), Billy D. Hart (The Wizard of Oz), Kristyn Pope (Sister Act), Kerri Rose (A Christmas Story), and Walnut newcomers Anthony Avino, Sarah Crane, Lauren Dalal.
SATURDAY NIGHT FEVER runs at the Walnut May 16 through July 16. Open captioning will be available for the 7pm performance on Sunday, June 11. The Wednesday, July 5 performance will be ASL interpreted and Audio Described. This production is sponsored by M&T Bank/Wilmington Trust. Media Partners are NBC 10 and Metro. For tickets and information, call 215-574-3550 or 800-982-2787. Tickets are also available online 24/7 by visiting www.WalnutStreetTheatre.org or Ticketmaster.
Photo Credit: Holly Porch

Alexandra Matteo
and
Jacob Tischler
in Saturday Night Fever
Company of Saturday Night Fever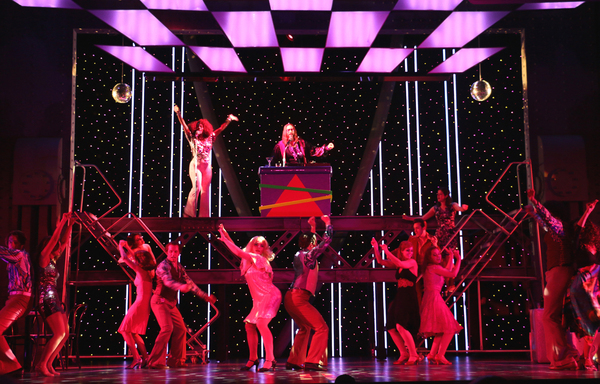 Company of Saturday Night Fever