Photo Flash: WST Studio 3 Presents TRAVELS WITH MY AUNT
The Walnut Street Theatre's 2009-2010 Independence Studio on 3 season continues with Giles Havergal's adaptation of Graham Greene's hilarious adventure tale, Travels With My Aunt. Directed by John Peakes and featuring the talents of David Bardeen, Dan Hodge, Paul Riopelle and Buck Schirner, Travels With My Aunt starts on March 30th, opens April 1st and continues through April 18th in the Walnut's Independence Studio on 3.
Travels with My Aunt creates a whirlwind of adventure as retired bank employee Henry Pulling and his effervescent Aunt Augusta travel around the world. Along the way they make lots of 'jolly exciting' friends, including secret agents, thieves, art smugglers and other lively, shady, characters. Four actors play over two dozen roles, changing identities, nationalities, sexes and even species in this global adventure that will keep you guessing-and laughing.
Graham Greene is the world famous novelist of classics such as Brighton Rock and The Heart of the Matter. Giles Havergal's adaptation of Travels With My Aunt was first presented at the Citizens Theatre in Glasgow in 1989 and went on to play the West End and New York. Travels with my aunt won an Olivier Award for Best Entertainment in 1993.
The cast of Travels With My Aunt includes David Bardeen, Dan Hodge, Paul Riopelle and Buck Schirner. David Bardeen is a veteran of numerous theatres in the Philadelphia area, winning the 2001 Barrymore Award for Best Supporting Actor in a Play. In addition to his stage work, David has been seen on Television in such shows as Weeds, Numb3rs, Dirty Sexy Money and Medium. Dan Hodge makes his Walnut debut after appearing in such Philadelphia favorites as the Lantern's Hamlet and Theatre Exile's Mr. Marmalade. Dan was a member of the Barrymore Award-winning best ensemble for Theatre Exile's Glengarry GLen Ross. Paul Riopelle makes his Walnut debut after working in many theatres across the country, including the National Tour of The Drowsy Chaperone. Buck Schirner was last seen at the Walnut in Studio 3's Wenceslas Square. Some of his other appearances include turns at the Arden, Wilma, Interact and Lantern (among many others).
Travels With My Aunt is directed by Merchantville, NJ's John Peakes. John has worked in the Philadelphia area for the past six years following a long and illustrious career in the Michigan Theatre Community. He is the Founding Artistic Director of Lansing, MI's Boarshead Theatre, and has performed in over 200 productions (including six here at WST). Travels With My Aunt marks John's directorial debut at the Walnut after directing well over 100 productions. John is the head of a newly-emerging Philly acting family - he is the father of Barrymore Award-winning actor Ian Merrill Peakes and the father-in-law of local Philly actress Karen Peakes.
Behind the scenes, the Walnut welcomes back Scenic Designer Robert Kramer (Forbidden Broadway's Greatest Hits), Costume Designer Megan Diehl (Honor and the River), Lighting Designer Shon Causer (The Prince) and Sound Designer Christopher Colucci (The Tuna Series).
Season sponsors for the 2009-2010 Independence Studio on 3 Season are The Independence Foundation and Macy's East. Media season sponsors are Philadelphia Weekly and WRTI Radio. Tickets are $30 and are now available at 215-574-3550 or 215-336-1234. Tickets are also available at www.WalnutStreetTheatre.org or www.Ticketmaster.com.
For more information, visit www.WalnutStreetTheatre.org
Photos by Brett Thomas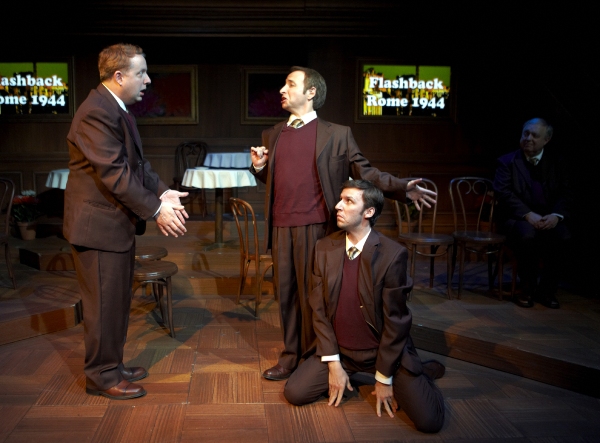 David Bardeen, Paul Riopelle, Dan Hodge and Buck Schirner

David Bardeen, Buck Schirner and Paul Riopelle