Photos: First Look at Jared Delaney and More in Luna's SEVENTY SCENES OF HALLOWEEN
Luna Theater Company announces that its 11th season will start with the revival of Jeffrey
M. Jones
' experimental classic "Seventy Scenes of Halloween" now playing through November 3, 2012 at the Skybox @ The Adrienne Theater, 2030 Sansom St. Philadelphia, Penn. Tickets are priced from $15-$30 and can be purchased by visiting
www.lunatheater.org
or calling 215-704-0033. BroadwayWorld has a first look at the show below.
It's Halloween night. Jeff and Joan, a young married couple, wait for trick-or-treaters in their claustrophobic suburban home. As the night goes on, their unspoken desires and resentments bubble to the surface. Their life together transforms into a cheesy horror movie, filled with mysterious events, hungry ghosts, and verse-speaking monsters. Jeff and Joan are never sure what is actually happening, what is imaginary, and what is a nightmare vision of what could be. Equal parts sitcom and supernatural thriller, Seventy Scenes of Halloween explores contemporary married life through both humor and horror. There is nothing else even remotely like Jeffrey M. Jones' inventive, hilarious and challenging play.
This production is NOT RECOMMENDED FOR CHILDREN UNDER 16.
The cast features *Jared Delaney - Jeff, Megan Slater - Joan, Griffin Stanton- Ameisen - Beast, and Angela Smith - Witch
* Member of Actors Equity Association, the Union for professional actors and stage managers in the United States
The creative team includes: Playwright - Jeffrey M. Jones, Director - Aaron Oster, Assistant Director - Michael Durkin, Production Stage Manager - Mary Rossiter, Scenic Design - Gregory Scott Campbell and Mary Rossiter, Scenic Construction - Mary Rossiter, Lighting Design - Andrew Cowles, Costume and Mask Design - Jillian Keys, and Sound Design - Aaron Oster.
Photo Credit: Aaron J. Oster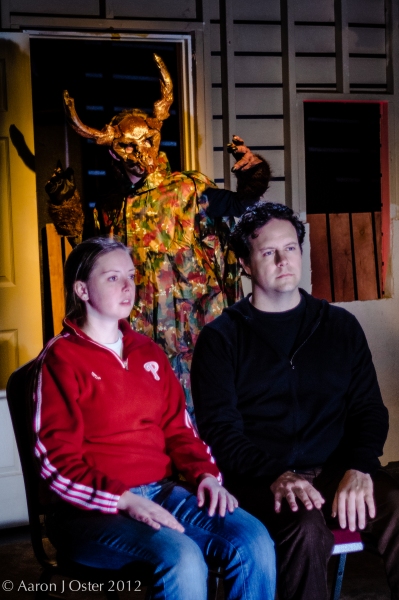 Megan Slater, Griffin Stanton-Ameisen, Jared Delaney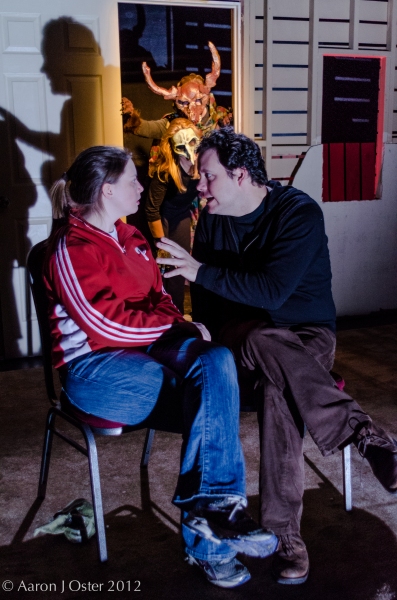 Megan Slater, Angela Smith, Griffin Stanton-Ameisen, Jared Delaney

Angela Smith, Megan Slater, Jared Delaney, Griffin Stanton-Ameisen

Poster Art