Photo Flash: Complete Look at PA Shakespeare's MUCH ADO ABOUT NOTHING
Shakespeare's spirited romantic comedy Much Ado About Nothing has opened on the Pennsylvania Shakespeare Festival main stage and is running through August 5. BroadwayWorld has a complete look at the production photos below.
Directed by James J. Christy, Much Ado offers a tale of two courtships: Beatrice and Benedick elevate the art of the quarrel in their duel of glittering wordplay, while Claudio and Hero are instantly smitten with one another. However, the scheming and envious Don John vows to ruin Claudio and Hero's happiness. Comical officers challenge dastardly villians, honor and desire collide -- and a story filled with laughter and love unfolds.
Rob Kahn and Eleanor Handley play the roles of Benedick and Beatrice respectively. The cast also includes Larry Bull as the prince Don Pedro and Joe Vincent as Leonato, Hero's father and Beatrice's uncle. Playing Don John, the bastard brother of Don Pedro is Tom Degnan, who played Joey Buchanan in the daytime television series One Life to Live. Jo Twiss appears as Antonia, Leonato's sister, while Carey Van Driest appears as both Ursula and Verges, the town deputy. Anthony Reimer takes the stage as Dogberry, the constable who is a master of malapropisms.
Thom Weaver has designed the Sicilian island setting where the play takes place, along with designing the lights. Sam Fleming has designed the costumes. Matthew Given serves as the resident sound designer for the Festival and Hannah Woodward serves as stage manager. Erin Hurley choreographs.
Tickets to Much Ado About Nothing are available at www.pashakespeare.org and by contacting the Box Office at 610.282.WILL [9455].
Photo Credit: Lee A. Butz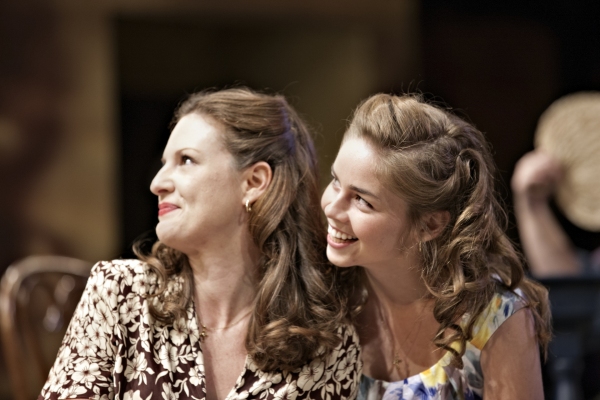 Eleanor Handley and Emiley Kiser

Larry Bull, Joe Vincent, Zack Robidas and Emiley Kiser

The Company

More Hot Stories For You