Jilline Ringle Solo Performance Program Deadline Extended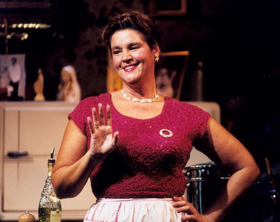 1812 Productions has extended the deadline for submissions to The Jilline Ringle Solo Performance Program to Friday, May 18th, 2018. Now in its 12th year, The Jilline Ringle Solo Performance Program is dedicated to supporting the creation, development and production of work by female solo artists across a variety of disciplines-theater, performance art and cabaret.
The program offers support in two areas: The "Couple Extra Bucks" Fund and the 1812 Summer Residency. The "Couple Extra Bucks" Fund provides small individual artist grants to female artists whose solo work is scheduled for production. The 1812 Summer residency gives two or three solo artists the opportunity to work for one week with the collaborator or mentor of their choice in the 1812 Productions studio space. Full program guidelines are available
HERE
at
www.1812productions.org
. Past program participants include Philadelphia artists
Bi Jean Ngo
, Sarah Gafgen,
Amanda Schoonover
, Kristin Finger, Jess Conda, and Rahnda Rize. Of the 2017 residents, Advisory Board Member
Grace Gonglewski
said, "The women of the 2017 program are fierce, fabulous, sure-footed, and challenging themselves to stretch in ways they never have before. They are in good company. Many years later, Jilline continues to inspire." "Couple Extra Bucks" Fund and Summer Residency recipients will be notified on June 1st, 2018. Inquiries should be sent to Emily Kleimo, Assistant to the Producing Artistic Director, at emily@1812productions.org or at 215-592-9560. At present, residencies are open to female artists only. Please note, we use inclusive definitions of "woman" and "female" and we welcome submissions from trans women, genderqueer women, and non-binary people who are significantly female-identified. Program History
The
Jilline Ringle
Solo Performance Program was established in 2005 after the passing of Philadelphia theatre sensation, and self-proclaimed "six foot redhead amazon from hell whom all men desire,"
Jilline Ringle
. Ms. Ringle was a mainstay in early 1812 Productions shows including
Michael Ogborn
's musicalBox Office of the Damned, Always a Lady, which she co-created and performed with 1812 co-founder Jennifer Childs, and her original cabaret Mondo Mangia. Best known for her original solo works, Ms. Ringle combined traditional cabaret with a theatrical and comedic flair all her own to create solo events full of intelligence, laughter, and heart. It was through her solo work that she was able to fully develop her own unique artistic voice. Jilline was beloved by many communities and had several artistic homes including City Theatre in Pittsburgh where her cabarets ran for many seasons, the Chalfonte Hotel in Cape May, New Jersey where she premiered all of her work, and Philadelphia where she worked often at the
Arden Theatre Company
and 1812 Productions, receiving four Barrymore Award nominations for her work. Company History
1812 Productions was founded in 1997 and is the only professional theater company in the country dedicated to comedy. 1812 Productions is the recipient of an honorary citation from the City of Philadelphia for outstanding work and commitment to the Philadelphia arts community. In 2010 and 2016, they were among a select group of regional theatre companies to receive a
National Theatre Company
grant from the
American Theatre Wing
, founder of the Tony Awards. Their education program, 1812 Outreach, has received multiple nominations and has twice been awarded the Barrymore Award for Excellence in Theatre Education and Community Service. 1812 Productions' mission is to produce theatrical works of comedy and comedic works of theatre that explore and celebrate our sense of community, our history, and our humanity.
Pictured: Jilline Ringle in Mondo Mangia, 2004. Photo by Ric Evans
More Hot Stories For You