Act II Playhouse Presents THIS WONDERFUL LIFE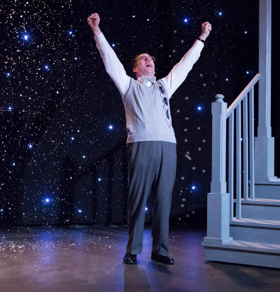 Act II Playhouse presents This Wonderful Life, a hilarious one-man adaptation of the classic movie It's a Wonderful Life, on stage in Ambler Dec. 4-30.
This Wonderful Life stars Act II Playhouse Artistic Director Tony Braithwaite - once dubbed "Philadelphia's funniest man" - as all of the characters in the beloved classic movie.
"We did this show a few years ago and people just loved it - it was a sold out run - so we are bringing it back," Braithwaite said. "I am thrilled to start doing this show every night again; it's super fun. I have such affection for the original movie, and this show combines that with my love of the season, and my love of doing impersonations."
When it premiered in 2016, the Philadelphia Inquirer praised Braithwaite's "tour-de-force performance."
"If you have fond memories of the movie It's a Wonderful Life (1946), you are sure to relish the theater adaptation now running at Act II Playhouse in Ambler," the Inquirer's critic wrote.
This Wonderful Life was written by Steve Murray, conceived by Mark Setlock, and adapted from the original screenplay by Frances Goodrich, Albert Hackett, Frank Capra, and Jo Swerling.
Tickets for This Wonderful Life at Act II Playhouse are $31-$45. Discounts are available for subscribers, students, group of 10 or more, and seniors (65+). Tickets are available online at http://www.act2.org, by calling the Act II box office at (215) 654-0200, or in person at 56 E. Butler Ave. in Ambler.
Also on stage at Act II in December is Rosie the Reindeer and the Case of the Stolen Snow Globe, the world premiere of a new Toyland mystery for the kids, on stage Dec. 8-28.
Tony Braithwaite (Performer and Director) is in his 7th season as Artistic Director here, having most recently appeared in I Ought to Be in Pictures, A Few Of Our Favorite Things, and Which Reminds Me. Other recent work here includes directing Biloxi Blues. Tony has worked in and around Philly since 1995 (as an actor, director, writer, teacher and comic) and has also appeared at or directed for 1812 Productions, Arden Theatre Company, People's Light and Theatre Company, Philadelphia Theatre Company, The Kimmel Center, Delaware Theatre Company, Hedgerow Theatre, Montgomery Theater, Mauckingbird Theatre Company, and both the Pennsylvania and Philadelphia Shakespeare Festivals, among others. Tony is a 13-time Barrymore Award nominee, a 4-time Barrymore M.C., and a 3-time Barrymore winner, including wins for The Big Bang and The Story of My Life (both at Act II). For 24 years, Tony has also served as Director of Dramatics at his beloved alma mater St. Joe's Prep where he is producing a Night of Scenes. Next up at Act II: Same Time, Next Year in March.
Photo Credit: Mark Garvin