Latest News on Rick Hinkson
Rick Hinkson News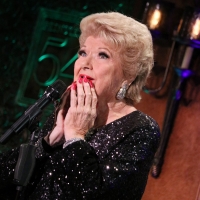 Photos: Marilyn Maye: 94, Of Course There's More! at Feinstein's/54 Below
by Kevin Alvey - Apr 21, 2022
'Marilyn Maye: 94, Of Course There's More!' at Feinstein's/54 Below in NYC. Marilyn Maye celebrated her 94th birthday with a run of 10 shows in the NYC Nightclub. Featuring songs from the Great American Songbook and from the Broadway stage, Marilyn brought her special brand of energetic positivity to the Manhattan crowd and shows no signs of slowing down!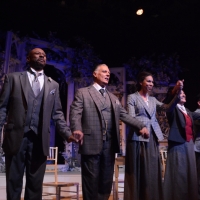 Photos: MRS. WARREN'S PROFESSIONS Celebrates Opening Night
by Genevieve Rafter Keddy - Oct 28, 2021
Gingold Theatrical Group is returning to live, in-person performances with a rare revival of Bernard Shaw's Mrs. Warren's Profession starring Robert Cuccioli, David Lee Huynh, Alvin Keith, Nicole King, Raphael Nash Thompson, and Tony® Award winner Karen Ziemba as Mrs. Warren.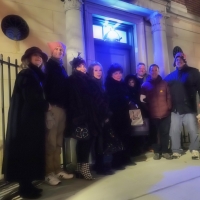 Theater Folk Gather To Sing Irving Berlin Songs At His Home
by Stephi Wild - Jan 12, 2020
Friends and admirers of Irving Berlin from New York's theater community--continuing a tradition they began back while Berlin was alive--recently gathered at his former home in New York City to remember him in song. They sang such Berlin classics as 'God Bless America,' 'White Christmas,' and 'Always,' complete with rarely heard verses. Berlin (1888-1989) composed the scores for 18 Broadway shows and 19 films. He wrote more standards and made more money than any of his colleagues in the Golden Aged of American Popular Music.
Photo Coverage: 'Marilyn Maye's New Year's Eve Extravaganza' at Birdland Theater, NYC
by Kevin Alvey - Jan 7, 2020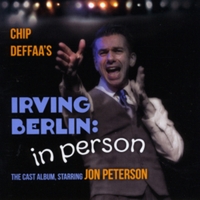 The Cast Album for IRVING BERLIN: IN PERSON Starring Jon Peterson Will be Released on January 21
by Chloe Rabinowitz - Jan 7, 2020
The cast album for 'Irving Berlin: In Person,' starring Jon Peterson--as produced at New York's 13th Street Theater--is being released January 21st.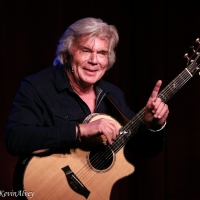 Photo Flash: John Davidson Returns To Birdland With TROUBADOR
by A.A. Cristi - Sep 11, 2019
By popular demand, the Broadway at Birdland concert series was thrilled to present the return of John Davidson in concert on September 9.  Fresh from his starring roles in Finding Neverland and Wicked, John has returned to his passion – as a troubadour.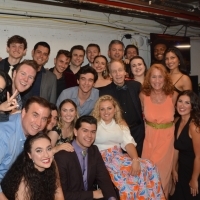 Photo Coverage: Backstage with the Cast of BROADWAY'S RISING STARS 2019
by Genevieve Rafter Keddy - Jul 23, 2019
Photo Coverage: Gingold Theatrical Group's GOLDEN SHAMROCK GALA Honors Stephen Schwartz
by Genevieve Rafter Keddy - Mar 17, 2019
Gingold Theatrical Group held its Golden Shamrock Gala 2019, honoring humanitarian and award-winning creator of Godspell, Pippin, and Wicked, Stephen Schwartz, on Saturday, March 16th at 3 West Club (3 West 51st Street). Among some surprise guests performers were Stephen Schwartz himself, along with Claybourne Elder, Melissa Errico, and Alison Fraser.

Photo Coverage: Mark William Brings COME CROON WITH ME to Green Room 42
by Genevieve Rafter Keddy - Nov 15, 2018
Just last night, Mark William made his solo nightclub debut at The Green Room 42 with the world premiere of 'Come Croon With Me.' Putting his own unique, youthful spin on golden age crooner styling, Mark performed a collection of classic tunes from Broadway and The Great American Songbook. With his sophisticated approach, he glided from Jerry Herman to Peter Allen to Henry Mancini with charismatic ease and a spring in his step.
Photo Flash: Birdland Theater Kicks Off Summer Season With Lucie Arnaz
by Stephi Wild - Jul 18, 2018
Birdland Theater kicked off it's premiere summer season Tuesday night with audience favorite Lucie Arnaz, who also happened to be celebrating a birthday. Lucie's new show, "I Got The Job: Songs From My Musical Past" will take place at 7pm nightly through Saturday, July 21. There was a post-show celebration in the green room, with champagne, cake, singing, reveling and toasts to the birthday girl and new show room.