Review: THE BRYCE EDWARDS FRIVOLITY HOUR Is Some Serious Stuff at Don't Tell Mama
Genuinely great entertainment had Don't Tell Mama more packed than ever before.
There, apparently, was only one place to be on Saturday night, and that place was THE Bryce Edwards FRIVOLITY HOUR, a show presented at Don't Tell Mama that had to be delayed by forty minutes, in order to accommodate the overwhelming line of patrons hoping to get in. House manager and tech director Kelly Wohlford worked overtime, performing Herculean feats of magic with tables and chairs and Standing Room Only space, while the waitstaff bent over backwards to get orders taken and delivered to what looked like more people than had, ever before, filled the room for one show. It was fabulous. Seeing so many citizens turn out to revel in the artistry of a performer does the heart good. Seeing so many members of the cabaret and concert community show up to see Bryce Edwards is proof positive that the man is something special (for the record, some of the cabaret luminaries spotted in the room were Birdland's Jim Caruso and Susie Mosher, comedy powerhouse Michael West, prolific swinger and belter Nicolas King, industry professional and supporter Rick Hinkson, rising star Susie Clausen, and the legendary Marilyn Maye). It's anyone's guess who else was in the room, it was so crowded that it was hardly possible to see beyond a one foot radius.
Every artist should have this opening night.
Bryce Edwards deserves this audience every night of his life.
It's hard to know the progression of an act like this, of an artist like this. When you look at Bryce Edwards on the stage, when you consider his mode of dress, his style of hair, the cadence and tones with which he sings and speaks, even the vernacular that he employs when he speaks, eventually you will ask yourself if someone actually invented a time machine and whether or not a Nineteen Twenties Vaudevillian has traveled forward a century to bring back the art form of early Twentieth Century musical storytelling. Or perhaps the more likely scenario is that Bryce Edwards discovered an era in music and in life that, better, suits his personal interests and artistic aesthetic and remade himself in that era's image. Or, maybe, just maybe, by some miracle, the universe decided that the time of Rudy Vallée and Gene Austin, of Cliff Edwards and Jack Teagarden was not finished and Bryce Edwards was, simply, born. Whatever the reason, whatever the cause, Bryce Edwards is here, now, and he is on a mission to bring Vaudeville back to life and to the people.
And he is most welcome.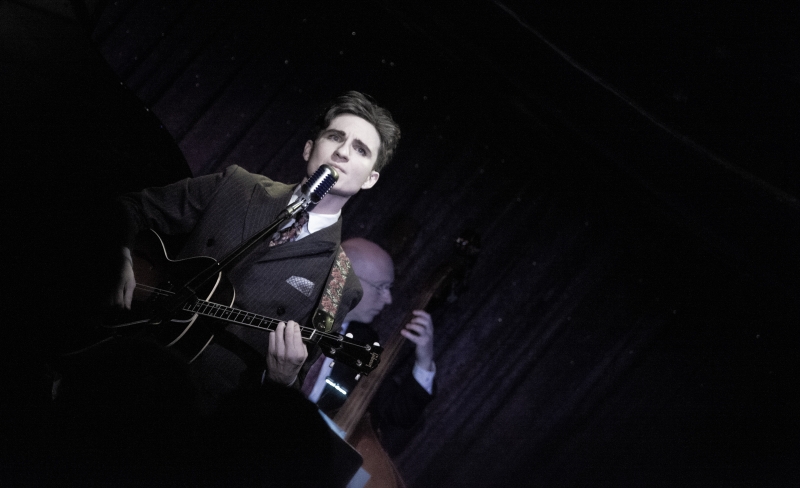 For a generous (if a bit protracted) one hour and twenty-five minutes, Bryce Edwards sang the songs from the first part of the last century (the youngest composition was 1908's "Shine On Harvest Moon" and the oldest was the 1938 duet "Two Sleepy People"), while playing not one, not two, not even three instruments, but five. And he aced every instrument. Vocally, Mr. Edwards' abilities are unblemished. He can croon, he can belt, he can purr, he can whisper, and he, most adequately, can reproduce the sound of a trumpeter's horn with his voice. He yodels. He scats. He holds nothing back in his attempt to honor the artists living in his heart and his quest to put them and their artistry in the hearts of others. With his "garage sale" of musical instruments (Banjo, Tenor Guitar, Ukulele, Mandolin, Songophone) he demonstrates musicality of an almost unbelievable nature (the banjo work, alone, is gasp-worthy), and his appreciation of his fellow musicians (Conal Fowkes on Piano and Bass, Scott Ricketts on Cornet) is so respectful and ardent as to be an envious look at how all work partnerships, artistic or otherwise, should be. Layer in a dry, tongue-in-cheek humor, and an encyclopedic memory of historical facts and trivia, and the spoken portion of Mr. Edwards' show almost rivals the musical on the enjoyment meter, which is saying a lot because Mr. Edwards' performances of "Everybody Loves My Baby," "Everything Is Hotsy Totsy Now" and "If I Could Be With You One Hour Tonight" were, quite literally, off the charts. Members of the audience gasped, some hooted, some hollered, and some merely shook their heads and threw their hands in the air. And everyone smiled, ear to ear, for the entire duration of the program. One portion of the proceedings was especially emotional for everyone, though.

Mr. Edwards welcomed to the stage a young singing actress named Reilly Wilmit who, he blurted out, "Happens to be my steady girl" and the soprano with a classic Broadway sound and equally impressive belt spent two numbers on the stage, she the Gracie to his George (or Alice Faye to his Rudy Vallee for a more legit musical reference). The duo delighted, side by side, with the previously mentioned "Sleepy People" and "Harvest Moon" numbers, eliciting sighs, giggles, and grins. It was a most charming moment in an already spectacular program, but it seems unlikely that Bryce Edwards would or could present anything other than the spectacular. He is an original, and he is special, he is supremely talented, and he is to be seen, hopefully, preferably, with this same musical team sharing the stage with him. It seems a shame that the Bryce Edwards FRIVOLITY HOUR should only play for one night because frivolity we got, in abundance, and frivolity we need. It would behoove Mr. Edwards to consider a reprisal or a run of this outing, for it is one of the first great cabaret shows of the year 2023, even though it reads more like 1923. But the music, like Mr. Edwards, is classic, and classics never go out of style.
Find a show to see on the Don't Tell Mama website HERE.
Visit the Bryce Edwards website HERE.
Photos by Stephen Mosher; Visit the Stephen Mosher website HERE.