Latest News on Maya Hakvoort
Maya Hakvoort News
Review: THE GRAND SHOW IN ST. MARGARETHEN'S QUARRY
by Martin Ganeider - Aug 27, 2022
What did our critic think of THE GRAND SHOW at QUERRY ST.MARGARETHEN?
Previews: THE GRAND SHOW in ST.MARGARETHENS QUARRY
by Martin Ganeider - Aug 20, 2022
After last year's success, the star-studded Musical concert is back in the picturesque quarry.
Previews: ELISABETH IN CONCERT at SCHÖNBRUNN PALACE
by Martin Ganeider - Jul 13, 2022
ELISABETH, VBW's most successful show, is back for a three-night-only Concert at Vienna's stunning Schönbrunn Castle, starting performances on July 30. This year's Empress will be Maya Hakvoort, who has played ELISABETH in Vienna and worldwide. She boosted her career back in the days when she stepped into the role at the famous Theater an der Wien. To shorten the waiting, the VBW released a video with Hakvoort and the excellent VBW Musical Orchestra, conducted by the show's composer Silvester Levay singing the show's Hit Song 'Ich gehör nur mir.' It's been too long since we got the chance to enjoy the dramatic story in the breathtaking scenery, but now one of the most significant summer events is just around the corner, and we are more than interested to see this year's Concert Cast on stage.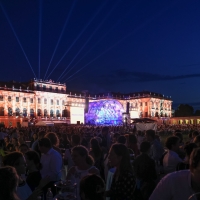 Review: ELISABETH IN CONCERT at Schönbrunn Palace
by Martin Ganeider - Jul 1, 2022
What did our critic think of ELISABETH IN CONCERT at SCHÖNBRUNN PALACE? After the massive success in 2019, ELISABETH, the Musical about Austria's famous empress, is back at Schönbrunn Palace for a three-night-only run. You might never witness a concert in such a unique location perfect for one if not the most successful Austrian musical, written by Michael Kunze (book and lyrics) and Silvester Levay (music). The concert feels like a celebration of the show's unbroken success. Since opening night in 1992, ELISABETH has become a global phenomenon. More than twelve million people have seen the story about Elisabeth's tragic life and death. A Musical National treasure, history Made In Austria.
BWW Preview: Austrian Productions to Look Forward in 2022
by Martin Ganeider - Jan 19, 2022
Heading into the 2022 theatre season, Austria has a wealth of productions that deserve your attention. In this feature, I break down some of the shows that I will definitely be getting tickets to see. From Saigon to Rydell High, a ton of shows to choose from, so go out there and get your tickets before they're gone!
BWW Review: WE ARE MUSICAL at RAIMUND THEATER
by Martin Ganeider - Sep 27, 2021
The Raimund Theater is open again, more beautiful than ever before. After almost 2 years of refurbishment, the house is ready to welcome back its audience. There might be no better way to open a house with a splendid gala. A journey through the theatre's history from operetta to the golden area of musicals with familiar faces on stage. VBW's very own artistic director, Christian Struppeck, the Master of the house together with Musical Diva Ana Milva Gomes acted as the hosts of the gala. The stage has been home to many great actors from past and present. Many shows have been developed in the house in Viennas 6th district, some of them went down as the greatest musicals in Austrian musical history. Being part of the Reopening from such a historical and magical place is like a once-in-a-lifetime event. Celebrities together with musical theatre lovers followed Struppeck's invitation to the Grand Reopening.
BWW Review: MUSICAL STARS at ST.MARGARETHEN QUARRY
by Martin Ganeider - Aug 12, 2021
The answer is yes but not a song of an angry voice, it's full of joy and happiness. St. Margarethen, usually home for huge summer Opera Open Air productions, welcomed a Musical Star Ensemble for a Best Of Concert. St. Margarethen's quarry is located close to the famous Neusiedler See, the largest endorheic sea in central Europe, everything you need for a perfect day/night out.
BWW Review: FLOATING CONCERTS at Meine Insel
by Martin Ganeider - Jul 17, 2021
.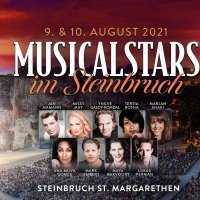 BWW Previews: MUSICALSTARS AT THE QUARRY at Quarry St. Margarethen
by Martin Ganeider - Jun 26, 2021
The Virus we all have been talking about for quite some time is still with us but nevertheless, our country and everything we missed so dear is coming back. Enough with all those cancellations and postponed opening dates, we are more than ready ( and mostly vaccinated) to get entertained.