Latest News on Drew Eberhard
Drew Eberhard News
Review: THE COLOR PURPLE: THE MUSICAL is an Exquisite Masterpiece at Stageworks Theatre
by Drew Eberhard - Sep 10, 2022
From the moment the lights descended on the stage at 1120 E Kennedy Blvd., Unit 151 otherwise known as Stageworks Theatre, the opening night audience sat with bated breath as we awaited the opening notes of The Color Purple: The Musical Adaptation with book by Marsha Norman and music/lyrics by Brenda Russell, Allee Willis, and Stephen Bray.
ThinkTank Theatre Announces Cast Of THE LIGHTNING THIEF
by Stephi Wild - Sep 7, 2022
ThinkTank Theatre has announced casting for their 22/23 season opener, 'The Lightning Thief; The Percy Jackson Musical'. The musical is based on The Lightning Thief, the first book in the Percy Jackson and the Olympians series by Rick Riordan.
Review: AVENUE Q At Straz Center Proves That Puppets, Like People, Can Have A Whole Lot Of Heart
by Drew Eberhard - Sep 6, 2022
Avenue Q, a musical comedy featuring puppets controlled by human actors premiered off-Broadway at the Vineyard Theatre in 2003. Opening to rave reviews and claiming Tony Nominations for Best Musical, Best Original Score, and Best Book all of which it won and several nominations in the acting categories, Avenue Q proved to be a juggernaut of its time. Having assumed much praise for its approach to racism, homosexuality, and internet pornography Avenue Q proved that even puppetry can be fun for adults.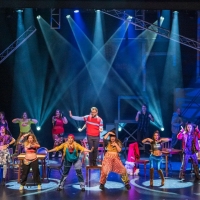 Review: An Experimentally Avant-Garde Staging of Jonathan Larson's RENT at Eight O'Clock Theatre
by Drew Eberhard - Aug 14, 2022
Jonathan Larson a name synonymous with American Musical Theatre in the 90s penned this phenom of a Musical based on the Puccini Opera La Boheme. Featuring a rock and roll score unlike anything heard on Broadway at its time, Rent received critical and mass acclaim following the untimely passing of its creator, who passed prior to its premiere. With such recognizable songs as, "Take Me or Leave Me," "Will I," "Out Tonight," and probably the biggest musical theatre anthem of its time "Seasons of Love," Rent went on to achieve Tony and Pulitzer claim and won the world over with its unique score and storyline of unlikely characters who were mirror images of very real people in its time. Still a musical that has many outdated references manages mass appeal today.
Review: MATT HARMON'S EXHILARATING AND POIGNANT "EXHIBITS IN THE ZOO" at ThinkTankTYA
by Drew Eberhard - Aug 14, 2022
Matt Harmon's Exhibits in the Zoo displays what life was like for people prior to the Holocaust living out their days in the confines of the Warsaw Ghetto. To much knowledge and further proven by history, the ideas of the Holocaust, or what our immediate resonance with the tragedy conveys is the Concentration Camp angle. With plays like Martin Sherman's Bent, and Diary of Anne Frank, and novels such as Night and Number of the Stars, we have learned at length the tragedies that struck the communities of Jews at the hands of Hitler's Regime.
Review: SELINA FILLINGER'S SOMETHING CLEAN at Studio Grand Central
by Drew Eberhard - Aug 12, 2022
These questions and more are the thoughts that fill my mind upon exiting the theatre following the opening night of Studio Grand Central's Second Season opener Something Clean by Selina Fillinger. Fillinger whose more recent work Potus is a smashing success on Broadway; penned this three-hander piece about a grieving mother who also is struggling with love and culpability. Her own struggle with intimacy is backlogged by trauma and has come to a crippling head not just on her inner self but on her marriage as well.
Review: NEIL SIMON'S ROSE &WALSH WILL STIR THE SOUL AND WARM THE HEART at FreeFall Theatre Company
by Drew Eberhard - Aug 1, 2022
As the final play written by the great Neil Simon, Rose & Walsh previously entitled Rose's Dilemma ran in Los Angeles and Off-Broadway in 2003. Originally starring Mary Tyler Moore in early previews, Moore left the production when Simon sent a letter citing her to learn her lines. Neil Simon's works include the very popular Eugene Trilogy (Brighton Beach Memoirs, Biloxi Blues, Broadway Bound), and other great works including Barefoot in the Park, The Odd Couple, I Ought to Be in Pictures, among many other prolific pieces both onstage and onscreen. Spanning a career writing more than 30 plays and numerous screenplays, Simon has received more Oscar and Tony Award Nominations than any other writer. Simon passed away on August 26, 2018, leaving behind a legacy as one of the great Stage and Screenwriters of his time. Rose & Walsh makes its premiere at freeFall Theatre Company on July 30, 2022, boasting an exceptionally strong cast, this production will be one you want to see multiple times over.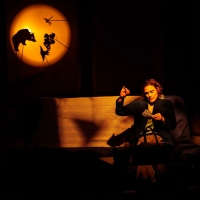 Review: RAJIV JOSEPH'S ANIMALS OUT OF PAPER PROVES TO BE A MASTERCLASS FOLLOWING A 4 YEAR HIATUS at JOBSITE THEATER
by Drew Eberhard - Jul 16, 2022
In its complexities of storytelling, we find a narrative grounded in teacher-student relationships that surround the 100-minute One-Act currently onstage at the Shimberg Playhouse at Tampa's Straz Center. Written by Rajiv Joseph in 2008 this one-act quirky romantic comedy packs a punch just boiling below the surface. Analyzing the relationship between student/teacher/mentor we meet three unlikely individuals whose lives are impacted by lessons grounded not just in origami, but also in the way that as humans we feel pain and how we adapt/deal with such. Rajiv Joseph won the Pulitzer Prize for Drama in 2010 with his work Bengal Tiger at the Baghdad Zoo, which enjoyed a stint on Broadway featuring the late great Robin Williams. Rajiv Joseph also went on to win an Obie Award for his work Describe the Night in 2018. No stranger to telling the inner workings of human relationships, Rajiv Joseph has garnered critical acclaim for his many works, and yet still is considered slightly unknown in certain arenas.
Review: NUNSENSE A-MEN Proves to Be a Confession Full of Laughs, and Just What We Needed at Straz Center for The Performing Arts
by Drew Eberhard - Jul 15, 2022
Nunsense premiered off-Broadway in 1985 with music, lyrics, and a book by Dan Goggin. The show ran for 3,672 performances and became the second longest-running off-Broadway show in history. Nunsense was then adapted for television starring everyone's favorite Golden Girl Rue McClanahan and has since produced six sequels and three spin-off adaptations. Nunsense A-Men, more recently produced at the Straz Center for the Performing Arts in Tampa, a "Straz Produced" production, brings to the stage a group of local bay area performers to tell the story of the Little Sisters of Hoboken. As the leader of the Merry Band of Nuns is none other than the Enigmatic, and truly Exceptional Matthew McGee as Sister Mary Regina, Mother Superior. For the first time in 22 years, Matthew McGee makes his Jaeb stage debut as a performer in the musical. Dubbed a "Life-Long, bucket list opportunity", Matthew is just downright Heaven-sent in the role. From his first entrance to the final bow Matthew, along with the rest of the cast present a side-splitting, laugh-filled evening that will make your cheeks hurt even the next day.
BWW Review: 25TH ANNUAL PUTNAM COUNTY SPELLING BEE SHINES at STAGEWORKS THEATRE
by Drew Eberhard - Jun 4, 2022
Every so often in our lives along comes a musical full of heart. The 25th Annual Putnam County Spelling Bee, is a musical comedy with Music & Lyrics by William Finn, with a book by Rachel Sheinkin. The Broadway Production opened in 2005 and was directed by James Lapine. Since its opening, many productions both locally and regionally have been produced throughout the United States. Spelling Bee was nominated for 6 Tony Awards, winning two including Best Book. This fast-paced musical comedy features 6 adult performers playing children in a local annual spelling bee competing for the top prize, and a savings bond for furthering their education. At the judge's table and moderator for the events of the bee are past spelling Champion Rona Lisa Peretti, who is also a local Real-Estate Agent, and Vice Principal Douglas Panch. The unique aspect of the show is that four audience members are invited on stage with the performers in the show to compete in the bee. The Announcer and Moderator switch off by ad-libbing mixed sentences and various definitions for the words often to hilarious ends. One by one the performers playing middle school-aged children take their turn at the mic and perform their unique form of spelling by talking into their hand, writing the word on the floor with their foot, or drawing the word on their arm all competing to make sure each word is spelled correctly.