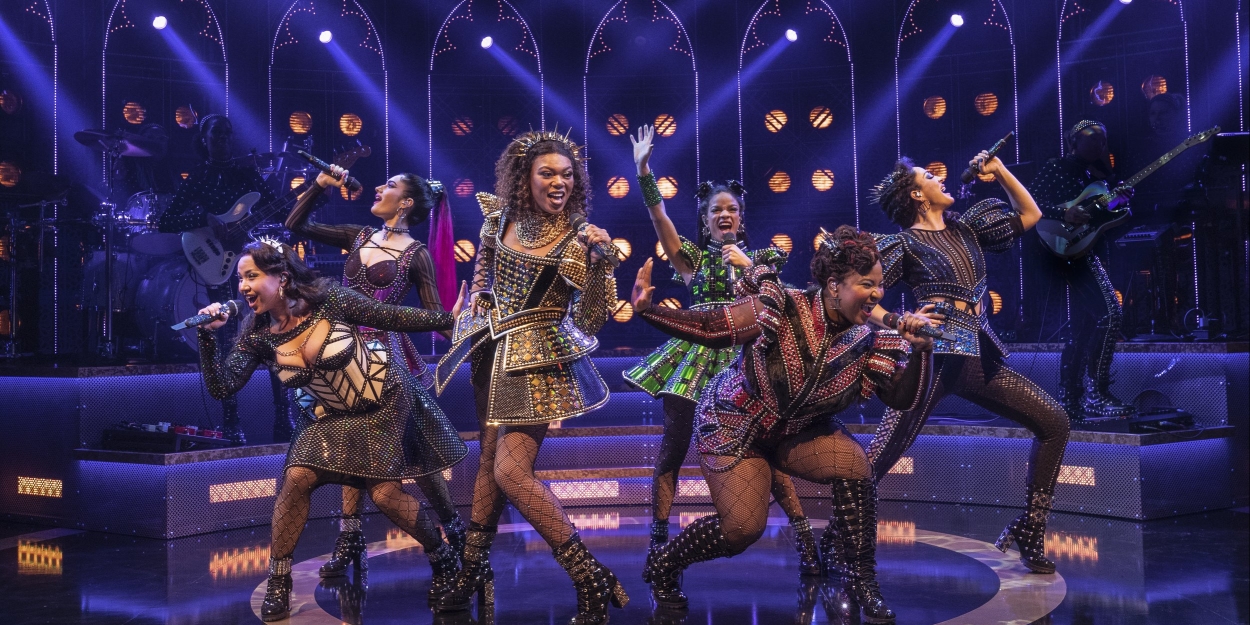 Review Roundup: SIX Launches National Tour; What Are the Critics Saying?
Read all of the critics' reviews for Six on tour!
The North American tour of Six, the musical by Toby Marlow and Lucy Moss, launched a return engagement of the show in Chicago and is currently playing at The National Theatre in Washington, DC.
The North American tour cast features Khaila Wilcoxon as Catherine of Aragon, Storm Lever as Anne Boleyn, Jasmine Forsberg as Jane Seymour, Olivia Donalson as Anna of Cleves, Didi Romero as Katherine Howard, and Gabriela Carrillo as Catherine Parr. The cast also includes Erin Ramirez, Cassie Silva, Kelsee Sweigard and Kelly Denice Taylor.
Check out what the critics are saying below!
---
National Theatre - Washington, D.C.
David Friscic, BroadwayWorld: The genius of Six is that you can enjoy it at any level of audience engagement. Not as mindless as the musical Mamma, Mia or as demanding to absorb as Hamilton, Six finds its own comfortable niche in the evolution of musical theatre. This musical is extremely rewarding at a pop concert level, but those yearning for more contextual theatricality can easily find it if they heed the historical context to the needed degree. Have a little fun with "HER-story" and catch the superlative production of SIX now playing at The National Theatre!
Celia Wren, The Washington Post: Working such impudent alchemy on long-ago established facts, with diverse casting that enhances its up-to-the-moment vibe, "Six" feels desperately necessary at a time when a ruling by the U.S. Supreme Court - not two miles from The National Theatre - has put many women's autonomy in doubt. Hal's wives didn't get a lot of self-determination either, of course. But since you couldn't have staged this musical at his royal court, "Six" is tuneful, sassy proof that culture changes. And over the long arc of history, this show imagines, it's impossible to keep formidable women down.
Helen Ganley, MD Theatre Guide: The queens' astounding performances are matched by their visual elements. Emma Bailey's set design creates a concert-like feel, encircling the queens with risers and lights. Tim Deiling's lighting designs blend a concert atmosphere with traditional musical theater spotlights, creating a signature look for the show. Gabriella Slade modernized period costume designs to match modern influences, bedazzling and spangling each queen with signature ensembles that all worked as one.
Dr. Phillips Center for the Performing Arts - Orlando, FL
Matthew J. Palm, Orlando Sentinel
Seth Kubersky, Orlando Weekly: Moreover, it's a terrific showcase for the powerhouse vocal talents of the show's six co-starring queens, who are backed by a blistering all-female band. It's difficult to pick a favorite performer among this superb sextet, which included dance captain Cassie Silva as Katherine Howard on opening night (understudying for Didi Romero), along with Gabriela Carrillo as Catherine Parr and Storm Lever as an Avril Lavigne-inspired Anne Boleyn.
Broward Center For The Performing Arts - Fort Lauderdale, FL
Bill Hirschman, Florida Theater on Stage: Six is the epitome of a tight ensemble with each actress working together as a solid group while also shining in their individual songs. During the ensemble numbers, the audience doesn't know which actress to focus on as each shows their individual personalities while not overshadowing the group.
Straz Center [Carol Morsani Hall] - Tampa, FL
Drew Eberhard, BroadwayWorld: With Direction by Lucy Moss and Jamie Armitage, SIX is the ticket of the season and the talk of the town. Do yourself a favor, and find time to visit SIX and the stories of the lives these "Ex-Wives" led. Bring your best friend, your girlfriend, or the Love of your life, and head to the Straz Center now through November 6th.
Emerson Colonial Theatre - Boston, MA
R. Scott Reedy, Patriot Ledger: These Tudor queens have been given a modern update and reimagined as a band of high-energy pop princesses - complete with fierce concert attire by Tony winner Gabriela Slade - competing with each other for lead singer by proving to be the wife who fared the worst.
Bushnell Center for the Performing Arts - Hartford, CT
Ariana Straznicky-Packer, BroadwayWorld: Throw away all thought of the traditional TV shows set in dark castles with actors speaking with Elizabethan patois. These ladies arrive in style in 2023. They share the stage with live rock band accompaniment, wild light shows, and they are adorned in edgy costumes with glistening rhinestones and only a nod to their Tudor roots. The Six queens are reclaiming their stories and presenting them via exciting and powerful songs to their adoring fans. It's the audience's job to choose their favorite leading lady.
Nancy Sasso Janis, Patch: The opening number "Ex-Wives" that was performed at the Tony Awards is even more exciting live. Catherine of Aragon tells her "herstory" with Henry in a Beyonce-inspired "No Way." Anne Boleyn explains her life and death in "Don't Lose Ur Head" channeling Avril Lavigne. Jane Seymour's strong ballad "Heart of Stone" was inspired by Adele and Sia. Anna of Cleves is featured in the comic "Haus of Holbein" and then solos on "Get Down," with a touch of Nicki Minaj and Rihanna, "I'm the queen of the castle." Katherine Howard exposes her abuse with "All You Wanna Do," influenced by Ariana Grande and Britney Spears. Henry's final queen Catherine Parr (with an homage to Alicia Keys) wraps up the concert with "I Don't Need Your Love," before the final "Six" by all of the queens.
Bonnie Goldberg, The Middletown Press: Ex-wives often have a plethora of gossip to say about their former spouses, but none more so than the six unhappy wives of good old Henry. There are no secrets here or indiscretions that can't be revealed. After all, this sextet of sexy females were not simply divorced, they were beheaded if they displeased him.
Ohio Theatre - Columbus, OH
Paul Batterson, BroadwayWorld: Although the show is only one act that comes in at just over 90 minutes and features just nine songs, each one of the tunes packs a punch. Many times one can walk away from a show and not be able to hum a single tune the next day. Good shows may have one or two memorable songs.
Richard Sanford, Columbus Underground: Six turns the sadly normalized trend of forcing women to compare their trauma and "earn" sympathy on its head in a light, funny way. The character's rejection of that narrative creates a fist-pumping, triumphant ending for lives that didn't have one, and the songs where the characters sing together shift and gain communal power, from the statement of intent "Ex-Wives," through the hilarious pop-techno riff "Haus of Holbein" into the earned catharsis and reclamation of the title song.
To read more reviews, click
here
!
Shop BroadwayWorld

Shop this season's new musicals! Get dressed up for a night at the theatre, or just a night at home, with merch from some of Broadway's biggest hits including SOME LIKE IT HOT, KIMBERLY AKIMBO, and more!
Related Stories