Review Roundup: TO KILL A MOCKINGBIRD Kicks Off First National Tour; What Are the Critics Saying?
The tour kicked off in Buffalo, NY just last month!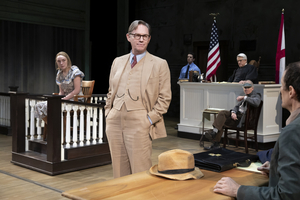 The First National Tour has officially begun for the history-making production of To Kill a Mockingbird, Academy Award winner Aaron Sorkin's new play, directed by Tony winner Bartlett Sher and based on Harper Lee's classic novel.
Starring in the critically acclaimed production are Emmy Award-winning actor Richard Thomas as Atticus Finch, Melanie Moore as Scout Finch, Jacqueline Williams as Calpurnia, Justin Mark as Jem Finch, Yaegel T. Welch as Tom Robinson, Steven Lee Johnson as Dill Harris and Mary Badham (Oscar-nominated for the role of "Scout" in the feature film) as Mrs. Dubose. They are joined by Joey Collins as Bob Ewell, Richard Poe as Judge Taylor, Luke Smith as Horace Gilmer, Arianna Gayle Stucki as Mayella Ewell, David Christopher Wells as Sheriff Heck Tate, Anthony Natale as Link Deas, Liv Rooth as Miss Stephanie, Travis Johns as Mr. Cunningham and ensemble members Morgan Bernhard, Denise Cormier, Christopher R Ellis, Stephen Elrod, Glenn Fleary, Maeve Moynihan, Daniel Neale, Dorcas Sowunmi and Greg Wood.
For more information, please visit www.tokillamockingbirdbroadway.com.
Let's see what the critics are saying!
---
Shea's - Buffalo, NY
Anthony Chase, Buffalo News: Told in the novel through the eyes of Atticus' daughter, 6-year-old Scout, the play uses three child narrators, portrayed by adults: Scout, played by Melanie Moore; her brother Jem, played by Justin Mark; and their friend Dill Harris, played by Steven Lee Johnson. All three bring humor, charm and at times the profound ring of nostalgia to their roles, as they simultaneously perform their childhoods as present moment and as memory.
Boston Opera House - Boston, MA
The Harvard Crimson: The play puts an interesting spin on the source material - the scenes jump around from place to place in a non-linear fashion, often returning to the courthouse. Moreover, it does a wonderful job of reshuffling the most important moments of the novel into a well-paced sequence that highlights the main tensions of respect, innocence, and racial injustice, all the while showcasing the nuances of these issues. The non-linear timeline allows for contrasting scenes to be pitted right up against each other, enabling the audience to see many sides of the complicated narrative.
Jed Gottlieb, Boston Herald: In the touring production, Atticus is played perfectly by veteran actor Richard Thomas. He's a gentleman full of scholarly acumen that's often utterly worthless in the real world. His optimism empty of impact, his naivete epic in scope. Many of this play's best moments have Atticus being pulled back to reality by his Black housekeeper, Calpernia (Jacqueline Williams, in another perfect performance), someone forced to face reality without rest.
Benedum Center for the Performing Arts - Pittsburgh, PA
David Rullo, Pittsburgh Jewish Chronicle: As good as Thomas, Williams and Welch are - and they are very good - the star of the play is Melanie Moore's Scout. The actress draws comedy, outrage, drama, familial loyalty, love and skepticism from Sorkin's words. One almost doesn't notice that Scout, Jem and Dill are all played by adult actors. In fact, their age is forgotten next to 70-year-old Thomas, best known for portraying John-Boy on television's "The Waltons" beginning in 1972.
Playhouse Square - Cleveland, OH
Roy Berko, BroadwayWorld: Melanie Moore is totally believable as Scout, texturing the character with the right levels of empathy and curiosity. Justin Mark, as Scout's brother Jem, and Steven Lee Johnson as Dill, the visiting neighbor, also bring the right level of youthful curiosity and believability to their roles.
Zachary Lewis, Cleveland.com: True to the original but enriched with new relevance, Aaron Sorkin's theatrical adaptation of the great American novel is everything one could hope for and more. It calls out racism, ignorance, intolerance, and injustice in both their 60-year-old and contemporary forms, both as Lee's first readers knew them and in the ways they're still present today.
Kerry Clawson, Akron Beacon Journal: In this beautiful production, which both does justice to the novel and also fleshes out some key characters more, the storytelling is compelling and nimbly paced. At the same time, it also allows the characters and the audience to breathe in both the weighty and beautiful moments.
Christine Howey, Scene: These are some of the traps the play falls into due to its episodic, non-linear progression. While Sorkin has wisely given the two Black characters, Tom and Finch's housekeeper Calpurnia, more words to say, they still seem minimized in a story that still frames the white man-even with his flaws-as the paragon of virtue. As Tom, Yaegel T. Welch simmers with righteous intent, and Jacqueline Williams lands each of Calpurnia's well-justified snarky comments with perfect timing, even though they seem a bit pat at times (ie. cue the sassy Black gal).
Nederlander Theatre - Chicago, IL
Nancy S. Bishop, Third Coast Review: The play tells a powerful story, but the staging illustrated for me once again the unfortunate nature of the century-old proscenium-style theater. There's a distance between audience and cast that can't be bridged, even by a great script. I would love to see Mockingbird performed in a theater in the round, on a thrust stage or in a storefront theater. That's when theater really comes to life.
Aronoff Center - Cincinnati, OH
Behind the Curtain Cincinnati: I cannot say enough good things about this production. Aaron Sorkin's excellent adaption breathes new life and energy into this American classic. The amazing cast is led by pitch perfect Richard Thomas as Atticus Finch (sorry you will always be John Boy to me) and features Mary Badham (Scout from the motion picture that starred Gregory Peck). In this version, Jem and Dill serve as co-narrators to Scout. Coming in at three hours with intermission, the show never lost momentum and kept me engaged from start to finish. I have never seen an Aronoff audience react so strongly and positively to a play. If you are on the fence about seeing this one, I highly encourage you to go.
Proctor's Theatre - Schenectady, NY
Steve Barnes, Times Union: Sorkin's signature way with rapid dialogue, his jab-flurries of comedy offset by uppercuts of deep seriousness, dramatizes Lee's familiar story in bold and satisfying fashion despite the liberties Sorkin took with the novel's structure, narrative focus and other elements. The production is long, running a full two hours and 45 minutes with intermission, but the expansiveness is warranted, the rewards abundant.
Bob Goepfert, WAMC: Richard Thomas is no less than perfect in finding the dignity that resides in Atticus Finch. He starts as reluctant defender for Tom Robinson (a wonderful Yaegel T. Welch) a black man accused of raping a white woman. He knows the bigotry that exists in the town but Atticus believes because Robinson is so obviously innocent, he will be acquitted.
J. Peter Bergman, The Edge: It had remarkable actors, genius actors actually, who gave resonance to every gesture, every word. Wonderful Melanie Moore who played Scout Finch couldn't have been better and she certainly isn't nine years old based on her program bio and photograph. It had Justin Mark as her brother, Jem, and Steven Lee Johnson as their summer friend, Dill. The wonderful coterie of actors in this cast of thirty professionals makes this one of the largest plays to come to the region in years.
Kennedy Center - Washington, DC
David Friscic, BroadwayWorld: Though this successful Broadway play still carries the literary merits of the beloved book, a bit of the southern gothic feel has been peeled away. There is still a stress on the growing pains of two children growing up in the town of Maycomb, Alabama in 1934 but there is an emphasis on social justice and tolerance that seems expanded from the source material. The characters have a moral complexity that allows each of the characters the opportunity for more of a realistic portrayal of the human condition in all its complexity.
Peter Marks, The Washington Post: The passions of Thomas's Atticus are far closer to the surface than were Daniels's or Ed Harris's, his successor on Broadway. The choking up that occurs in Atticus as he makes his case for Tom's innocence is new to the character. Having Atticus wear his heart on his sleeve is okay, but one trusts that an actor of Thomas's estimable caliber won't let it devolve into an indulgence.
Academy Of Music - Philadelphia, PA
Tony Oriente, BroadwayWorld: Emmy Award winner Richard Thomas (The Waltons) gives a powerful and searching performance as Atticus Finch, the small-town Southern lawyer who epitomizes the ideal human qualities of goodness, tolerance, and decency while bravely standing up to racism in small-town Alabama in the mid-1930s.
Kathia Woods, The Philadelphia Tribune: As Atticus, Richard Thomas is outstanding. He's always been gifted, and this performance demonstrates why he's still a force to be reckoned with. He's particularly moving in his scenes with Justin Mark, who plays Jem.
Belk Theater - Charlotte, NC
Perry Tannenbaum, BroadwayWorld: In light of what I truly experienced at Belk Theater on opening night of Aaron Sorkin's TO KILL A MOCKINGBIRD, watching Atticus Finch valiantly defend Tom Robinson for at least the eighth time onstage, it's simply inadequate for me to say that Richard Thomas was stunning as the iconic Alabama defense attorney. Staggering is more like it, easily the most powerful work I've seen from Thomas in my 59+ years of watching his most memorable performances live on Broadway, in Charlotte, and on TV.
Durham Performing Arts Center - Durham, NC
Nicole Ackman, BroadwayWorld: Sorkin chose to structure the play through its young protagonists, Scout, Jem, and Dill, telling the story to the audience. They go between the trial and the events that led up to it, which works well for this format. Melanie Moore and Justin Mark are an effective pair as the Finch siblings, bringing a youthful exuberance and naivete to their roles. Steven Lee Johnson is excellent as Dill, nailing all of the comedic moments and bringing levity to an otherwise serious story. Ann Roth's costumes firmly situate the story in its 1930s setting, while Miriam Buether's impressive sets bring the many settings within Alabama to life.
Tennessee Performing Arts Center - Nashville, TN
Jeffrey Ellis, BroadwayWorld: Now onstage at Nashville's Tennessee Performing Arts Center's Andrew Jackson Hall through Sunday, August 14, with a top-flight cast led by Emmy Award-winning, Tony Award-nominated actor Richard Thomas, To Kill A Mockingbird may well prove to be Sorkin's legacy, his most acclaimed creation: He has crafted a play that differs from its source material in many ways, but he adroitly makes it resonate for contemporary audiences by writing a play that confronts the twin specters of white supremacy and Christian nationalism in this country, while trying to mitigate the impact of Lee's tendency toward themes of a white savior (Atticus Finch) demonstrating legal heroics for the good, if put-upon and struggling to survive black folk of 1934 Maycomb, Alabama.
To read more reviews, click
here
!