Latest News on Calvin Cooper
Stage Credits
  [Broadway]
Original Broadway Production, 2022
Ensemble
  [US Tour]
First US National Tour, 2016
Ensemble
Photos
Kaleigh Cronin, Casey Garvin, Brad Oscar, Erica Mansfield, Rob McClure, Jaquez André Sims, J. Harrison Ghee, Aléna Watters, Cameron Adams, Aaron Kaburick and Calvin L. Cooper
From: 
Date:
12/03/2021
Stage
Performances
  [Broadway]
Original Broadway Production, 2022
Ensemble
  [US Tour]
First US National Tour, 2016
Ensemble
Calvin Cooper News
Review: Jenn Gambatese Illuminates With NO ONE IS ALONE: PERSPECTIVES OF HOPE FROM HAMMERSTEIN TO SONDHEIM at 54 Below
by Stephen Mosher - Aug 9, 2022
Jenn Gambatese invited her besties to use music and truth to talk about hope and rising above the din of life and the business of show.
Tickets Available For Shoshana Bean and More At 54 Below
by Grace Cutler - Aug 5, 2022
Buy tickets for the next week of performances at 54 Below
See Jason Robert Brown & Shoshana Bean, the Four Alternate Queens of SIX and More at 54 Below in August
by Chloe Rabinowitz - Jul 29, 2022
Next month, 54 BELOW will present some of the brightest stars from Broadway, cabaret, jazz, and beyond. See Jason Robert Brown & Shoshana Bean, John Lloyd Young and more.
Lin-Manuel Miranda to Join Tonight's STARS IN THE HOUSE Honoring Doreen Montalvo
by Chloe Rabinowitz - Feb 14, 2022
Lin-Manuel Miranda, along with Mrs. Doubtfire's Analise Scarpaci, Jake Ryan Flynn, Avery Sell, Jay Harrison Ghee, Calvin Cooper and Tony nominee Brad Oscar will join Seth Rudetsky and James Wesley in tonight's very special episode of "Stars in The House" to remember their dear friend Doreen Montalvo, the voice behind some of Broadway's greatest songs.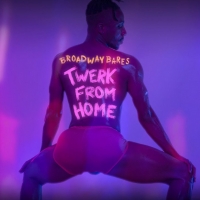 Broadway Bares: Twerk From Home Raises $349,434 So Far For BC/EFA
by Stephi Wild - Jun 22, 2021
The show, directed by Tony Award winner and Bares creator Jerry Mitchell and co-directed by Laya Barak and Nick Kenkel, featured 14 original numbers that opened the doors for 170 dancers to uncover fantasies and discover confidence in the wake of being stuck at home for so long.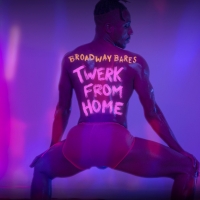 Full Cast Announced for BROADWAY BARES: TWERK FROM HOME
by Chloe Rabinowitz - Jun 8, 2021
A company of Broadway Bares favorites and newcomers more than 170 strong will combine forces to light up screens for Broadway Bares: Twerk from Home in its online premiere Sunday, June 20, 2021.
VIDEO: 36 Broadway Dancers Perform 'Far From Over' to Kick Off the New Year
by Stephi Wild - Jan 2, 2021
Start the new year with a reminder of what we love about our Broadway community: its resilience, its creativity, its ability to bring us together.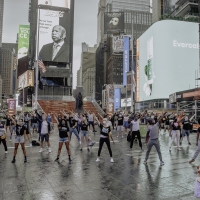 Photo Flash: Rob McClure, Dee Roscioli, Charl Brown and More Reunite in Times Square to Pay Tribute to Theatre
by Chloe Rabinowitz - Aug 14, 2020
The Ensemblist brought together the Broadway community, reuniting performers in Times Square (socially distanced) in a moving tribute to theatre.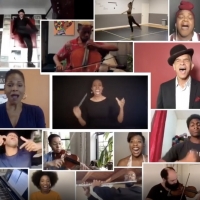 VIDEO: Watch Rob McClure Pass the Baton to Kalena Bovell for an Epic RAGTIME Opening!
by Nicole Rosky - Jul 9, 2020
Tony nominee Rob McClure (Mrs. Doubfire, Beetlejuice) continues his #ConducterCam series this week, this time passing his baton to Memphis Youth Symphony's Kalena Bovell. Watch as Rob and  Kalena are joined by Audra McDonald and Brian Stokes Mitchell as they conduct and perform a poem to Ragtime's opening number.
VIDEO: Sharrod Williams Takes Over Instagram at The Muny's Guys and Dolls!
by Stage Tube - Jun 17, 2019
We lucked out this weekend as Sharrod Williams took BroadwayWorld behind the scenes at The Muni's first show of their 101st season, Guys and Dolls! So in case you missed it (or just want to relive all of the fun and excitement), we compiled clips for you to enjoy. Check it all out in this special video!
Calvin Cooper Videos
VIDEO: Get A First Look At The Muny's GUYS AND DOLLS
by Alan Henry - Jun 11, 2019
BroadwayWorld has a first look at The Muny's production of GUYS AND DOLLS! Check out the video!
Calvin Cooper Frequently Asked Questions
What is Calvin Cooper next theatre project?
Calvin Cooper's next show will be Mrs. Doubtfire which opens on 4/14/2022 on Broadway.
How many Broadway shows has Calvin Cooper been in?
Calvin Cooper has appeared on Broadway in 1 shows.
How many West End shows has Calvin Cooper been in?
Calvin Cooper has not appeared in the West End