Palm Springs Animal Shelter Honors Tippi Hedren with "Friend for Life Award"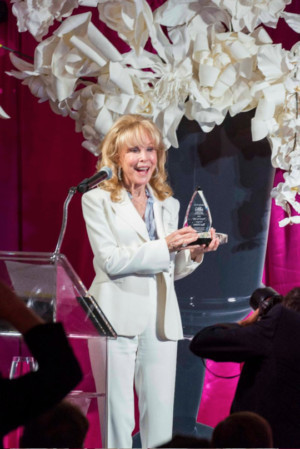 On Saturday, April 7th , The Palm Springs Animal Shelter honored Tippi Hedren with their "Friend for Life Award" at the Sold-Out Palm Springs Animal Shelter's Faux Fur Ball IV.
Accepting on behalf of legendary actress and animal activist was friend and fellow feline enthusiasts, "I Dream of Jeannie" star,
Barbara Eden
. Palm Springs Animal Shelter has recognized
Tippi Hedren
as Friend for Life Award recipient for work with big cats at Shambala Preserve and Roar Foundation. "Ms. Eden graced us with a moving acceptance for our Friend For Life Award on behalf of Ms. Hedren. The room was silenced by the heartfelt letter from Ms. Hedren she read to our Shelter's animal-loving audience about the big cats she dedicates her life to saving through the Roar Foundation. She drew the touching connection between our common animal life-saving mission with Ms. Hedren, from the big cats she works to save, to the house cats we work to save. Our room of 500 animal-loving attendees were on their feet with applause. We can't thank her enough for the gracious appearance and how much it helped us raise even more awareness and dollars in this common mission." said Tamara Hedges, Board President of the Palm Springs Animal Shelter.
Barbara Eden
is one of America's most endearing and enduring stars. Her iconic "I Dream of Jeannie" NBC Television series, launched in 1965, became an instant hit. The network series ran for five seasons (139 episodes) and has been airing continuously on cable and in syndication in the United States and abroad for more than five decades. Ms. Hedren is the Friend for Life Award recipient for her work in animal welfare. Her animal rescue activism began in 1969 while she was shooting two films in Africa and was introduced to the plight of African lions. In an attempt to raise awareness for wildlife, she spent nearly eleven years bringing Roar (1981) to the screen. She started her own non-profit organization, the Roar Foundation in 1983 to support The Shambala Preserve near Acton, California, an 80-acre wildlife habitat which enables her to continue her work in the care and preservation of lions and tigers. The sold-out event is the largest fundraiser for the Friends of the Palm Springs Animal Shelter, the only public animal shelter in Coachella Valley operating under a no-kill philosophy.
More Hot Stories For You