Review: Orpheus' ROCK OF AGES Will Have You Rockin' in Your Seats at Meridian Theatres @ Centrepointe
Orpheus Musical Theatre's production of Rock of Ages is designed to get you in the rock 'n roll mood from the get-go, starting with the voice-over introduction warning the audience to prepare to have their "faces melted".
The show has its very own narrator, Lonny (Brennan Richardson), whose energy and charisma is palpable. Lonny introduces the two main characters, Sherrie (Rana Laviolette) and Drew (Connor McMahon) and we are presented with their backstories so we get to know them better. Sherrie, originally from small-town Kansas, has come to L.A. with her heart full of hopes and dreams of making it big as an actress. Drew works as a bar back at the Bourbon Room, a famous watering hole known for its live music scene. Drew, himself, is an aspiring musician and prefers to be known by his stage name, Wolfgang Von Colt. Within moments of her arrival on the Sunset Strip, Sherrie is mugged. Drew sees the incident and invites Sherrie into the Bourbon Room. He manages to sweet-talk the Bourbon Room's owner, Dennis Dupree (Malcolm Scott), into giving Sherrie a waitressing job, even though the Bourbon has recently fallen on tough times (the view Dennis is treated to as Sherrie bends over to pick up a penny may have also been a contributing factor). While romance begins to blossom between Drew and Sherrie, we discover that a foreign property developer, Hertz Klineman (Wayne McNamara) and his son, Franz (Paddy Allen-McCarthy), have bribed L.A.'s mayor (Neil Cachero) in order to demolish the Sunset Strip and make way for a new development.
Meanwhile, Dennis and Lonny try to drum up business by arranging for the great Stacee Jaxx (D.J. Eyamie) to have his final performance with Arsenal at the Bourbon Room, where the band got its start.
After sparks sputter out between Sherrie and Drew, Sherrie and Stacee have a quickie in the men's washroom and Drew quits his job to take an offer he can't refuse. Sherrie ends up getting fired and goes to work at the Venus Club, owned by Justice "Call me Mama" Charlier (Jerusha Lewis). Regina Koontz (Christa Cullain), the mayor's former assistant and now chief protester of the development project, tries to appeal to Franz' sensitive nature to circumvent the demolition. Lonny and Dennis come to a revelation. Incredibly, all these plot lines ultimately converge in bizarre ways and all's well that ends well (except, perhaps, for Stacee and the llama).
The cast performances were a bit uneven, which was most apparent during some of the melodies for which the show is famous. More than one singer had trouble focusing on their individual parts to let the melodies harmonize, opting instead to try to sing over the others. This had the unfortunate effect of interrupting the flow of the intersecting melodies. Lewis and Eyamie were two notable exceptions but, regrettably, had smaller roles. Richardson also gave a strong performance as Lonny and was able to effectively hold the story together as the narrator.
The choreography (Andy Allen-McCarthy) was superbly executed. The ensemble numbers were tight and a pleasure to watch. Taeyun Moon (Ensemble) and Katie Shapiro (Waitress #1, Ensemble) gave particularly strong performances.
Lighting was generally effective; however, spotlights were used as a focal point in a number of scenes resulting in the actors' faces being obscured, as the spotlights only highlighted them from the waist down (at least from my vantage point).
The costumes (Susan Cole) and stage direction (Andréa Black) were both well done - in particular, with the reveal of Franz and Regina's "Hit Me With Your Best Shot" outfits.
The best songs were the big, showy, numbers with lots of ensemble chorus, such as "Cum On Feel the Noize / Just Like Livin' in Paradise/ Nothing But a Good Time", "We Built This City/Too Much Time on My Hands", "Here I Go Again", and "Don't Stop Believing".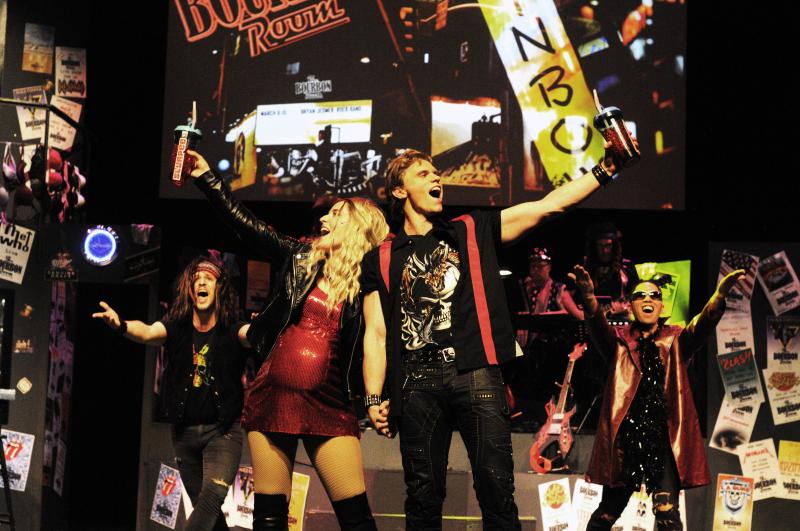 Despite some flaws, the show is lots of fun and jam-packed full of songs that most people know and can sing along to. The audience clearly loved it; clapping in time to the music and laughing out loud at many of Lonny's antics. Rock of Ages is recommended for anyone nostalgic for 80s rock music and a fun storyline. This show would also make a fantastic date night. Some strong language and sexually suggestive scenes may make it best to let your littlest rockers sit this one out.
Rock of Ages is at Meridian Theatres @ Centrepointe until March 15, 2020. For more information or to buy tickets, go to https://www.orpheus-theatre.ca/rock-of-ages.