Drama Meets Dry Wit In Orlando Shakespeare Theater's THE LUCKIEST PEOPLE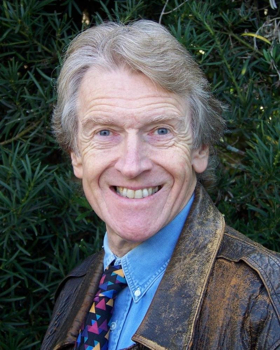 The Luckiest People, a tense, new family dramedy produced by Orlando Shakespeare Theater (Orlando Shakes) in Partnership with UCF, comes to the Goldman Theater from March 28 - April 29, 2018. Tickets ($25 - $50) are available now by phone (407) 447-1700 ext. 1, online www.orlandoshakes.org, or in person at the John and Rita Lowndes Shakespeare Center (812 East Rollins Street).
Following his mother's funeral, Richard's elderly father Oscar asks to move in. Happily settled with his partner, Richard is less than thrilled at the prospect of living with his difficult father. Accusations fly and defenses are drawn, spiraling father and son into a heated game of finger pointing with unintended consequences. This contemporary and wryly humorous dramedy is the first in a series of three plays by Meridith Friedman, commissioned by Curious Theatre Company to explore how we navigate the Sahara of Middle Age-those middle decades sandwiched squarely between obligations to parents, children, and spouses.
"This play looks at how middle age is shaped by our aging parents," says Cynthia White, Director of New Play Development at Orlando Shakes. "Friedman examines this chapter of life with wry and witty characters that will remind audiences of their own families. It is humorous and moving in its honest portrayal of what can be a difficult phase."
Known for playing the role of Jefferson in the solo show Twilight at Monticello, J.D. Sutton* appears as Oscar. Sutton read the role of Oscar in PlayFest 2015's The Luckiest People and PlayFest 2017's Your Best One, another show in the series by Meridith Friedman. Orlando Shakes credits include The Trial of Ebenezer Scrooge and The Life and Adventures of Nicholas Nickleby. Other credits include Don Quixote in Man of La Mancha, Scrooge in A Christmas Carol, and the title role in Sherlock Holmes. His most recent play, Jefferson & Jupiter, about Jefferson and the slave he was raised with, was named Critics' Choice for Best Drama at the 2016 Orlando Fringe Festival.
Suzanne O'Donnell* returns to Orlando Shakes as Laura. O'Donnell most recently directed It's a Wonderful: A Live Radio Play at Orlando Shakes, as well as read the role of Laura in PlayFest 2017's Your Best One. Last season at Orlando Shakes, Suzanne played Vivienne in Blackberry Winter. Her first season at OST was in 1993 playing Rosalind in As You Like It and Adriana in Comedy of Errors. Other OST credits include: Annette in God of Carnage, the Governess in Turn of the Screw, Mistress Ford in The Merry Wives of Windsor, Hermione in The Winter's Tale, Hermia in A Midsummer Night's Dream, Lady Percy in Henry IV: Part 1, Julia in The Two Gentlemen of Verona, Ophelia in Hamlet, Emilia in Othello, Beatrice in Much Ado About Nothing, and Kate in Taming of the Shrew. Recent regional credits include Boston Marriage (1812 Productions), Comedy of Errors, Arcadia (Folger Theatre), Romeo and Juliet, Dancing at Lughnasa (Arden Theatre) andSocial Security, Dinner with Friends (Cape May Stage).
Alexander Mrazek* portrays David. Orlando Shakes credits include David in PlayFest 2015's The Luckiest People and PlayFest 2017's Your Best One. Prince/Stepsister in Cinderella, Walter Kendall in the world premiere of The Exit Interview, Servant (understudy) in Othello, John Dashwood (understudy) in Sense and Sensibility, and John Browdie in The Life and Adventures of Nicholas Nickleby. In addition, Mrazek can be seen performing as various characters at local theme parks, including Universal Orlando and SeaWorld.
Local favorite Steven Lane* takes the stage as Richard. Lane was last seen at Orlando Shakes in the hilarious comedy The Hound of the Baskervilles. Other OST credits include Dr. Jekyll and Mr. Hyde, Dancing Lessons, A Christmas Carol, Into the Woods, and The Life and Adventures of Nicholas Nickleby. Other credits include Che in Evita, Mordred in Camelot, Cornelius in Hello, Dolly!, and Lovborg in Hedda Gabler.
Director Kristin Clippard previously served as an NNPN Producer in Residence at Orlando Shakes, and she directed PlayFest 2017's Your Best One. Other directing credits include Merry Wives of Windsor at Richmond Shakespeare Festival, God of Carnage at Incline Theatre, and Macbeth at Cincinnati Shakespeare Company. A playwright as well, she wrote and directed Fever at Clifton Performance Theatre.
Other members of the creative team include Set Designer Stephen Jones, Lighting Designer Mary Heffernan, Costume Designer Bailee Booser, and Sound Designer Britt Sandusky.
*Member of Actors' Equity Association.
This project is funded in part by Orange County Government through the Arts & Cultural Affairs Program.
Orlando Shakespeare Theater is supported by United Arts of Central Florida, host of OrlandoAtPlay.com and UAArtsEd.com. This project is sponsored in part by the Department of State, Division of Cultural Affairs, the Florida Council on Arts and Culture, and the State of Florida.
PERFORMANCE INFORMATION AND RELATED EVENTS
Preview Dates: March 28 & 29 at 7:30 p.m.
Opening Date: March 30 at 7:30 p.m.
Senior Matinees: April 4, 11, 18 & 25 at 2 p.m.
Talk Back Performance: April 15 at 2 p.m.
Opening Night Party & Pre-Show Chat - Friday, March 30
Arrive at 6:15 p.m. to enjoy free light appetizers, followed by a brief, informative discussion
about the creative process with the director and members of the creative team. Free to all opening night ticket holders. No RSVP necessary.
TICKET INFORMATION
PRICING
Wednesdays - Saturdays at 7:30 p.m. and Saturdays and Sundays at 2:00 p.m. - $25, $40, $50
Preview Performances and Senior Matinees - $13, $20, $25
DISCOUNTS (May not be combined with any other offers)
$25 Under 35 Week: Patrons 34 years old and under can purchase $25 tickets for evening and weekend matinee performances during the third week (April 11-15, 2018) of the production.
Call the Box Office at (407) 447-1700 ext. 1 or purchase online with code word: 25UNDER35
Group Sales: 20% off groups of 10+
Student Rush: $15 - 30 minutes prior to show w/ valid student ID
Student and Active/Retired Military: $10 off single ticket prices w/ valid ID (Only available in
Price Levels A and B)
Related Articles View More Orlando

Stories

Shows
More Hot Stories For You