Feature: From Christine to Meg with Mary Michael Patterson of LOVE NEVER DIES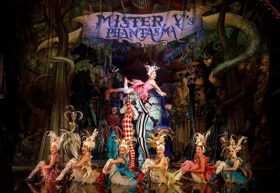 If you've followed me for a while you probably know I am a huge fan of THE PHANTOM OF THE OPERA. So it is no surprise that LOVE NEVER DIES: The Phantom Returns is very high on my list to see. Based off a sequel novel, The Phantom of Manhattan by Frederick Forsyth, LOVE NEVER DIES continues the luxurious love story that will be soon celebrating 30 years on Broadway.
Mary Michael Patterson played Christine Daae on Broadway opposite Hugh Panero. This time Mary Michael re-enters the Phantom's universe as Meg Giry in LOVE NEVER DIES. I had a chance to chat with Mary Michael about her experience. One thing is certain, if you go in expecting the cute ballet rat, you will be surprised.
LOVE NEVER DIES takes place about ten years after the original story and a lot has happened in those ten years. After his disappearance from the Paris Opera, the Phantom has relocated to Coney Island, New York, bringing along Meg and Madame Giry. It is 1907 and the trio has made a new life amongst freak shows and vaudeville performers. Of course Christine and Raoul end up in the same area and much drama occurs - because love does not die easily.
And in those ten years, Meg Giry has gone from budding ballerina to fancy showgirl. "I get to play this larger than life character on stage," Mary Michael describes. "Then I run 'off stage' and get to have personal intimate moments with Madame Giry. It's a nice contrasting sequence. They're a little stressful because I have to change and run back on stage. But there is also a lot of truth to it. After you perform you have so much adrenaline. I never have to work so hard because it's real. I come off this high of performing and the inevitable let down."
While there are so many of these moments between Meg and Madame Giry, there are also many sweet moments between Meg and the Phantom that did not exist in the original story. "I get to approach the Phantom at the end of Act 1. It's a little moment, but necessary to the story. You get to see her reaching out and wanting to be close to him. And then he slights her. It feels like a dagger in my heart, but such motivation going into Act 2."
Mary Michael finds that she relates to Meg in many ways more than she did when she played Christine. "I think most performers do," she explains. "It's not difficult to put myself in Meg's shoes. [Performing] is a difficult business to be in and sometimes it's incredibly heartbreaking. She wants to please her teacher and the person who has given her all these opportunities."
Similar to Meg, Mary Michael also comes from a dance background, but she also has a musical comedy background. "I thought it would be fun and a challenge," she says. "I don't get to be the fun crazy one very often, so I was excited to get to do that. I love getting to do something a little grittier. And I get to sing in a different register."
At its core LOVE NEVER DIES is still a musical about love. "I think LOVE NEVER DIES is interesting because it goes deeper into the meaning of love," Mary Michael says. "I think it takes the stuff we see in the original (a young love) and it takes it to the next step. It shows what happens when you blindly follow someone who may not be good for you."
In her character arc, Meg's life has gone from best friend to leading lady. While trying to be that person for the Phantom, Meg has fallen for him. "Her unwavering blind love for the Phantom and the world he's created that forms ambition and jealousy and resentment," she explains. "These things are themes that all performers understand. These themes are sprinkled throughout the show and are universal. But of course, things don't go as expected for Meg."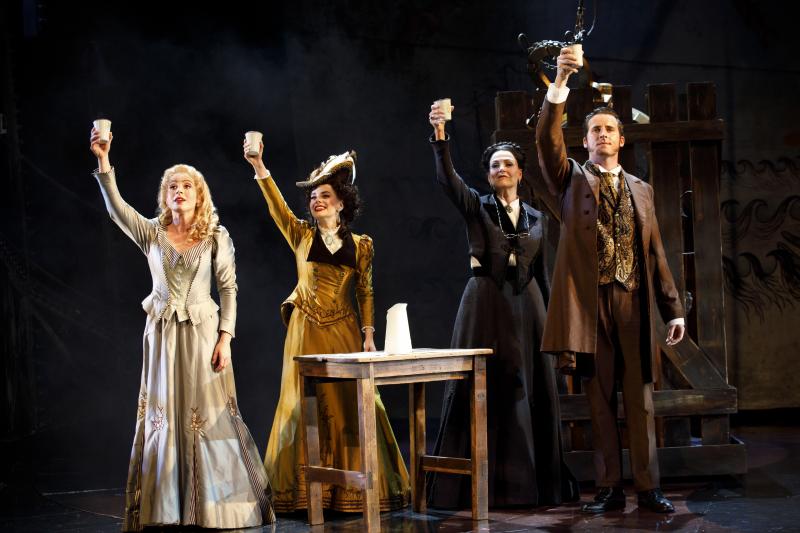 Mary Michael is not the only tie to the original production. Kristen Blodgette serves as the Musical Supervisor for LOVE NEVER DIES. She also serves various musical supervising roles with PHANTOM. Going into auditions Mary Michael thought, "I'll do anything for Kristen" and knew she was in good hands.
"I went in a few different times," Mary Michael recalls. "And it felt like a really good fit. It's really rare when you think it's a good fit and it's going to work out. There was something in me that knew it was going to happen."
For some fans, the original is the best and should not be messed with. (Similar to how Star Wars fans feel about Episode 1: The Phantom Menace.) This national tour of LOVE NEVER DIES is the United States debut, but it is not the first iteration. In 2010, LOVE NEVER DIES came to life on the West End. It was a flop. In 2011, the production was modified and attempted again in Melbourne, Australia. This time it was had a longer run and was recorded on DVD. The touring version draws elements from all its predecessors.
"Director, Kevin Phillips and Kristen Blodgette were very honest about it," Mary Michael recalls. "They weren't trying to hide the fact that it tried to happen in London. This production is totally different. They learned a lot from the Australian version. We had four weeks in the rehearsal studio, so we had a lot of time to play and find our own relationships with our characters."
"I'm very different physically and vocally from previous Megs," she says. "This time I think they found the people they wanted to play the characters and let us find our characters. [The creative team] was so encouraging to let us put these pieces together and see what we could find. In that, I think we've kinda cracked it. All the previous versions helped us to find what's important. I think everyone's really pleased."
Despite all the previous productions' challenges and despite the PHANTOM purists, most audiences are enjoying LOVE NEVER DIES. "People are so moved by the story," Mary Michael describes. "There are so many fans that are devoted to the show. So it's great for those people. It's also enough of a stand-alone piece. You can still enjoy it even if you never saw the original production. You don't feel lost in the story, because it draws you in from the moment it starts."
In preparation for the role, Mary Michael did as much reading as she could. "I read the libretto and the book a million times and got what I could from it. I also did a lot of research on turn-of-the-century women in Vaudeville settings. It was a progressive time and a risque performing style. It also helped knowing the original so well."
"So much of the characterization comes from the music. Much of the intentions Andrew [Lloyd Webber] and Glenn [Slater] were trying to get across are in the music. There is no question. I know what I am supposed to be feeling in each scene. It's cool. There's a lot to draw from."
With the original set in the Paris, how could the Phantom's world get any more beautiful? Well, set it in a time where electricity existed alongside modern marvels. "It is beautifully designed technically," Mary Michael describes. "The world that they created is so gorgeous, dark and twisted. You immediately get the sense that you are in the world with us. We have had the best audiences who are willing to take the journey with us."
Though LOVE NEVER DIES has only been to handful of cities since it's debut in October, audiences have fallen in love. "There's something beautiful about the score, the beautiful design, the storytellers and all these other elements coming together that really work for the show."
See Mary Michael Patterson as Meg Giry in LOVE NEVER DIES. LOVE NEVER DIES: The Phantom Returns comes to the Dr. Phillips Center for the Performing Arts November 21 - November 26th. There will be a performance on Thanksgiving, so have your meal early and head to the theater. For tickets and more information, please visit: https://www.drphillipscenter.org/events/tickets/2017/love-never-dies/.
Header Photo: Joan Marcus - Only For You" -Mary Michael Patterson ("Meg Giry") and the Ensemble of Love Never Dies.
In-Line Photo credit: Joan Marcus - "Dear Old Friend" -Mary Michael Patterson ("Meg Giry"), Meghan Picerno ("Christine Daaé"), Karen Mason ("Madame Giry") and Sean Thompson ("Raoul, Vicomte de Chagny") star in Love Never Dies.