You Can't Go Wrong with Wrong House Productions' SKETCHY SKETCH NIGHT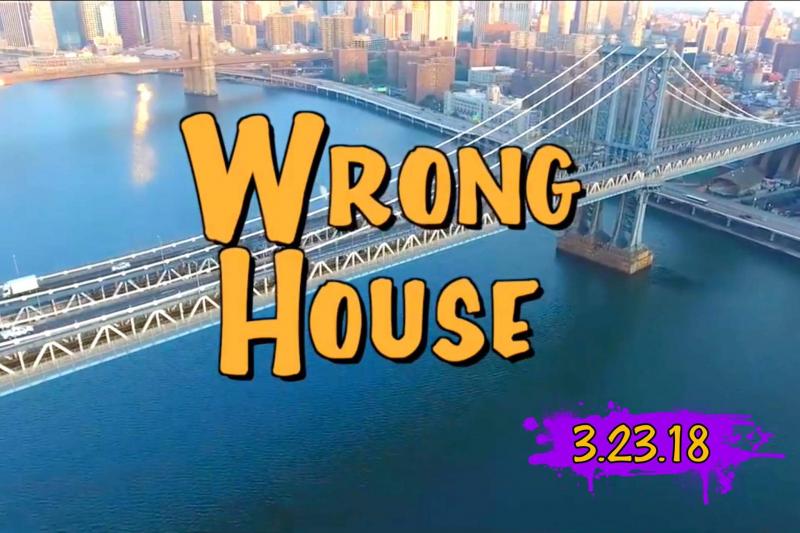 What isn't there to love about sketch comedy? It is the true meeting of the dramatic and comedic, mixed in with individual creativity to create a very casual and ideal way to begin the weekend. And who doesn't want to have a good laugh over silly (yes, there were farts) yet clever skits that will easily lighten anyone's mood? The place to be on Friday night was the TADA! Theater, where Wrong House Productions presented Sketchy Sketch Night. A one night event that drew sold out crowds of people whose aim it was to have a great time, the party that was Sketchy Sketch Night began even before the audience walked through the door; the fun that ensued made this one enjoyable and rather unique theatrical experience.
Midtown's TADA Theater, a company that provides a theatrical outlet for children and teens through camp programs, classes and the production of original musicals, was abuzz with youthful energy last night as people anxiously awaited Wrong House Productions' second sketch comedy performance. As the line up the steps to enter the theater foretold (plus the number of people casually chatting it up while on line for a drink), the excitement was pretty palpable as everyone was soon ushered into the theater. I'm not sure if all sketch comedy shows are like this, but the casual, lighthearted mood was set even before people scrambled into the theater to find any available seats. Laughter, volume and a general sense of camaraderie filtered through the room as the speakers pumped out some oldies but goodies (can't go wrong with Snoop Dogg). With people ready for a night of laughs, conversations were soon hushed and the lights dimmed in preparation of the real fun to begin.
Last night, the audience was treated to comical skits written and performed by the actors who soon made their way to the stage. These actors, all of generally the same age and many who studied at the Stella Adler Studio of Acting here in New York, were not only responsible for figuring out how to write what made them laugh - they had to make everyone else laugh too! And laugh we did. Making use of simple forms of comedy that involve bizarre situations, odd characters and circumstances that would make anyone cringe (or laugh if they aren't actually involved), Sketchy Sketch Night was quite the success.
One of my favorite skits had to be "Date that Bitch," where female dating show contestants struggled to provide simple, "acceptable" answers so as not to overwhelm the rather idiotic bachelor in search of a date; this all goes to hell when a woman who enjoys things like history and documentaries joins the show. Another great one was when a misfit family of musicians is hired to perform at a wedding via the recommendation of Yelp reviews. The audience was cackling and having a blast, laughing at how these characters are a slightly twisted (but pretty accurate) representation of the millennial scene - and everyone really enjoyed watching it all unfold.
Much credit must go to all of those involved who brought such joy to their audience. The actors featured in this show are as follows: Adam Martin, Alyssa Abraham, Brendan Byrne, Charlotte Creaghan, Daniela Zamora, Isaiah Mueller, Jack Creaghan, Jacob Dabby, Jessika McQueen, Jeremy Sapadin, Marcus Mars, Megan Abell, Samuel Batchelor, Shannon Mcinally and Sierra Hubsher. The acting was spot on, quick and full of the energy and drama needed to keep the audience constantly engaged in what they experiencing. I would love to see how everyone performs in full-length productions; they are clearly very good at what they do.
Although this was only a one-night event, it is one that will sticks in peoples' minds as something to look forward to when it comes around for a third go. I mean, who doesn't like random male shirtless-ness, the occasional fart and silliness that makes the world just a little more like the happy place it should be?
Sketchy Sketch Night took place on March 23rd at TADA! Theater, located at 15 West 28th Street. Please visit https://thewronghouse.com/sketchy-sketch-night to see what Friday night was all about, and visit periodically to see what other great productions are on the horizon.