Theater for the New City presents CATAPULT! by Matthew James Fitzgerald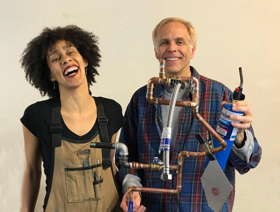 A male plumber and a female woodworker take the the art world by storm in "Catapult!" by Matthew James Fitzgerald, to be presented by Theater for the New City, 155 First Ave., February 21 to March 10. The piece is a subversive commentary on the pretensions and 'artspeak' of the gallery scene. Fitzgerald is an actor, author, union carpenter, furniture designer and sometime history/english teacher.

The two-act comedy starts out in a gallery under renovation, with a charming and loquacious plumber, placing an assembly of pipes on a sculpture pedestal created by a sassy and articulate female woodworker. She embellishes this "sculpture" with a lipstick-kissed fragment of mirror and the plumber mockingly christens it "Fluidic Rapture." It is harmless fun until a wealthy, matronly trendsetter sweeps into the gallery, pronounces their assemblage a conceptual masterpiece and insists on adding it to her collection. The two construction workers are thereby catapulted into the stratosphere of the art market, assisted by the opportunistic gallery owner. The ensuing play becomes a comedy on the jargon and puffery of the art scene. There are reversals and surprises: the plumber and woodworker become the toast of the town only to be undone by a scheming hedge fund manager, but are ultimately rescued by the high-handed doyenne who discovered them.

Throughout his professional life, playwright Matthew James FitzGerald has fortified his acting career with a thriving business as a fine woodworker. This has brought him projects in art galleries and in offices and homes of wealthy collectors. He has occasionally been contracted to execute the concept that an artist had drawn up. The irony of this set Fitzgerald's wheels turning for this comedy. The idea of plumbing parts being mistaken for sculpture occurred to him about a dozen years ago and his daughter encouraged his efforts to make a play about it. He read the first scene to her when she was a 15; she's now 26.

Fitzgerald is not a visual artist and has no plans to become one.

"Catapult!" is his first produced play. His other literary output includes a libretto for a musical set in World War II, several film scripts and a full-length play, "Annie and Caroline," about the love between young white girl and the black maid who cared for her in 1930s Oklahoma.

The actors are Jerry Chapa, Chelsea Clark, Catherine Hennessey, Erinn Holmes, Jarde Jacobs, Daniel Kloeffler, Christopher Lowe, Robert Lunde, Kate A. McGrath, David McKittrick, Teri Monahan, Ransel R. Sangster, Joan D. Saunders, Alex Shafer, Mark Solari and Ashley Underwood.

Set designer is by Mark Marcante. Prop Manager/Assistant Set Designer is Lytza Colón. Lighting design is by Alex Bartenieff. Costume design is by Carolyn Adams. Sound design is by Xu Chen. Paintings are by David Jones. Stage Manager is Natasha Velez. Assistant Stage Manager is Stephanie Cobb. Production Manager is Jake King.

Matthew James FitzGerald (playwright) is an actor, retiring member of NYC Carpenters Local 157 and member of the Fraternal Order of Woodworkers. He graduated from Syracuse in Film/Journalism where he minored in Poli Sci, Philosophy and Drama and subsequently taught Modern Dance at Onondaga Community College and Salt City Playhouse. Later in life, he earned a Masters in Social Studies Education from CCNY and taught in secondary schools. Between these, he was a woodworking contractor and a designer/builder of custom furniture and cabinetry. As an actor, he appears as a garage owner in Thomas Woschitz's feature film "Universlove." Other films include "The Restaurant," "The Barstool Savior" and "Where's Javi?" His TV credits include Investigation/Discovery's "Deadly Devotion" and the web series "The Batman Chronicles 2014." In theater, he has played the title role in "Richard III," Feste in "Twelfth Night" and Myron Berger in "Awake and Sing," among others. He has performed improv with The Yes Show and is a former member of The Uptown Sounds, a jazz vocal ensemble.

Fitzgerald writes, "We are humbled to have our show brought to life on the stage by Crystal Field and TNC. We could not ask for a more nurturing and joyful environment. I marvel daily at our good fortune to be embraced so cordially by this most auspicious venue."

Director Tony White has directed "Uncommon Women" at The Royal Theater Producers Club, "Lysistrata" at The Creative Place Theater, "Romeo and Juliet" and "Titanic" by Christopher Durang at John Houseman Theater, "As You Like It," "Titus Andronucus" and "Wait Until Dark" at ATA, and "Much Ado About Nothing" for a Hudson Shakespeare NJ Tour.

To purchase tickets go to www.theaterforthenewcity.net.
Photo by Matthew James FitzGerald