Click Here for More Articles on NEW YORK CITY
Sean Chandler Goes Backstage with Charles Busch and More at 2017 New York Innovative Theatre Awards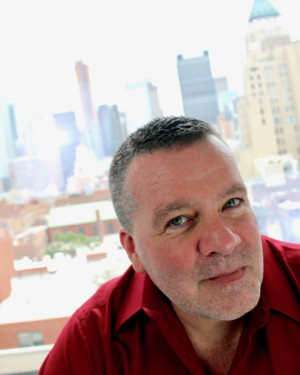 Award-winning playwright Sean Chandler, creator and host of the theatre podcast Your Program Is Your Ticket (YPIYT), went backstage at the 2017 New York Innovative Theatre Awards, where he interviewed award recipients and presenters.
Interviews include theatre artists (in order of appearance): Charles Busch, Tulis McCall, Zack Krajnyak, Don Reece, Frank Olivia, Stephanie Cox-Williams, Jennifer Schriever, Aidan Meyer, Melody Bates & Rebecca Hart, Peggy Shaw, Gwynn MacDonald, Saviana Stanescu, New Saloon Theater Co, Shay Gines, Matthew Broderick, Heather E. Cunningham, David Pittu, Tamrin Goldberg, J.Stephen Brantley, New York Neo-Futurists, Pete Simpson, Liz Stanton, and Elizabeth Ramsay.
Watch the interviews HERE, and check out an outtakes reel HERE!
In addition to the backstage interviews, recent podcast interviews include:
Amy Oestreicher - Episode 31 features the multi-talented theatre maker, Amy Oestreicher and her unique journey. Plus, host Sean Chandler gives his tips on affording New York theatre on a tight budget. YPIYT recommends the sensational new Broadway Musical, The Bands Visit. iTunes | Soundcloud
Dominique Salerno - On Episode 30, writer/actor Dominique Salerno, discusses everything from religion to philosophy and its application to theatre as well as her current award-winning solo show, The Box Show. YPIYT recommends Bewildered, a new musical written by Ron Weaver (book & lyrics) and Aaron Benham (lyrics & music), presented by Hell In A Handbag Productions In Chicago. iTunes | Soundcloud
Allison Threadgold and Tana Sirois - Episode 29 features the founder and producer of Stripped Scripts Theater Company, Allison Threadgold, and esteemed director Tana Sirois. Allison and Tana discuss their upcoming production of Kieron Barry's Tomorrow in The Battle at Ars Nova as well as their philosophy on modern and classical theater. YPIT recommend Dominique Salerno's show The Box Show, currently playing at The PIT in NYC. iTunes | Soundcloud
Michael Bradley Block - Episode 28 features award-winning writer, theatre blogger and critic, Michael Bradley Block. YPIYT recommends Mary Jane Starring Carrie Coon and playing at the New York Theatre Workshop in NYC. Featuring the musical intro and outro by hip-hop musical improv group North Coast, NYC. iTunes | Soundcloud
Your Program Is Your Ticket was started in February 2017. The podcast offers a rare glimpse into the world of theatre from the people who create it. From producers, actors, lighting designers, stage managers, ushers, writers, understudy's, and directors. All podcasts are available for free at iTunes.
Playwright Sean Chandler the writer (co-written with David Leeper) of last year's FringeNYC hit, At The Flash discusses what inspired him to create Your Program Is Your Ticket, "My play "At The Flash" has always been produced in theaters of an intimate nature and I have had the good fortune of having the show produced in Chicago, Los Angeles, Philadelphia, Vermont, New York and Dublin, Ireland. Throughout that process, I have met many wonderful people who work in theater who I felt merited a voice to discuss their views on the production of theater at the local, regional, off-Broadway and off-off-Broadway level. I thought it would be wonderful to interview these artists and theatrical professionals to give them that voice, while at the same time still discussing larger theater productions, covering off on all levels and occupations of the theater."
Sean Chandler (Creator/Producer/Host) is an award-winning playwright who has been a podcast host since 2012, having co-hosted three prior shows; Lundon Calling, Lundon Calling's Empty Closet Series, and Lundon Calling's Lundon Bridge with the legendary Ace Lundon and YouTube personality Donny Winter. As a writer, Sean's work includes the solo show At The Flash which had a nearly sold-out run at the 2016 New York International Fringe Festival and took home an award for Outstanding Solo Performance. The play also won awards from Pride Films and Plays Great Gay Play and Musical Contest Winner, and played at The Dublin Gay Theatre Festival where it received an Oscar Wilde Best New Work Nomination.
Other writing credits include We The People: A Theatrical Song Cycle, Running: A New Musical, Radical Morality (Nicholl Fellowship Quarter-Finalist, Creative World Awards Semi-Finalist, PFP Great Screenplay Contest Semi-Finalist), Kissing The Frog Prince (Scriptoid Writers Challenge, All Access Screenwriters Competition & The Screenplay Festival Semi-Finalist), and The Pack (Creative World Awards Semi-Finalist). Sean resides in New York City and is a proud member of The Dramatists Guild. Visit www.seanwchandler.com for more information.