SNAPSHOTS IN TRANSIT Closes Due to Cast Member Illness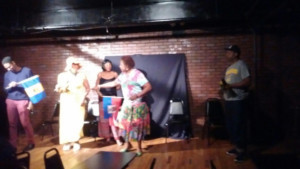 The choreopoem "Snapshots in Transit," set to close on Sunday, October 29th, has had its last performance on October 22nd due to the sudden illness of a cast member.
The show was set to run every Sunday in October at Broadway Comedy Club. The choreopoem was written by Noel Hall and directed B. Arthur Frenc.
SNAPSHOTS IN TRANSIT weaves a rhythmic poetic tapestry of 5 "seasoned" adult characters evaluating and coming to terms with; love, life trials, family upbringing, politics, and honoring one's nationality in often dire and humorous aspects.
Written by Noel Nantambu Hall and inspired by his book "Thoughts, Reflections and Poetry," the late critic Anthony Jordan (the Daily Challenge and the Caribbean- American Weekly News) hailed the author's book as "Noel's songs quietly sung (just like madrigals), and are the personifications of tears...tears which fall from the corner of the eye, when we are lost in a prism of rumination."
This acknowledgement gave birth to "SNAPSHOTS" which was first done as a workshop showcase at The Negro Ensemble Company's St. Marks Playhouse. It was later repeated at the Rod Rodgers Dance Studio in 1979 and '80, directed by the renowned actor Arthur French (an original member of the NEC) with staging and choreography by the Playwright.
Hall: Dancer, Educator, Poet, Singer, Hand Bell player, author, playwright and Visual Artist has had an illustrious career beginning in Jamaica at age 5, singing on the radio. A veteran of a wide range of theater productions in Ja., from Shakespeare to LTM Pantomime Musicals with the late Louise Bennett, (The Tempest, The Merry Wives of Windsor, Finian's Rainbow, Morgan's Dream of Old Port Royal, to name a few) he also performed and toured the Eastern Caribbean and Mexico with the National Dance Theatre Company of Jamaica.
Migrating to the U.S. he furthered his dance studies at the Martha Graham School, Clark Center, The New Dance Group Studio and The Dance Theatre of Harlem. He distinguished himself in his Off-Broadway debut in Derek Walcott's "The Dream on Monkey Mountain" at the NEC, directed by Michael Shultz. He was invited during that run to be a member of the Rod Rodgers Dance Company with which he performed for over ten years. His extensive dancing and teaching nationally and internationally has spanned the U.S., Africa, Portugal, Taiwan, Hong Kong and Iceland.
As a visual artist his work has been exhibited widely, is in many private collections, and currently is in exhibition at Simple Studios, 134 W 29th Street, in Manhattan, until January 2018. His work, on sale, can also be seen at www.nantambuarts.com and includes his art related merchandise.
A graduate of SUNY Empire State College and New York University, he has performed his written work in several venues including the West Side Y, for The Writers Voice, has been published by the National Library of Poetry and in two volumes of Downtown Brooklyn, Long Island University.

Related Articles View More Off-Off-Broadway

Stories

Shows
More Hot Stories For You