Photos: Vital Theatre Company's THE BULLY
Vital Theatre Company has announced the return of THE BULLY, with music and lyrics by John Gregor, book by David L. Williams, and directed by Linda Ames Key. The show will run Saturdays and Sundays at 11am and 1pm beginning January 14th through February 26th, 2012, with weekday school holiday performances on January 16th and 27th and February 20th, 21st, 22nd and 23rd at 11am and 1pm. Tickets prices are $25 for regular seats and $30 for premium seats. The show is appropriate for ages 4 -12. School/Group performances are available at Vital Theatre or your location. For reservations visit www.vitaltheatre.org or call (212) 579-0528. Vital Theatre Company is located at 2162 Broadway 4th Floor, at 76th Street, on the Upper West Side.
THE BULLY tells the story of a bus mix-up stranding Lenny, the nerd, and Steve, the bully, at the wrong school where they both get picked on for being "the new kids." The boys have to work together to get back to their school and begin to learn that they might not be so different after all.
The cast features Kathleen Choe, Hilary Fingerman, Justin Garascia, Matthew Krob, Cameron Perry and Riley Thomas.
John Gregor (Lyricist, Composer and Orchestrator) received a 2004 Frederick Loewe Reading for his musical WITH GLEE, for which he wrote the book, music and lyrics. Recently, WITH GLEE was presented in a workshop by the Skirball Center for the Performing Arts, and opened Off-Broadway in 2010 to sold out audiences and rave reviews. He is also composer and lyricist of PINKALICIOUS, THE MUSICAL, based on the book by Elizabeth and Victoria Kann, now in its sixth year Off-Broadway and produced from London to San Diego. His musical adaptation of Gogol's tragicomic short story THE OVERCOAT has been presented in London at the Bridewell Theatre, Barrington Stage Company and The New York International Fringe Festival. He has also co-written several children's musicals for the Vital Theatre Company, including THE CHANGELING and THE BULLY. John Gregor holds an MFA in musical theatre writing from New York University's Tisch School of the Arts and a degree in musical theatre from Emerson College.
David L. Williams (Book) most recently wrote the play THE WINNERS which won the 2010 GreenHouse New Play Festival, and premiered at HotCity Theatre in St. Louis in September 2011. Career highlights include directing and writing the book for the musical TESS' LAST NIGHT (2003 Fringe NYC), the book and lyris for THE JOHNNY (2008 Fringe NYC), and writing the plays THE INFORMATION SHE CARRIED (2005 Fringe NYC), THE ARMAGEDDON DANCE PARTY (2006 Fringe NYC), and THE TAILERS (2007 Crown Point Festival). A Phi Beta Kappa graduate of Cornell University, David L. Williams is a member of the Dramatist Guild of America, Inc., and the author of more than 25 plays, including the Riverside Stage Company Founder's award-winning AMPERSAND, and four winners of the Heerman's McCalmon Playwriting Contest, THE MURDER OF GONZAGO, BEHIND THE NINE BALL, NEAR TRAGEDY, and INGULF.
Linda Ames Key (Director) has directed TWILIGHT LOS ANGELES: 1992; BANG BANG YOU'RE DEAD (Fringe First Winner, Edinburgh Fringe Festival); THE LARAMIE PROJECT (Fringe First Winner); THE LARAMIE PROJECT, Cochrane Theatre, London; ANTON IN SHOW BUSINESS, THREE DAYS OF RAIN, BRINK OF LIFE, THE LARAMIE PROJECT with Dreamcatcher Rep; 365 Days/365 Plays for Gansfeld: EMBRACING FREEDOM, REMEMBER THE DREAM for the Ellis Island Foundation; LONE STAR GRACE, RITA FAYE PRUITTE by Suzanne Bradbeer and FLYER by Kate Aspengren for Six Figures Theatre Company; FULL BLOOM, THE RISEN CHRIS, BETHLEHEM, MY WIFE'S COAT and OVERHEAD for Vital Theatre; , VELMA GRATCH, THE KLEZMER NUTCRACKER, A (TOOTH) FAIRY TALE, MY NEW YORK and THE NASTIEST DRINK IN THE WORLD for Vital Family Programming; ALISON'S HOUSE and OF SLEEP AND SHADOW at the Mint Theatre Company, NIGHTS AT THE CIRCUS, CLOWNING THE BARD and CLOWNING THE BIBLE at FringeNYC, DEGAS IN NEW ORLEANS at E.S.T's Oktoberfest. As a producer: Vital Signs 9,10 & 11, Andria Laurie's THE AWAKENING, Sherry Kramer's WALL OF WATER, Katt Lissard's DARK LANTERN and Watermark's Wordfire Festival featuring David Cale and Dael Orlandersmith. She has served as Director of the Mint Process Company, NY Liaison for Mannie Manim Productions, South Africa; Brink Productions, South Australia; State Theatre of South Australia and Melbourne Theatre Company; Artistic Director of Six Figures Theatre Company for five years; US Drama at Greenwich Academy. She is the Education Director of Vital Theatre Company in NYC. BS in Performance Studies from Northwestern University, M.A. in Applied Theatre from CUNY (2012). Recently she was lucky enough to be a part of Project:Rwanda and devised theatre with teachers from Kigali Institute of Education.
The crew for THE BULLY includes Choreographer Bethany Marie White, Set Designer Kyle Dixon, Costume Designer Sarah Riffle, Lighting Designer Josh Bradford, Music Director Mark T Evans and Production Stage Manager Ashley Scoles.
Vital Theatre Company commissions new musicals for children each season. Since its founding in 1999, Vital Theatre Company has been honored with two AWARDS FOR EXCELLENCE by the Off Off Broadway Review and has received high acclaim from audiences and critics alike for being "a wonderful place for parents to introduce their kids to the glories of live theatre, done well and at modest prices." Now in its 13th season, the company is dedicated to producing entertaining and educational theatre for young audiences. To date, the company has presented 60 original productions for over 284,000 children and their families.
Photo Credit: Sun Productions


Riley Thomas and Cameron Perry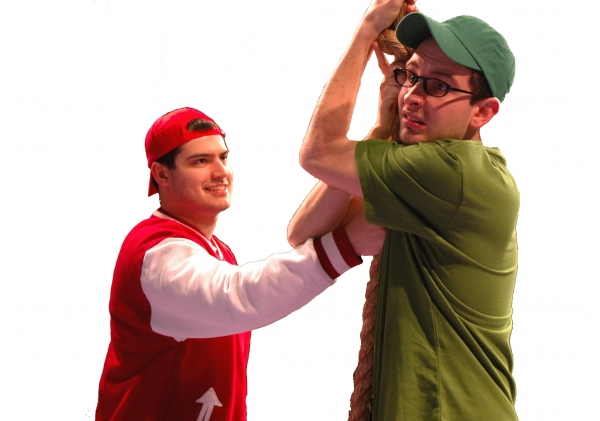 Cameron Perry and Riley Thomas