Photo Flash: Vital Presents VELMA GRATCH & THE WAY COOL BUTTERFLY
The award-winning Vital Theatre Company is pleased to announce its production VELMA GRATCH & THE WAY COOL BUTTERFLY, with book and lyrics by Michelle Elliott, music and lyrics by Danny Larsen and directed by Linda Ames Key based on the book by Alan Madison. Performances run Saturdays and Sundays at 11am and 1pm, January 15th through February 27th. Tickets are $25. The show is appropriate for ages 3-12. School/Group performances are available at Vital Theatre or your location. For reservations visit www.vitaltheatre.org or call (212) 579-0528. Vital Theatre Company is located at 2162 Broadway, 4th Floor, at 76th Street, on the Upper West Side.
VELMA GRATCH is excited to start first grade, but when she does she finds herself overshadowed by her older sisters! While searching for a way to stand out, Velma discovers she has a passion for butterflies! When one lands on her finger, she's in heaven! But what is she to do when it doesn't fly away? A charming story of a girl and a butterfly, and Velma's metamorphosis into something unique and special.
Michelle Elliott
(Book and Lyrics) is a bookwriter/lyricist who has been writing original
Musical Theatre Works
for over 12 years. In 2005, she completed NYU's Graduate Musical Theatre Writing Program, where she received the Tisch Achievement Award. Michelle also has an M.A. in Theatre Directing from the University of Wisconsin-Superior and a B.A. in Theatre Performance from the University of Wisconsin-Eau Claire. Michelle has worked at several theatres dedicated to serving young audiences, including
The Children's Theatre
Company in Minneapolis and The New Victory Theater in Manhattan
Danny Larsen
(Music and Lyrics) is a recent graduate of NYU's Graduate Musical Theatre Program where he studied as a composer/lyricist. Danny also holds Bachelors of Arts degrees in Music and Theatre Education from Brigham Young University. He won the ACTF Kennedy Center Composition award for his music and lyrics for SOFT SHOE, a new musical comedy, which premiered at BYU in 2002. Danny has done an extensive amount of arranging, orchestration, teaching and composing for various projects and is also a director, music director and performer. Linda Ames Key (Director) has directed TWILIGHT LOS ANGELES: 1992; BANG BANG YOU'RE DEAD (Fringe First Winner, Edinburgh Fringe Festival); THE LARAMIE PROJECT (Fringe First Winner); THE LARAMIE PROJECT, Cochrane Theatre, London; ANTON IN SHOW BUSINESS, THREE DAYS OF RAIN, BRINK OF LIFE, THE LARAMIE PROJECT with Dreamcatcher Rep; 365 Days/365 Plays for Gansfeld: EMBRACING FREEDOM, REMEMBER THE DREAM for the Ellis Island Foundation; LONE STAR GRACE, RITA FAYE PRUITTE by Suzanne Bradbeer and FLYER by Kate Aspengren for Six Figures Theatre Company; FULL BLOOM, THE RISEN CHRIS, BETHLEHEM, MY WIFE'S COAT and OVERHEAD for Vital Theatre; THE KLEZMER NUTCRACKER, A (TOOTH) FAIRY TALE, MY NEW YORK and THE NASTIEST DRINK IN THE WORLD for Vital Family Programming; ALISON'S HOUSE and OF SLEEP AND SHADOW at the
Mint Theatre
Company, NIGHTS AT THE CIRCUS, CLOWNING THE BARD and CLOWNING THE BIBLE at FringeNYC, DEGAS IN NEW ORLEANS at E.S.T's Oktoberfest. As a producer: Vital Signs 9,10 & 11, Andria Laurie's THE AWAKENING,
Sherry Kramer
's WALL OF WATER, Katt Lissard's DARK LANTERN and Watermark's Wordfire Festival featuring
David Cale
and
Dael Orlandersmith
. She has served as Director of the Mint Process Company, NY Liaison for
Mannie Manim
Productions, South Africa; Brink Productions, South Australia; State Theatre of South Australia and Melbourne Theatre Company; Artistic Director of Six Figures Theatre Company for five years; US Drama at Greenwich Academy. She is the Education Director of
Vital Theatre Company
in NYC. The creative team for VELMA GRATCH includes Choreography by
Bethany White
, Scenic Design by
Tim McMath
, Lighting Design by Lois Catanzaro, Costume Design by Sarah Riffle, Musical Director Mark T Evans and Stage Manager Daniel Robbins.
Vital Theatre Company
commissions new musicals for children each season. Since its founding in 1999,
Vital Theatre Company
has been honored with two AWARDS FOR EXCELLENCE by the Off Off Broadway Review and received high acclaim from audiences and critics alike for being "a wonderful place for parents to introduce their kids to the glories of live theatre, done well and at modest prices." Now in its 12th season, the company is dedicated to producing entertaining and educational theatre for young audiences. To date, the company has presented over 50 original productions for over 156,000 children and their families.
photo credit: Sun Production, Inc.


Alex Krasser and Rebecca Chicoine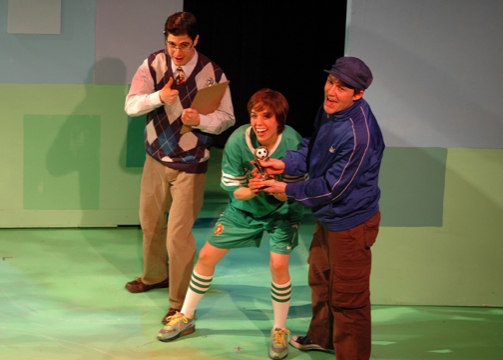 Alex Krasser, Maggie Wetzel and Peter Burke

Alex Krasser, Alex Viola, Breanna Bartley, Ashley Klanac, Rebecca Chicoine, Maggie Wetzel and Peter Burke.

Rebecca Chicoine, Alex Viola and Maggie Wetzel

Alex Viola