Photo Flash: Playwright Doug Wright Celebrates Two Turns Theatre's I AM MY OWN WIFE Opening
Tony Award and Pulitzer Prize-winning playwright Doug Wright (I AM MY OWN WIFE, GREY GARDENS) joined in the immediate standing ovation for star Vince Gatton on opening night of Amy Corcoran's site-specific staging of I AM MY OWN WIFE for Two Turns Theatre Company at RePOP, a vintage and oddity show space in Williamsburg, Brooklyn. He later joined the actor, director, and company members to celebrate at the opening night party held at the Roebling Tea Room. Scroll down for photos!
Two Turns Theatre Company presents I AM MY OWN WIFE, about the infamous German transvestite Charlotte von Mahlsdorf at RePop in Williamsburg, Brooklyn (143 Roebling St., Brooklyn, NY 11211). Directed by Amy Corcoran and starring Drama Desk nominee Vince Gatton, the play is performed in and among the furniture, art, clothing and taxidermy of RePOP, Williamsburg's noted vintage shop. Performances continue through October 4. I Am My Own Wife will perform Wednesdays through Sundays at 7:30 p.m.
For many years, Charlotte von Mahlsdorf gave tours of her unusual Gründerzeit Museum, with its countless treasures from the German 1890s. Sitting at RePOP among vintage artifacts from intervening times and places, audiences will engage as never before with Charlotte's tale of survival in Nazi Germany and under the East German communist regime that followed. In a partnership with the Roebling Tea Room next door, the production's "lobby" will honor the Mulack-Ritze, a gay bar that Charlotte saved from Central Berlin and restored in her basement.
I AM MY OWN WIFE features scenery by Ryan Howell, costumes by Matthew Pachtman, lighting by Zach Blane, projections by Hana Kim, and sound by Ben Bonnema.
Tickets, priced at $18, are available through SmartTix (www.smarttix.com). As part of its community outreach, Two Turns Theatre Company will donate a portion of the production's ticket sales to the Brooklyn Community Pride Center.
Photo Credit: Jane Abramson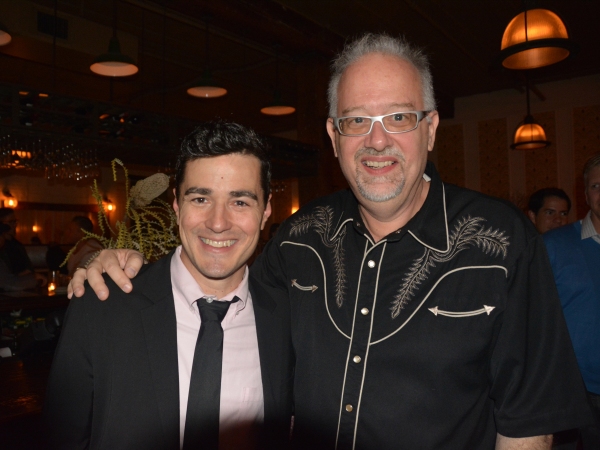 Playwright Doug Wright with I AM MY OWN WIFE star Vince Gatton

I AM MY OWN WIFE star Vince Gatton with director Amy Corcoran and playwright Doug Wright.