Photo Flash: Meet the Cast of The Queens Players' A MIDSUMMER NIGHT'S DREAM
Fresh from their critically acclaimed, sold out productions of Twelfth Night, Much Ado About Nothing, Euripides' The Bacchae, and Macbeth, The Queens Players returns for its debut performance in the newly redesigned Little Theatre with a magical, Night Circus reimagining of William Shakespeare's A Midsummer Night's Dream. BroadwayWorld has a sneak peek at the cast below!
Director Illana Stein's vision of the dichotomy between the monochromatic mortal world of Athens and the black-light drenched, twilight infused circus-realm of the fairies will bring audiences right "into the tent" so to speak. True love will be tested, two worlds will collide, and mischief will be made.
Featuring: Charles Baker, Sheree V. Campbell, Jeff Dickamore, Jonathan Emerson, Kathleen Fletcher, Aurora Florence, Zack Friedman, Evan Greene, Megan Greener, Ryan Krause, Robin Rightmyer, Sabina Friedman-Seitz, Kate Siepert*, Blaine Smith*, Jason Spina, Marcus Watson and Jaz Zepatos.
Creative team: Assistant Director: Emily Jackson; Production Stage Manager: Rosie Kolbo; Makeup Designer: Emily Lambert; Lighting Designer:
Michael Cole
; Scenic Designer: Kathryn Lieber; Properties Designer:
Tyler M. Perry
; Assistant Properties Designer: Samantha Jackson; Costume Designer: Isabelle Fields; Dramaturge:
Charles Baker
; Postcard Design by Internationally renowned artist Luba Lukova; and Composer and Original Sound Design: Will Stackpole.
Performances of A Midsummer Night's Dream are Sept 26th - Oct 12th, Thursday through Saturday at 8pm, and Sunday, Sept 29th & Oct 6th, at 3pm at The Secret Theatre, 4402 23rd St. (at 23 St. and 44th Avenue), LIC, NY 11101 (at Court Square on the E, M, G and 7 train). Tickets are $18. To purchase tickets, visit www.secrettheatre.com or call 718.392.0722. *These actors appear courtesy of the Actor's Equity Association. A Midsummer Night's Dream is an approved Actor's Equity Performance.
Photo Credit: Creative Design and Photography

Puck (Jonathan Emerson)
"Thou speakest aright: I am that merry wanderer of the night."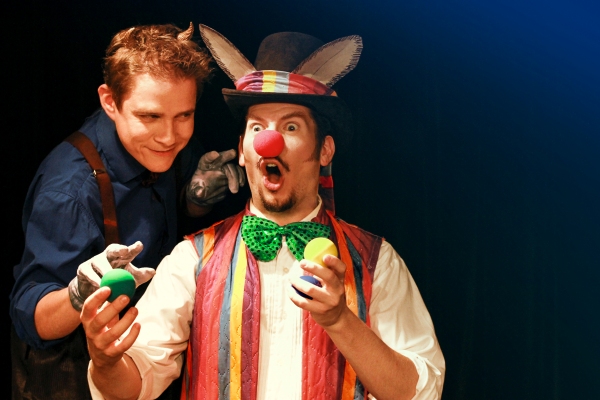 Puck (Jonathan Emerson) & Bottom (Blaine Smith)
"What hempen homespuns have we swaggering here."

Cobweb (Megan Greener), Bottom (Blaine Smith), Mustardseed (Sheree V. Campbell), and Sabina Friedman-Seitz (Peaseblossom)
"Tie up my loves tongue...bring him silently."
Featured at the Theatre Shop
T-Shirts, Mugs, Phone Cases & More




More Hot Stories For You