Photo Flash: La MaMa's THE ETIQUETTE OF DEATH World Premiere
La MaMa presents the World Premiere of The Etiquette of Death, a Chris Tanner Production co-directed by Everett Quinton and Julie Atlas Muz, and choreographed by Julie Atlas Muz, with contributions by a slew of New York's finest downtown artists. The Etiquette of Death, the final show of La MaMa's 50th Anniversary season, runs now through July 1, 2012 in a limited engagement at the Ellen Stewart Theatre, located at 66 East 4th Street between 2nd Avenue & the Bowery in New York City. The show opens tonight, June 16. Check out photos from the production below!
Contributing writers and composers include Penny Arcade, Lance Cruce, Angela DiCarlo, Martha Girdler, Jeremy Halpern, John Jesurun, Beena Kamlani, Taylor Mac, Stephen McCauley, Edgar Oliver, Brandon Olson, Greta Jane Pedersen, Jon Ritter, Penny Rockwell, Tony Stavick, SebastIan Stuart and Chris Tanner.
Death is a messy and terrifying horror. Or, it can be a quiet, unapologetic thief in the night. For the past twenty-five years living in the East Village Chris Tanner has been surrounded by death. He's obsessed with how the dying and those who love them behave in the face of it. When you explore the artifice and manners that surround this unruly journey – the etiquette of death - the outcome can be absurd, paradoxical, wrenching, and at times, hilarious. He's asked a group of artists he admires to help him put together a collage of scenes, songs, poetry, music and dance that explores the "Etiquette of Death."
The cast includes Robert Appleton, Beth Dodye Bass, Kirstan Clifford, Matthew Crosland, Lance Cruce, Angela DiCarlo, Machine Dazzle, Jezebel Express, Angie Hobin, Sarah Kraynik, Agosto Machado, Joseph Mahan, Brandon Olson, Greta Jane Pedersen, Eugene the Poogene, Everett Quinton, Yosvany Reyes, Mike Russnak, Chris Sharp and Chris Tanner.
The creative and design team includes Jeremy Halpern (Musical Director), Steven Hammel (Set Design), Becky Hubbert (Costume Design), Susan Hamburger (Lighting Design), Chuck Hettinger (Props), Perfidia (Wig Design), Daniel Nelson (Assistant Director) and Leonie Ettinger (Production and Stage Manager).
Chris Tanner has been part of the La MaMa family since 1979. He has worked and collaborated with John Vaccaro, SebastIan Stuart, Everett Quinton, Lance Cruce, Julie Atlas Muz, Penny Arcade, Maria Irene Fornes, Cyndi Lauper, David Lynch, Ildiko Nemeth and The New Stage Theatre Company, Ridiculous Theatrical Company, Mabou Mines and The Wooster Group. During the last 10 years, he has been performing with Karen Finley's Make Love, a touring cabaret show in memorial of the 9/11 attacks. In 2013 he'll be performing his new one-man show, Tippy Toes Tanner, produced by Howard Kaplan. Tanner is also a painter, visual and collage artist and has had over 20 solo shows in New York and abroad. His current solo show of paintings, drawings and sculpture are on display through July 1 at the Atrium Gallery in St. Louis. Tanner's been an East Village resident for a number of years and was born in a Buick in Southern California. To see his work, follow this link.
Everett Quinton recently performed Bennett in Tom Stoppard's Travesties at McCarter Theater Center in Princeton, New Jersey. He was a member of Charles Ludlam's Ridiculous Theatrical Company. Since leaving the company, Quinton has been freelancing around the world. He has appeared at The Shakespeare Theater in D.C., The Arizona Theater Company, The Empty Space in Seattle and the Drill Hall in London, where he performed his one man show Bitch Slapped by God.
Julie Atlas Muz is an independent artist, choreographer, star of stage and screen that has been around the world and around the block more then twice. Muz hails form Detroit and has been crowned Miss Coney Island and Miss Exotic World. She has stomped down the red carpet of Cannes with her award winning film Tournee. For more info, click here.
Performances are Thursdays – Saturdays at 7:30pm and Sundays at 5:30pm with the exception of the Sunday, June 24 performance, which will be at 2:30pm. Tickets are $18 for adults and $13 for students and seniors and can be purchased online here, in person at the box office or by calling 212-475-7710. The show contains nudity and is appropriate for ages 17 and up. The running time is 2 hours and 30 minutes including an intermission. La MaMa is accessible from the F train to 2nd Ave. or the #6 train to Bleecker St.
For more information visit LaMaMa.org or www.Facebook.com/EtiquetteofDeath.
Photo credit: Ves Pitts


Chris Tanner as Joan Girdler and Everett Quinton as Death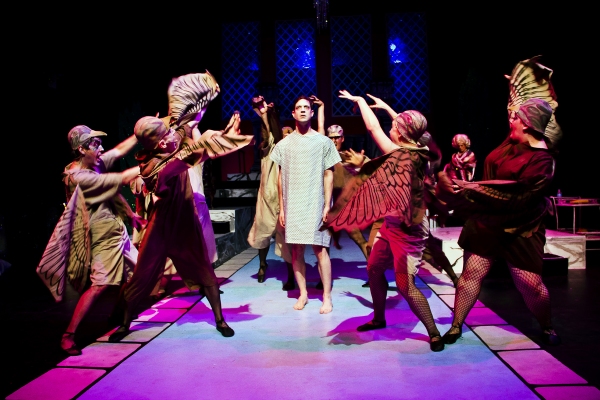 Brandon Olson as Joey Girdler and the Cast of THE ETIQUETTE OF DEATH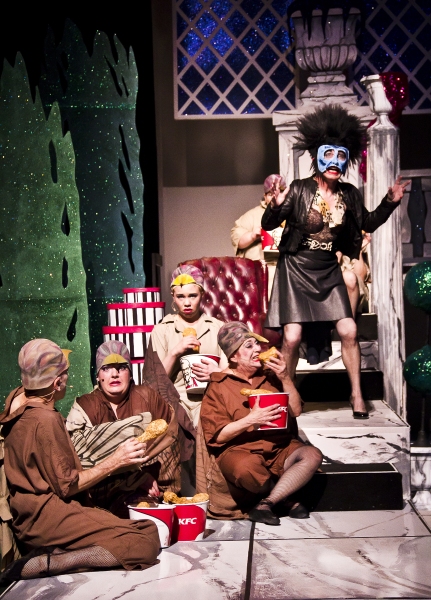 Everett Quinton as Death and the Cast of THE ETIQUETTE OF DEATH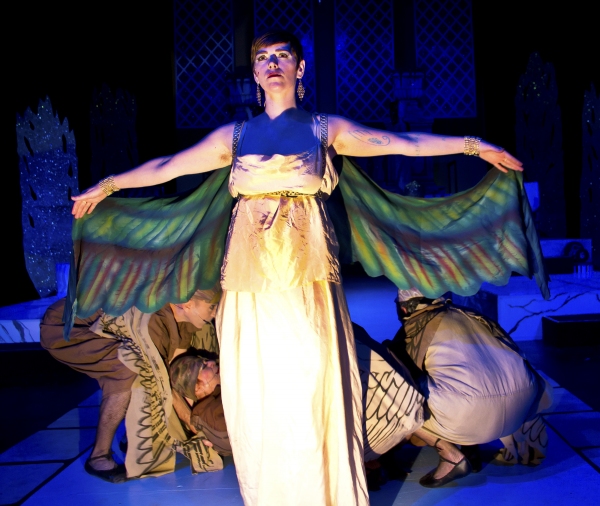 Greta Jane Pedersen as Isis and the Cast of THE ETIQUETTE OF DEATH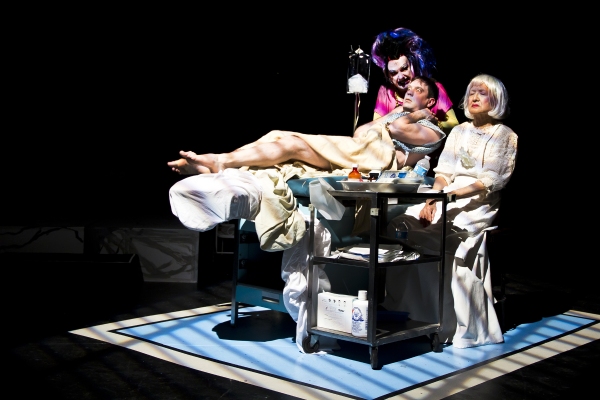 Lance Cruce as Christy, Brandon Olson as Joey Girdler and Agosto Machado as Esmeralda


Related Articles View More Off-Off-Broadway

Stories

Shows
More Hot Stories For You